What if we tell you, there are natural food products available out there that are not just healthy but also incredibly flavourful and tasty!
Yes, you heard that right, we know that maintaining a healthy lifestyle and eating healthy all the time can be hard when there are so many unhealthy options available.
That's why it's important to find natural and healthy food products that will help you stay on track with your food and health goals.
Today, we'll be discussing five such healthy food products that have earned amazing reviews from customers across India, so you can make an informed decision as to why you should add them to your daily diet.
So, let's dive in and learn more about these amazing natural food products!
1. Original Cow Ghee
Imagine getting your hands on one of the finest Desi Cow Ghee, made from the nutritious milk of Desi Cows grazing freely on mineral-rich farms!
This Jar of Ghee is not only nutritious but has a unique flavour and aroma. Additionally, it will help you:
Have a better Digestive system

Strengthen your Bones & Muscles

Keep your Heart Healthy
Hear it straight from our customers, who have tried it themselves:
Listen to what Aayushi has to share about this Jar of Original Cow Ghee:
Customer Reviews:
2. A2 Badri Cow Ghee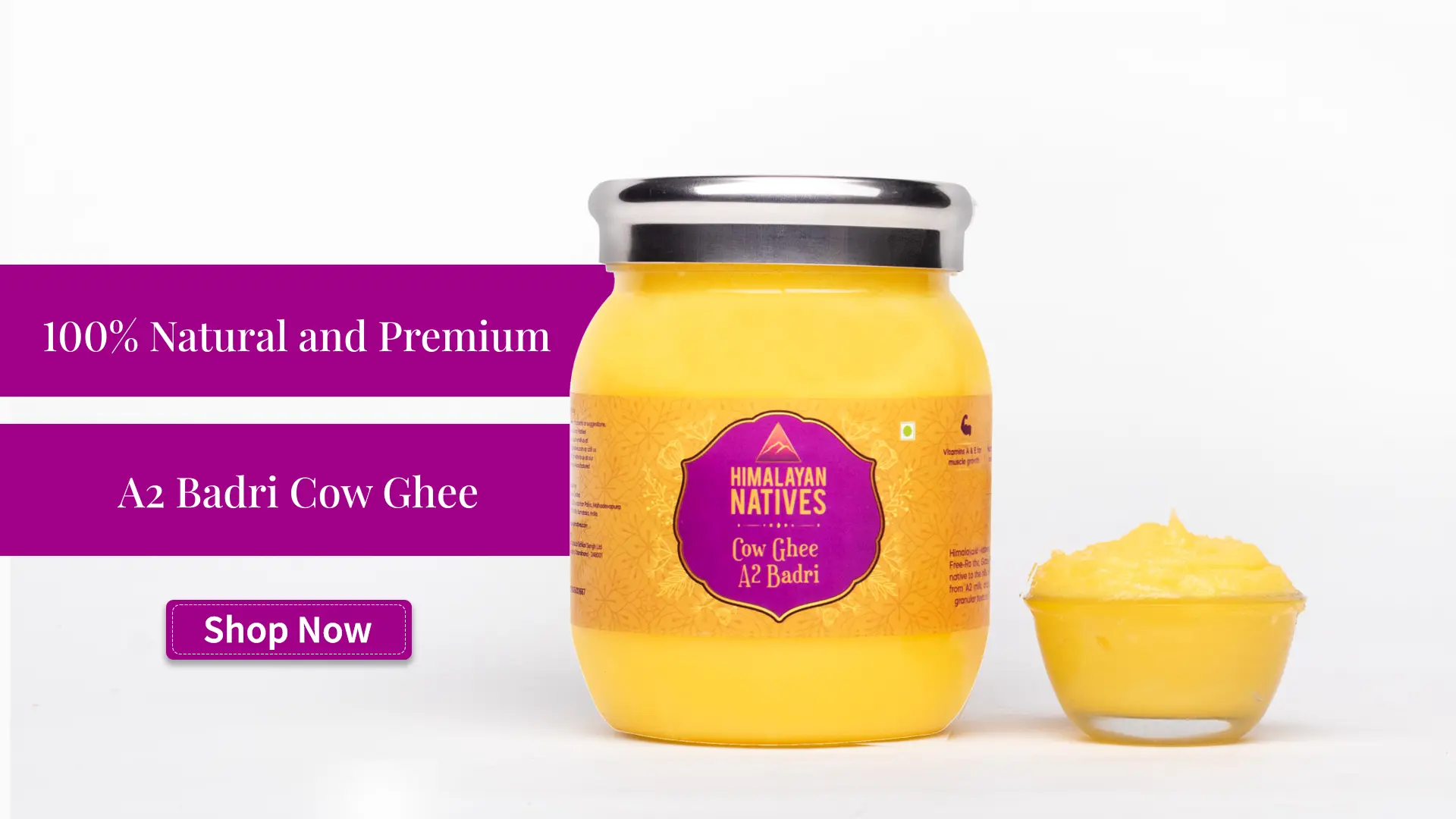 The next superfood you ought to try and include in your healthy diet is this A2 Ghee, which is made from the nutritious A2 milk of Badri Cows. Badri cow is a purebred (non-hybrid) desi cattle breed found in the pristine hills of Uttarakhand.
This Ghee is made naturally, that's the reason it has a rich taste and authentic flavour. Additionally, our Badri cows graze freely on the medicinal herbs of the Himalayas that add to the nutritional value of the Ghee.
Few of the many medicinal benefits of A2 Badri Cow Ghee are:
Boosts Immunity

Treats burns, inflammation & dry skin

For better Cardiovascular health
making it a perfect choice for optimum nutrition. Loved and trusted by over a million Indian households, we are sure you will love it too.
Hear what Shraddha has to say about our A2 Badri Cow Ghee:
Customer Reviews:
3. Raw Multifloral Honey
This Raw Multifloral Honey is harvested in India's pollution-free northern Himalayan region and is incredibly pure and delicious.
Our traditional and experienced beekeepers use sustainable, ethical and hygienic methods of harvesting honey. This ensures that there is no adulteration and no added sugars with Bee Pollens intact.
This is a golden elixir that might help you with:
Preventing free radicals and protecting you from other chronic diseases.

Has anti-inflammatory properties that help reduce swelling, and heal wounds and burns.

Is antibacterial, kills harmful bacteria & is great for skin.
We know it's soo good, you won't believe us. Let's hear it straight from our customers:
Customer Reviews:
If your health goal is to eat well, and stay fit this year and need a detailed guide on how should be your healthy diet with all the essential foods, read this blog too: 7 Healthy Foods for a Healthier 2023.
4. Chia Seeds
You'd never be able to guess the surprising source of this super seed! A member of the mint family, it's native to the Mexican and Guatemalan regions - a desert plant that was a staple of the Ancient Aztec diet.
It is incredibly beneficial, providing a lot of advantages. What's the distinction, you may wonder?
Health benefits that can help:
Aid weight loss

Better skin because of good gut health and high Omega 3 components

Decreases sudden increases in blood sugar.
Tried, tested and approved by our health freak customers.
Customer Reviews:
5. Flax Seeds
Will you believe us if we tell you that since 2020, there are two whole foods topping the chart of the best edible seeds for weight loss and Flax seeds are one of them?
Yes, that's right. And it's time to replace fat-rich & unhealthy snacks with gluten-free alternatives, and actively search for superfoods that will support our weight loss goals.
Let's hear what a dietician has to say about our All Natural Flax seeds:
Customer Reviews:
That's about it guys, we Himalayan Natives, a natural products brand, have a range of natural food products to offer to all you health freaks and foodies. Our products are made naturally, sourced ethically and packed hygienically to provide you with the most premium and natural quality.
It's no wonder how beneficial consuming healthy food products on a daily basis can be, not only will you have more energy to get through the day, but you will also be able to focus better and feel more alert.
Eating nutritious meals with plenty of fresh fruits and vegetables will give your body the vitamins and minerals it needs to stay healthy and strong. Making the switch to a healthy diet can be a great step in transforming your daily life for the better.
Like what you read? Hop on to our
Instagram Page
and find exciting healthy tips and recipe content.






---
---