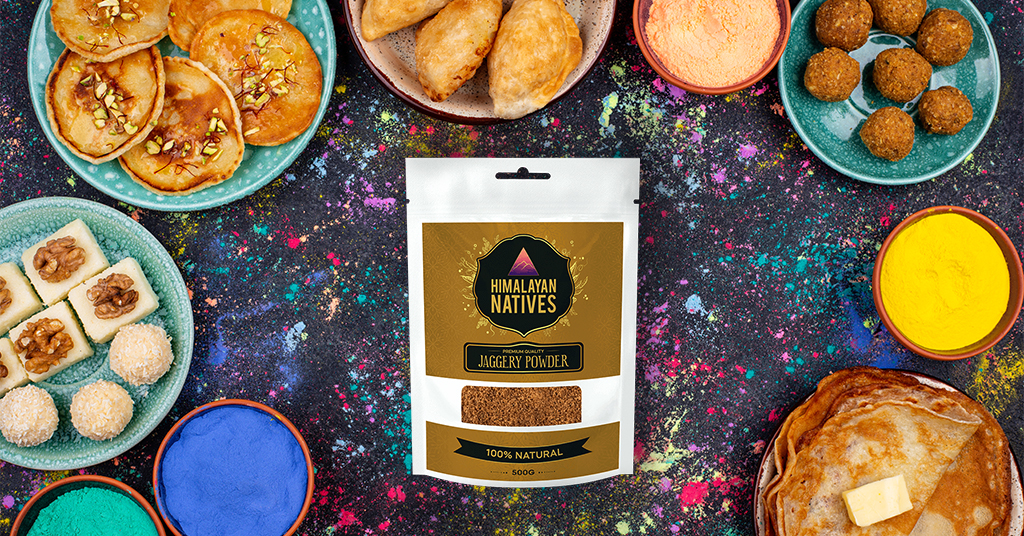 The festival of colors is almost here!
Traditionally, Holi marks the end of the winter season and the onset of spring. However, this year, Holi also comes around the one-year anniversary of the COVID-19 pandemic. As we take this time to reflect upon how quarantine has affected our lives, one of the biggest things that come to mind is how healthy our eating habits have been during this time. As a community, we have started moving towards a more health-conscious way of living, incorporating more organic, natural, and pure foods into our daily diets. This has also reflected in the way we celebrate our festivals.
Holi is a festival that has been celebrated for centuries in India, and as a result of this, many delicious Holi dishes are prepared and consumed exclusively during this holiday. Some popular Holi foods, such as Gujiya and Puran Poli, are everyone's childhood favorites. However, they are usually guilty pleasures because of all the calories and fat that goes into preparing them. So this Holi, enjoy the festival while also staying healthy with these classic recipes for Holi with a Himalayan Natives twist!
The Famous Gujiya
Gujiya is a deep-fried pastry usually made of flour dough and stuffed with a sweet mixture of dried fruits and khoya which is then fried in oil. It is one of the most popular Holi foods. For a healthier version of your favorite Holi snack, you can substitute regular flour for buckwheat flour and sugar for jaggery. Here is a quick recipe to help you enjoy your Holi.
Ingredients
For the dough:
For the filling:
1 cup/200g of mawa (khoya)
½ tbsp ghee
⅓ cup of chopped nuts/dried fruits (like cashews, almonds, raisins)
⅓ cup powdered sugar (or jaggery)
½ tsp of cardamom powder
Step-by-step process
For the dough:
Add ¾ cup of cold water to flour and ghee in a bowl and mix into a soft dough. Cover it up with a damp cloth and set it aside for about 15 minutes.
For the filling:
Heat a pan on low flame and add the mawa and ghee. Keep stirring until it turns golden brown. Take the pan off the heat and let the filling cool down.
Add jaggery, chopped dry fruits & nuts, and cardamom powder. Thoroughly mix and set aside.
To make the gujiya:
Take the dough and break it into smaller round sized pieces.
Roll these pieces into puri size and place them on the gujiya mold.
Add small balls of the filling on the dough pieces and trace the edges of the dough with some cold water. Press the edges together to form the dumplings.
Heat some oil in a frying pan. Use a flavorless oil such as sunflower oil.
Place the dumplings into the oil and fry on all sides until golden brown.
Take them out of the oil and place them on a cloth or tissue to drain the excess oil.
Let them cool. Serve and enjoy this Holi special dish!
The Evergreen Puran Poli
Puran Poli, also known as Obbattu or Holige in South India, is a sweet roti-like dessert popular across India. It is often best served with some melted ghee and is one of the most popular recipes for Holi.
Ingredients
For the outer layer:
1 cup wheat or make it healthier and use buckwheat flour
Water as needed
¼ tsp salt
1 tbsp curd
1 tbsp oil (or pure ghee)
For the stuffing:
½ cup chana dal
¾ cup sugar (or jaggery)
¼ cup water
½ tsp cardamom powder
¼ cup grated coconut
Step-by-step process:
For outer layer:
Mix all the ingredients listed under 'for outer layer' in a bowl and knead into a dough. Set aside for 15 minutes with a cover.
For the stuffing:
Rinse the chana dal and cook in a pressure cooker with water. Once pressure has released, take out the dal in a bowl after draining and let it cool.
Mash the chana dal.
Mix the water and jaggery together until it forms a syrup. Add the chana dal paste to the syrup.
Add grated coconut and cardamom powder and mix well.
To make the puran poli:
Break the dough into small round pieces, and make smaller balls out of the stuffing.
Roll the dough balls first, then place the stuffing balls in the middle, close, and seal.
Roll the entire dough into roti-sized pieces.
Heat a pan with ½ tsp of ghee. Place the puran poli on the pan and cook both sides until golden brown.
Once done place on a plate and serve with a dollop of ghee on top!
Streetlicious Dahi Bhalla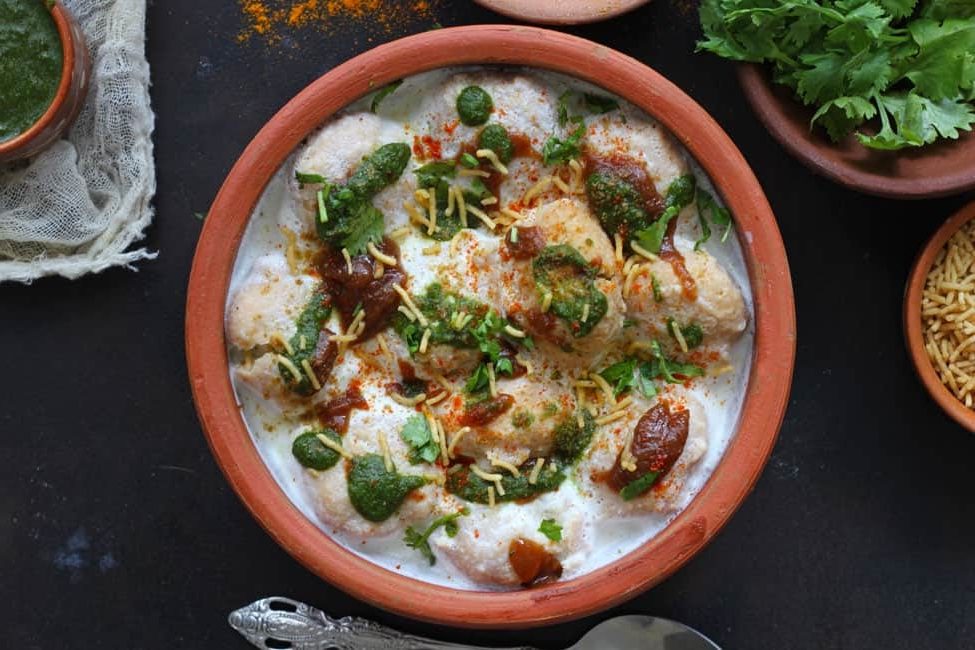 Dahi Bhalla is a chaat that is very popular across India, especially in the Northern states. While it is also enjoyed year-round, here's a Holi special recipe. Traditionally, the bhalla is prepared using a mixture of lentils and flour. For this recipe, only urad dal and moong dal can be used.
Ingredients
For the bhalla batter:
For the toppings:
2 cups of curd
⅓ cup pomegranate seeds
⅓ cup mint chutney
½ cup cooked chana dal
1 potato peeled, chopped, and boiled
½ tsp cumin powder
⅓ tsp red chili powder
⅓ tsp pink salt
Process
For the bhalla:
Soak the urad and moong dal in water overnight, then drain.
Grind the lentils along with cumin seeds, hing and salt. Add water while grinding to achieve a smooth batter. Avoid adding too much water to avoid the bhallas absorbing too much oil while frying.
Put the batter in a bowl and briskly whisk to make it fluffy.
Heat some oil in a frying pan. Once ready, add small amounts of the batter in round balls, and let them float to the top. Remove once golden brown and crispy.
Place on a kitchen towel to drain off excess oil.
Once drained, place the bhallas in a bowl with 2 cups of water to soak them. Once soaked, remove from the bowl and flatten using tissues to remove excess water.
Making dahi bhalla:
In a bowl, beat 2 cups of curd until smooth. Place the vadas in the bowl gently. Chill in the fridge if desired.
In individual bowls, place 2 pieces of vada and curd, and top with all toppings: potatoes, cumin powder, chili powder, pink salt, chana dal. Serve fresh!
These are just a few of the many Holi special recipes enjoyed during the festival of colors. Substituting some of the ingredients for healthier ones such as ghee, buckwheat flour and jaggery won't change the taste but will be a step towards healthier living. Ghee is a healthier alternative to oil since it contains butyrate that helps improve digestion and decreases inflammation and is rich in fat-soluble vitamins such as vitamin A, D, E and K. Buckwheat flour is incredibly fiber-rich, making it a diet-friendly ingredient and a gluten-free alternative to flour. Jaggery helps control blood sugar levels due to its potassium and sodium content, and it also helps detoxify the liver.
This spring, enjoy all your childhood favorite Holi special dishes with a healthy twist.
---
---