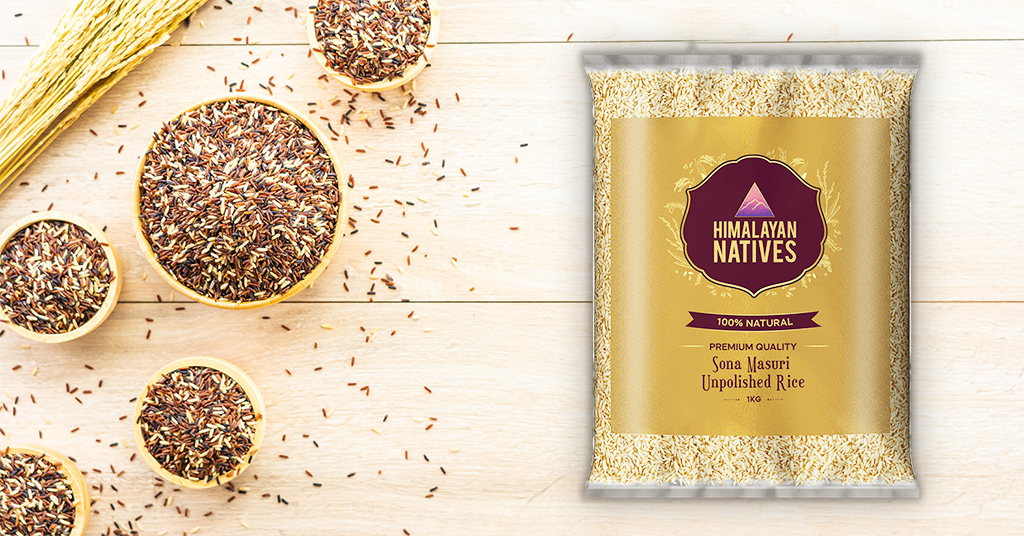 Rice is an integral part of many cuisines and is a staple food for millions of people. It provides a lot of energy and nutrition required for us to get through the day. However, most of the types of rice that are consumed are white rice. While white rice is a great source of carbohydrates, it doesn't provide a lot of other nutrients that are required by the body. This is because white rice is not a whole grain.
A whole grain is one that contains 3 components: the bran, the germ, and the endosperm. The bran is the outer layer of the grain which contains many important antioxidants, fiber, and B vitamins. The germ is the part of the grain that sprouts into a new plant and is rich in vitamins, protein, healthy fats, and minerals. The endosperm is the largest part of the grain which serves as an energy source for the grain and is full of starchy carbohydrates and small amounts of minerals and vitamins. White rice consists of only the endosperm of the grain, while brown rice contains all 3 of these components, making it a whole grain.
Brown rice is a lot more nutritious than white rice due to the large amounts of fiber, vitamins, minerals, and healthy fats present in addition to carbohydrates. Because of this, eating brown rice comes with many health benefits as well. The high quantities of magnesium and fiber help in regulating blood sugar control and the risk of type 2 diabetes. The bran in brown rice is very high in antioxidants, which help reduce the risk of chronic heart illnesses. One of the most common queries is brown rice good for weight loss? The answer is yes - brown rice is considered to be a good weight regulation food due to its high fiber content.
Brown rice can be very easily incorporated into one's diet since it can be consumed the same way as white rice. Here are some brown rice recipes for weight loss and better nutrition:
Vegetable Fried Brown Rice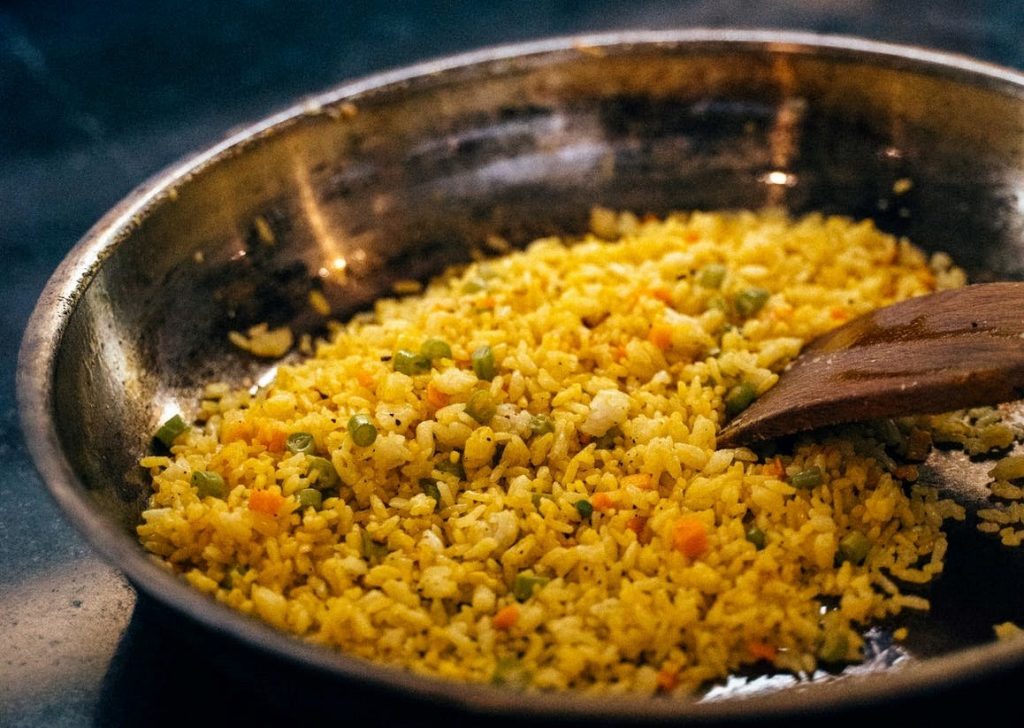 Fried rice is a classic dish that almost everyone has tried at least once. It incorporates 3 main ingredients: vegetables, cooked rice, and soy sauce. It is a budget-friendly food item and can be customized to the ingredients that you have on hand and to your taste. This version of fried rice is made using brown rice, which makes it healthier, tastier, and full of fiber.
Here is the recipe for brown rice fried rice:
Ingredients:
1 ½ cup brown rice, cooked (preferably day old)
6 cloves of garlic
½ tsp of ginger paste
3 stalks of scallion (spring onion)
½ cup green peas
1 small carrot, diced
½ cup beans, diced
Any other vegetables can be added
1 tablespoon of oil
1 tablespoon of soy sauce
Pink salt to taste
Black pepper powder to taste
Instructions:
In a wok, heat the oil. Add the chopped garlic and ginger paste and stir fry till fragrant.
Add the chopped carrots, beans, peas, and any other vegetables you wish to add and saute for 5 minutes till the vegetables cook a little. Add salt and pepper.
Toss in the cooked rice. If you do not have day-old cooked brown rice, you can pre-cook the brown rice and cool it for several hours. Day-old cooked brown rice is usually the best for this dish since the rice grains have a solid structure that allows them to absorb the flavors of garlic, ginger, and soy sauce well.
Once the rice is mixed well with the ingredients, add the soy sauce in and mix well till all of the rice has incorporated the soy sauce. Cook for 2 minutes then take off the flame.
Garnish with chopped scallions and serve hot. Enjoy this classic dish, with a healthy twist!
Mexican Beans and Rice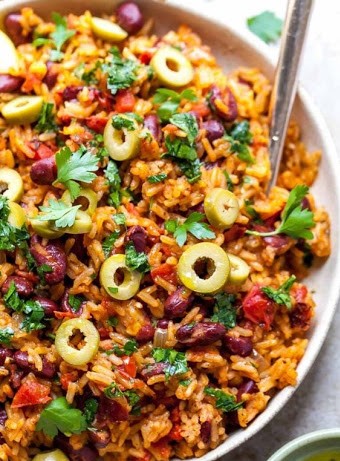 Mexican Beans and Rice is an extremely common dish in Mexican cuisine. It is similar to India's dal chawal and is prevalent in the country's cuisine. Beans and rice can be eaten either as a main dish or a side dish. It can be prepared using different types of rice including brown rice. This recipe for brown rice and beans makes an extremely nutritious meal full of fiber, nutrients, vitamins, and flavor.
Here is the recipe for Mexican beans and rice:
Ingredients:
1 cup cooked brown rice
1 cup of kidney beans, cooked and drained
1 tomato, roughly chopped
1 green bell pepper, finely chopped
1 onion, roughly chopped
1 tsp chili powder
1 tsp cumin powder
Pink salt to taste
Black pepper powder to taste
1 cup sour cream (for a side)
1 cup chopped scallions (green onion)
1 tablespoon olive oil
Instructions:
Pre-cook the brown rice and set it aside to cool.
In a large pan, heat the olive oil. Add the onions, green pepper, and tomato and stir fry for 2-3 minutes until fragrant. Season with salt and pepper according to taste.
Add the kidney beans, chili powder, and cumin powder and mix. Let it cook until ingredients are well incorporated.
Once the beans are well-cooked with the vegetables, add the cooked brown rice and mix thoroughly.
Turn off the heat, and add salt and pepper if required. Top with the scallions (green onions) and serve with a side of sour cream!
Colorful Stuffed Peppers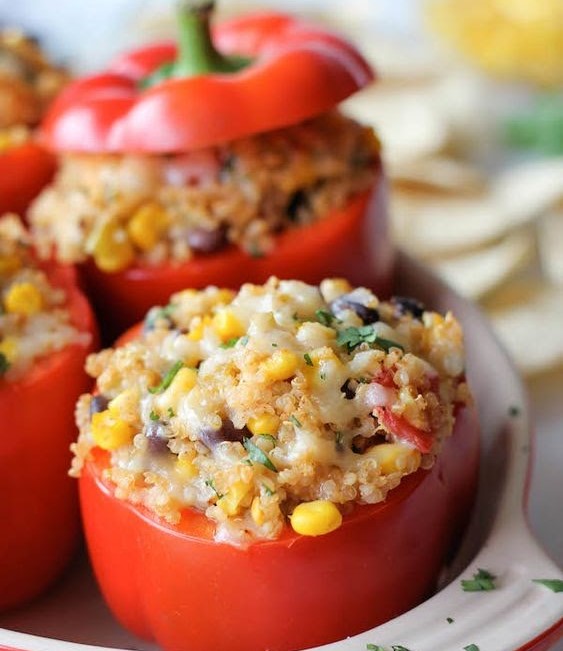 Sometimes, eating the same old dal chawal can get boring. On days like that, trying out new ways to eat rice can make your meals more exciting. If you're ever wondering, is brown rice good for weight loss, and how can I make it into an exciting dish, then this recipe is for you! This recipe uses bell peppers and brown rice as the main ingredients, and is a great choice for days when you are craving a light meal!
Here is the recipe for stuffed bell peppers:
Ingredients:
3 medium-sized red and yellow bell peppers
1 onion, finely chopped
2 tomatoes, finely chopped
3-4 garlic cloves, minced
1 cup brown rice, pre-cooked
1 tsp olive oil
1 tsp dried thyme
1 tsp dried rosemary
Pink salt to taste
Black pepper to taste
½ cup seasoned bread crumbs
½ cup shredded mozzarella cheese
Instructions:
In a large skillet, heat the olive oil for 2 minutes, then add garlic and onions. Stir fry till fragrant, then add the tomatoes.
Saute the mixture for 2-3 minutes, then season with salt, pepper, dried thyme, and dried rosemary. Cook for 3 minutes, then add the cooked rice. Stir fry for 2 minutes and then turn off the heat.
Cut the peppers in half lengthwise then de-seed them. Place them in a baking dish coated with some oil, and add the cooked rice and veggies mixture into the pepper halves. Top with a sprinkle of mozzarella cheese.
Place in the oven at 180C and bake for 10 minutes. Take it out of the oven and set it aside to cool. Enjoy!
Brown rice is an ingredient that is just as versatile as white rice, but a lot more nutritious. It also has a lot of health benefits and is a popular choice of ingredient for those who wish to regulate their weight or take up a diet. These are just a few brown rice recipes for weight loss and better nutrition.
Try out these recipes, and give them your personal twist!
---
---