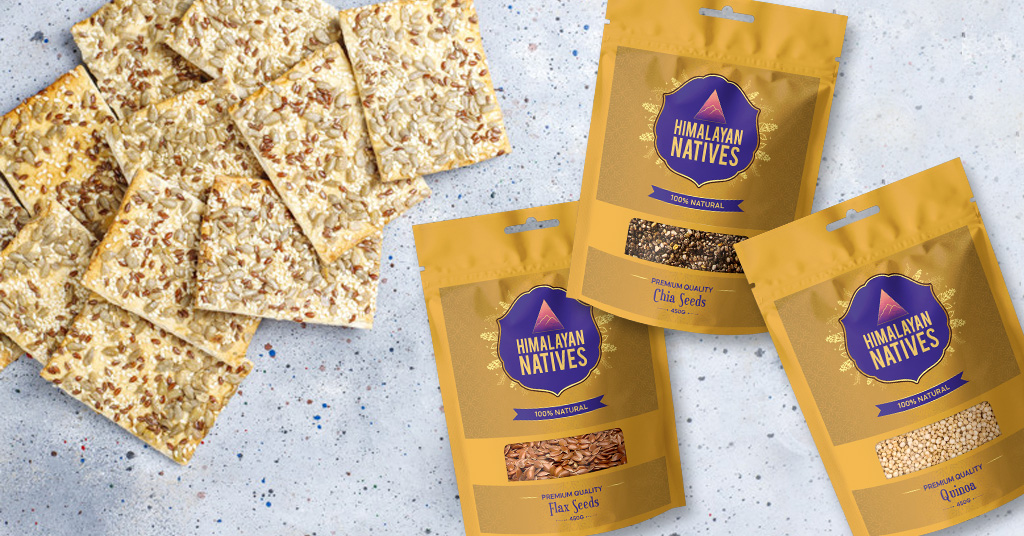 Seeds are a great source of fiber. They consist of healthy monounsaturated fats, polyunsaturated fats, along with several essential vitamins, minerals, and antioxidants. They may be tiny in size but are a storehouse of nutrition. Starting from flaxseeds, sunflower seeds to chia, pumpkin, and basil seeds, each of these have something unique to offer. They are nutty, crunchy, and delicious superfoods, that help provide all the essential vitamins and nutrients which in turn help in weight management, provide energy, reduce cholesterol, and more. Some of these seeds are high in Omega 3, while the others are rich in magnesium, calcium, fiber, and iron. Together, they help improve overall health, enhance the weight loss process, and aid in getting rid of a number of diseases.
These seeds also make a great snack and have several culinary usages across many cuisines. Let us take a look at some of the healthy snack recipes that can be prepared using seeds.
Spicy Seed Mix
Ingredients:
250g of mixed seed (sunflower, pumpkin, flaxseed)
1 tsp rapeseed oil
1 tsp ras-el-hanout seasoning mix
¼ tsp salt
1 tsp soy sauce
1 tsp agave syrup
A small pinch of cayenne
Procedure:
Preheat the microwave to 160C.
Mix all the ingredients together in a bowl and spread on a baking sheet.
Cook for 15 - 20 mins until they turn dry and golden. Stir once during cooking.
Allow it to cool for some time and then store it in a sealed container for up to 3 weeks.
Serve and enjoy!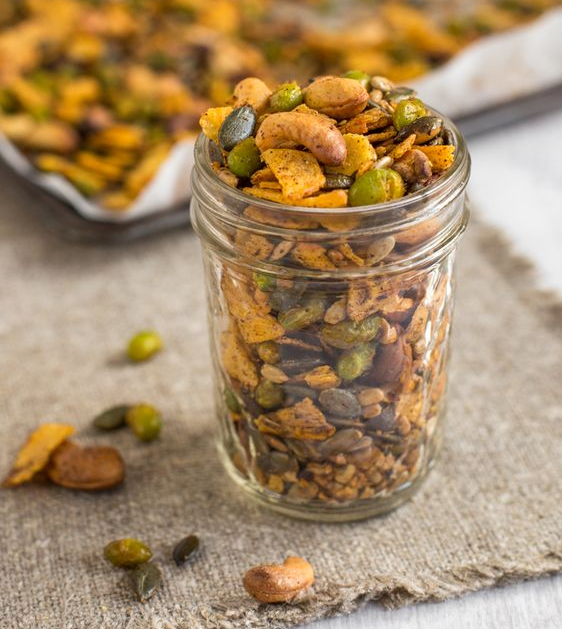 Seedy Granola Bars
Ingredients:
1 ½ cups of rolled oats (gluten-free)
½ cups of raw almonds, walnuts, or pecans (chopped)
1 heaping packed cup of dates
2 tbsp chia seeds
2 tbsp sunflower seeds (roasted or raw)
2 tbsp flax seeds (ground or whole)
2 tbsp hemp seeds
¼ cup of agave nectar or maple syrup (or honey if not vegan)
¼ cup of creamy salted natural peanut butter or almond butter
Procedure:
In a 350-degree F (176 degrees C) oven, toast the oats and almonds for around 15 minutes or until they turn slightly golden brown.
In a food processor, process dates for about 1 minute or until they turn into small bits. It should form a "dough" like consistency.
In a large mixing bowl, add oats, almonds, dates, and seeds and keep it aside.
In a small pan, heat agave and peanut/almond butter over low flame. Stir and add the oats mixture. Break the dates to disperse thoroughly and then mix using a spoon or your hands.
Transfer to a small pan lined with plastic wrap or parchment paper so that they can be lifted out easily.
Cover with parchment or plastic wrap and press down with something flat to get them tightly packed to prevent them from crumbling. Chill in the fridge or freezer for 15-20 minutes to harden.
Remove it from the dish and cut it evenly into 10 bars.
Store in an airtight container for up to a few days and eat when you want to!
Roasted Seeds Mix
Ingredients:
Procedure:
Take a heavy-bottomed pan. Add pumpkin seeds to it. Keep it on low flame and roast them. Keep stirring occasionally. When the seeds start popping up and there is a roasted aroma, remove the seeds from the pan. Repeat the process with other seeds as well. (it needs to be done separately because all the seeds require different roasting time)
When all the seeds are roasted, mix them together. Let them cool for some time.
Store them in an airtight container.
Use this mix as salad dressing, in cereals, in milkshakes, as topping on desserts, or any other dish of your choice. You can also snack on it as it is.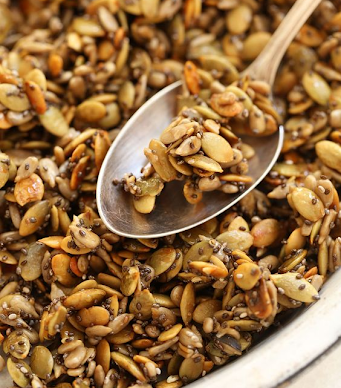 Flaxseed Crackers
Ingredients:
1 cup of raw flax seeds
¾ tsp salt
¼ tsp garlic powder
¼ tsp onion powder
1 pinch cayenne pepper
1 cup of cold water
Procedure:
In a mixing bowl, add flax seeds, salt, garlic powder, onion powder, and cayenne. Add water. Stir well. Cover with a plastic wrap & refrigerate overnight.
Preheat oven to 200 degrees F (95 degrees C). Line a rimmed baking sheeting with a silicone mat or parchment paper.
Transfer the mixture to the baking sheet. Spread it out in a thin, flat rectangular spread using a spatula. Then further cut it into small and equal rectangular pieces.
Bake in the preheated oven for about 3 hours, until flax seeds have darkened and slightly contracted.
Cool in the oven with the door slightly open.
Break into individual crackers and enjoy!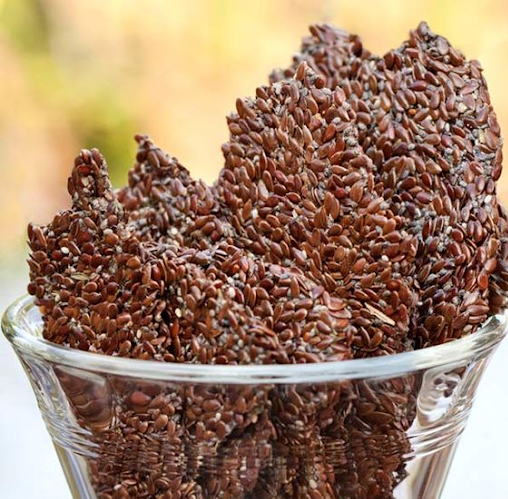 Seeds are great sources of healthy fats, vegetarian protein, fiber, and antioxidant polyphenols. Furthermore, they can help reduce the risk of certain diseases. In particular, the lignans in certain seeds may help lower cholesterol. Himalayan Natives 100% natural seeds are pure, preservative-free, and free from pesticides & GMOs. Seeds can be easily added to salads, yogurt, oatmeal, smoothies and can be easily used to make snacks! Follow the above recipes for some quick & healthy ideas.
---
---