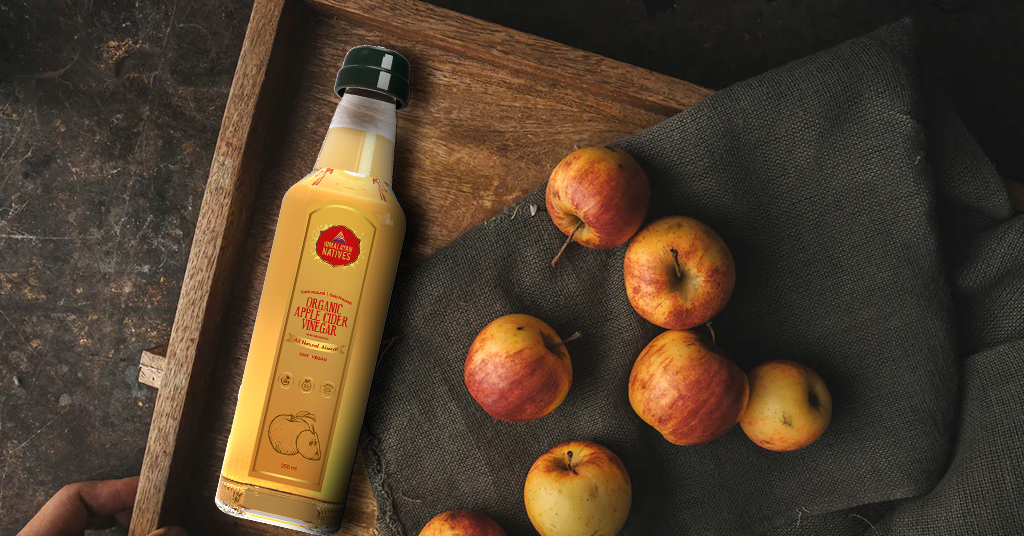 Apple Cider Vinegar is a kitchen staple that has been used for centuries not just for cooking but also for medicinal purposes. It is a type of vinegar product that is naturally derived through the process of fermentation and is considered to have many health benefits. It has a murky, yellowish color and a sweet and sour aroma and taste. This blog will explore how apple cider vinegar is made, some of the most important health benefits of using this product, and how it can be incorporated into recipes.
How is Apple Cider Vinegar Made?
Apple Cider Vinegar is made using a series of steps. First, crushed apples are exposed to yeast in order to ferment the sugars in the fruit and turn them into alcohol. Next, the mixture is further fermented with the addition of bacteria, resulting in the formation of acetic acid. Acetic acid is the main active ingredient in vinegar that denotes the sour taste and smell. Once the mixture consists of about 5-6% acetic acid, the result is unfiltered apple cider vinegar, which contains the "mother". The "mother" consists of strands of enzymes, protein, and good bacteria that give the apple cider vinegar its murky appearance and a lot of its health benefits.
Health Benefits of Apple Cider Vinegar
Apple Cider Vinegar is a naturally-derived product that has many useful properties and health benefits:
Can kill harmful bacteria: The acetic acid in apple cider vinegar has antimicrobial properties, which means it is useful to kill harmful bacteria. This is why vinegar is often used as a food preservative, it is known to prevent bacteria such as E. coli from growing in food and spoiling it. This is one of the most important health benefits of apple cider vinegar.
Good for regulating blood sugar levels: Vinegar is known to increase insulin sensitivity in the body, which helps in reducing insulin spikes after meals. This means that vinegar can help regulate blood sugar levels in the body, and may help in treating type-2 diabetes.
Boosts skin health: Apple cider vinegar's antimicrobial properties can help in treating skin conditions such as eczema and acne, which are typically caused by bacteria and pH imbalances.
Aids weight loss: The consumption of apple cider vinegar often leads to a feeling of fullness, which can lead to lesser calorie intake and in turn weight loss. Additionally, vinegar's blood sugar-regulating properties ensure that the body's insulin production is limited and subsequently weight can be managed better.
Good for heart health: Apple cider vinegar may be useful in promoting heart health owing to its blood sugar control properties; and in some studies, apple cider vinegar may lead to lower blood sugar, which is important in preventing risks of heart disease.
Apple cider vinegar is an extremely healthy and natural product that is beneficial for its antimicrobial and lightly acidic properties. In terms of flavor, apple cider vinegar tends to be sweet (because of the apples) and sour (because of the vinegar) both in aroma and taste. Due to this, the apple cider vinegar dosage can differ in preparing different types of dishes as a salad dressing, in soups and stews, and even in some desserts. Here are a few recipes that use apple cider vinegar:
Apple Pie Apple Cider Vinegar Drink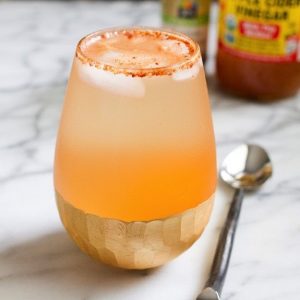 This easy drink is extremely refreshing and slightly acidic from apple cider vinegar, making it the perfect way to kickstart your morning. This drink specifically requires raw and organic apple cider vinegar as the presence of the "mother" provides protein and friendly bacteria and gives the drink a murky appearance.
Ingredients:
2 tbsp organic apple cider vinegar
2 tbsp organic apple juice
2 cups of chilled water
3 drops of vanilla extract
Sprinkle of cinnamon
1-2 ice cubes (per serving)
Instructions
Combine all the ingredients in a shaker and mix till properly combined. Add more cinnamon as needed and serve chilled over ice.
Kale and Butternut Squash Salad with Apple Cider Vinaigrette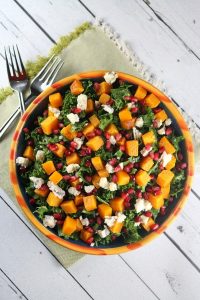 This simple recipe makes for a great snack or appetizer. If you like salt and vinegar chips, this dish will be extremely enjoyable due to the sweet and sour flavor that the apple cider vinegar denotes to the potatoes in combination with the salt. Here is the recipe for salt and vinegar roasted potatoes:
Ingredients:
3 large potatoes, peeled and sliced
2 tbsp olive oil
3 tbsp organic apple cider vinegar
Pink salt to taste
¼ tsp ground black pepper
Instructions:
Preheat the oven to 180C.
In a large bowl, mix the olive oil, apple cider vinegar, pink salt, and black pepper. Whisk until properly combined, then add the sliced potatoes in and mix well until each piece is well-coated with the mixture.
Place the potatoes on a baking sheet and spread them evenly. Place in the oven and bake for 25 minutes, take them out and flip the pieces. Put them back in the oven for 20 minutes in order to cook both sides evenly. Take them out of the oven and set them aside to cool
Drizzle a little more apple cider vinegar on the potatoes and serve!
Apple Cider Vinegar is an extremely healthy food that is naturally derived. When it is organic, it has many health benefits, particularly owing to its antimicrobial properties and natural protein content. The method of preparation of raw and organic apple cider vinegar using cold-press methods ensures that all the nutrients are retained during the production process and the sweet and sour flavor of the apples and vinegar respectively are well integrated. It is a versatile food that can be incorporated into all kinds of dishes: drinks, salads, snacks, curries, desserts, etc. The above recipes demonstrate just a few different ways in which apple cider vinegar can be used in everyday cooking. Give these recipes a try and let us know what you think!

---
---