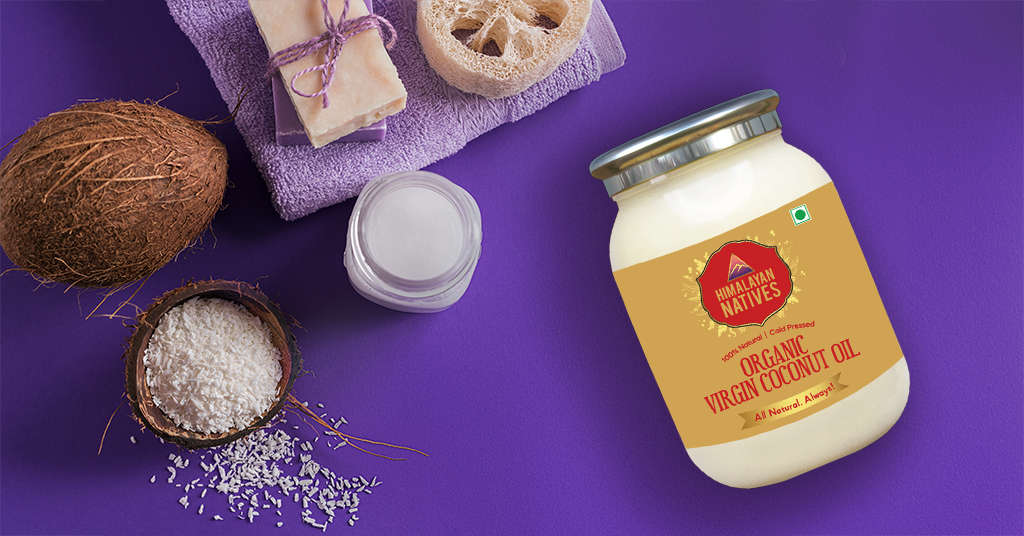 Coconut oil is one of those few staple ingredients that most if not all kitchens have. It is commonly used in cooking and has various other everyday uses as well like for hair application and skin rejuvenation. There are different kinds of coconut oils depending on the method of preparation and what part of the coconut they are extracted from. Let us take a look at what coconut oil is, its types and what it consists of!
What Is Coconut Oil?
Coconut oil is the oil that is obtained from either the meat part of the coconut fruit or the coconut milk. Consumption of this oil is considered to be extremely beneficial for health. Although coconut oil has a very high level of saturated fats (83%), these are medium-chain glycerides (MCTs) which means that they go directly to the liver and burn in the form of energy instead of being stored in the body as fat. They may also raise the metabolic rate slightly. Due to these MCTs, coconut oil is considered a healthy addition to your diet when consumed regularly, depending on its manufacturing process.
What Is Virgin Coconut Oil?
Unlike refined coconut oil, virgin coconut oil can be obtained from fresh coconut milk, meat, or residue. Extracting it from the fresh meat consists of removing the shell and washing, then either wet-milling or drying the residue, and using a screw press to obtain the oil. Virgin coconut oil can also be extracted from the meat by grating and drying it to a moisture content of 10-12%, then using a manual press to extract the oil. Producing it from coconut milk comprises scraping the coconut and mixing it with water, then squeezing out the oil. It can also be prepared by fermenting the milk for 36–48 hours, removing the oil, and heating the cream to remove any remaining oil. These methods of extraction ensure that there are many health benefits to consuming Virgin Coconut Oil, including retention of MCTs for better metabolism and as a weight loss aid.
How is Virgin Coconut Oil different from Refined Coconut Oil?
Due to the tough and heated conditions under which the oil is extracted from the coconuts, refined and topical coconut oils lose their essence and virtue. Depending upon the type of material, extraction methodology, and compositions, the oil's structural consistency varies since not every coconut is the same. Refined coconut oil contains trans fats (bad cholesterol) due to hydrogenation while virgin coconut oil consists of good cholesterol and is rich in medium-chain fatty acids, and contains almost negligible amounts of trans fats. Additionally, refined coconut oil is flavorless and has a higher smoke point than virgin coconut oil.
Benefits of Virgin Coconut Oil
Great for Regulating Blood Sugar Levels: Virgin coconut oil helps control blood sugar levels as it augments the secretion of insulin in the body and doesn't result in an insulin spike. The medium-chain fatty acids in virgin coconut oil help reduce the strain on the pancreas by providing an energy source that's not dependent on blood glucose.
Works as an Antibiotic: Virgin coconut oil works as a natural antibiotic by disrupting the cell walls of bacteria, and this makes it effective in treating UTIs and kidney infections and can also help reduce inflammation caused by arthritis.
Helps Accelerate Metabolism: The medium-chain fatty acids in virgin coconut oil are said to accelerate metabolism, which in turn increases energy and stimulates thyroid function. It also contains lauric acid, which helps to balance out hormones naturally and increases estrogen levels, especially when you are going through menopause.
Helps in Weight Loss: With the increased generation of energy in the body, virgin coconut oil helps burn fat, especially in the abdominal region, and helps reduce appetite. Unlike other fats, the healthy medium-chain fatty acids in virgin coconut oil are not circulated in the bloodstream. They're converted into energy, and as a result, no excess amount of fat is stored in the body. Since virgin coconut is high in calories, it should be combined with a healthy diet and exercise for maximum weight loss benefits.
Treats Candida and Yeast Infections: Scientific studies have shown that the capric acid in virgin coconut oil is a treatment for Candida Albicans and yeast infections. The oil also contains caprylic acid, which can target harmful bacteria and help get rid of excess candida.
Uses of Virgin Coconut Oil
One of the best things about virgin coconut oil is that it can be used for several things, the most important being cooking. It is especially good for frying, toasting, or sauteing purposes at a high heat due to its high smoke point. It can be used to deep fry or bake without the added concern about excess calorie intake or weight gain. Another popular reason for using coconut oil in cooking is the change in flavors, to include more of a coconutty flavor and aroma. This gives a rebirth to an old dish without having to change the recipe at all! Here are some classic recipes that use virgin coconut oil:
Vegan Chocolate Tart with Salted Oat Crust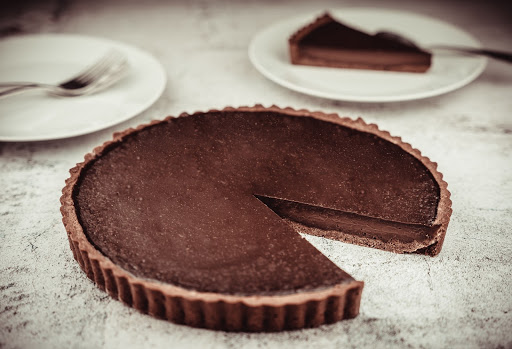 This delicious dessert is a healthy option for those watching their calorie intake as it makes use of vegan ingredients and the crust comprises toasted oats that have been lightly flavored with virgin coconut oil. The coconut oil is a healthy alternative to a heavier fat such as butter and adds a fruity aroma to the chocolate sweetness.
Ingredients for the Crust:
2 tablespoons unsweetened cocoa powder
1 ¼ cups old-fashioned oats
⅓ cup virgin coconut oil, melted, slightly cooled
¾ cup whole wheat flour
¼ cup light agave syrup (nectar)
½ teaspoon ground cinnamon
¾ teaspoon kosher salt
Ingredients for Filling and Assembly:
2 teaspoons vanilla extract
½ teaspoon instant espresso powder
⅔ cup slight agave syrup (nectar)
1 cup unsweetened cocoa powder
7 ounces vegan dark chocolate, melted, slightly cooled
Flaky sea salt
⅔ cup + 1 teaspoon virgin coconut oil, melted, slightly cooled
1 tablespoon demerara sugar
¼ teaspoon kosher salt
2 tablespoons old-fashioned oats
Instructions:
Preheat the oven to 350˚. Blend the oats, whole wheat flour, coconut oil, agave, cocoa, salt, and cinnamon in a food processor until oats are coarsely ground and the mixture looks like batter.
Mix espresso powder in ¾ cup very hot water in a food processor. Add cocoa and let sit for 5 minutes. Stir in the melted chocolate, agave syrup, vanilla, ⅔ cup coconut oil, and ¼ tsp. kosher salt and process it for 30 seconds until the mixture is smooth and thick.
Cook the oats and the remaining 1 tbsp of coconut oil in a small skillet on low heat, and stir constantly until the oats are crisp, for about 3 minutes. Gradually add half of the demerara sugar, stirring constantly, until sugar is melted and liquidated, then remove from heat and stir in the remaining demerara sugar just to coat. Season with kosher salt; let the oat mixture cool.
Sprinkle oat mixture over tart, pour sea salt, and let it chill until filling is set, for at least 1 hour.
Cut chilled tart into slices with a dry, hot knife; let sit at room temperature 15 to 20 minutes before serving.
Oat and Apple Pancakes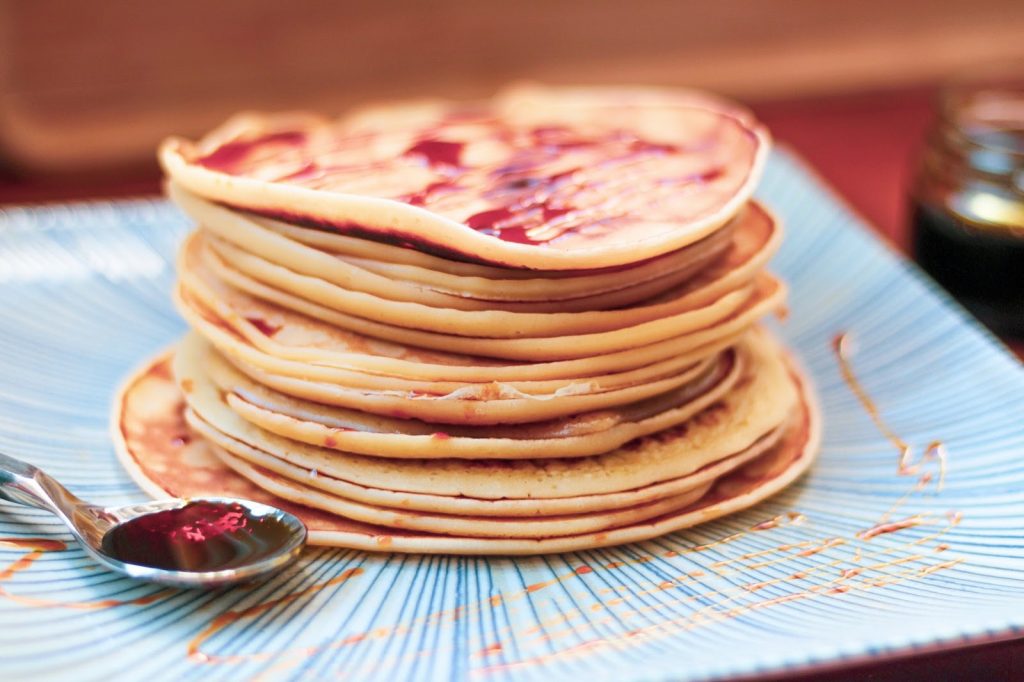 This pancake recipe is different from regular pancakes as the coarse texture of the oats and aroma of the virgin coconut oil elevate the flavor profile of this dish. It is also much healthier due to the nutrition provided by oats and the healthy fats from coconut oil.
Ingredients:
½ teaspoon kosher salt
1 cup whole wheat flour
½ teaspoon ground cinnamon
¾ cup old-fashioned oats
1 teaspoon baking soda
¼ cup finely chopped pecan or almonds
1 teaspoon baking powder
1 medium apple, peeled, cored, sliced crosswise
1 large egg
2 tablespoons virgin coconut oil, melted, slightly cooled
1 ¾ cups buttermilk
2 tablespoons raspberry syrup or honey
Instructions:
Whisk the flour, oats, baking powder, pecans, baking soda, cinnamon, and salt in a large bowl. Whisk egg, buttermilk, 2 tablespoon maple syrup, and 2 tablespoon oil in a medium bowl and mix them into dry ingredients.
Heat a griddle or large non-stick skillet over medium heat and brush the pan with oil. Place 2 apple slices in a skillet, spacing about ½ inch apart, and cook until lightly golden, about 1 minute. Turn them over and pour ⅓ cup of the batter over the apples, spreading the batter to cover. Cook the pancake until the bottom is golden brown and bubbles form on the surface, for about 3 minutes. Flip and cook until cooked through and another side is golden brown, for about 2 minutes. Transfer to a plate. Repeat with the remaining apple slices and batter, brushing the griddle with more oil (as required while cooking).
Add a generous serving of honey or raspberry syrup and enjoy!
Virgin coconut oil is an extremely healthy addition to one's daily diet and is a common ingredient in everyone's pantry, plus its uses are way beyond just cooking. The method of preparation of virgin coconut oil preserves the nutrients and healthy fats of the oil much more efficiently than when it is obtained through refinery processes. The cold-pressed method also ensures that the healthy fats in coconut oil remain unaffected and contribute to important bodily functions. Virgin coconut oil can be used in many ways to add flavor to dishes while avoiding the unhealthy effects of using fats while cooking/frying. These recipes are a few examples of ways in which coconut oil can be used to elevate the flavor of a dish while not compromising on health. Try these recipes at home and let us know how you like them!
---
---