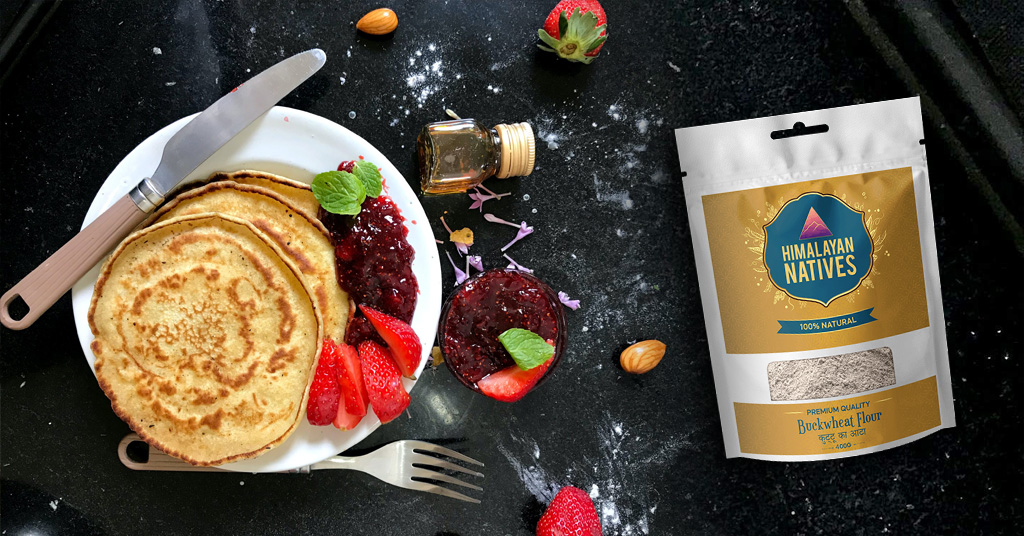 Most of the time, buckwheat is called a grain, but it's a fruit seed that comes from the family of sorrel, knotweed, and rhubarb. It is majorly cultivated in the Himalayan region and primarily found in Nepal, Bhutan, and India. Although the name buckwheat has "wheat" in it, it is not related to wheat as it is not a grass.
Buckwheat groats or hulled seeds of buckwheat plants are popularly white buckwheat, which often lends an earthy flavor while cooking. The roasted groats are known as 'kasha' and are commonly used for preparing Russian cuisine. In India, Buckwheat is predominantly sold as flour which is popularly known as kuttu ka atta and is majorly used during festivals like Navratri to make parathas/rotis.
Buckwheat consists of all nine essential amino acids which are our body's building blocks of protein, and it is also rich in fiber, antioxidants & magnesium. According to several studies, consuming buckwheat regularly may help improve cardiovascular health, assist in regulating blood sugar and reduce the risk of other diseases. Buckwheat is rich in complex carbohydrates and is therefore referred to as a pseudocereal which makes it a great addition to your diet.
Below are some healthy and gluten-free buckwheat flour recipes for everyday consumption.
Kasha bread
Ingredients:
¼ cup of kasha
⅓ cup of boiling water
1 cup of buckwheat flour
1 cup of all-purpose gluten-free flour
½ cup of brown sugar
1 tsp baking powder
1 tsp baking soda
1 tsp xantham gum
½ tsp salt
½ cup buttermilk
½ cup of cream
1 egg
¼ cup of oil
½ cup of walnuts
Procedure:
In a bowl, boil some water and soak the kasha. Let it rest for 15 minutes.
Preheat the oven to 350 degrees C and grease a loaf pan with ghee.
Mix all the dry ingredients.
In another bowl, whisk the eggs, cream, and oil until smooth.
Add the kasha and the walnuts to the egg mixture.
Add the dry ingredients to the mixture with a spatula.
Spread the mixture in the pan and bake for 50 minutes.
Serve with your choice of dish and enjoy!
Buckwheat Pancakes
2 eggs (separated)
¾ cup of skimmed milk
2 tbsp plain yogurt
½ cup of buckwheat flour (kuttu ka atta)
½ cup of rice flour
1 tbsp cornmeal
½ tsp of baking powder
A pinch of salt
Unsalted butter
Procedure:
In a bowl, beat egg yolks, milk, and yogurt thoroughly.
In another bowl, sift buckwheat, rice flour, cornmeal, baking powder, sugar, and salt.
Add the milk mixture to the flours and stir lightly. Then add the oil to lighten the mixture.
In another bowl, beat the egg whites until stiff and fold them into a batter.
In a frying pan, melt butter and pour a large ladle of the batter. Cook over low-medium heat until pancake turns slightly golden.
Turn and cook for a minute until the pancake is cooked through.
Serve hot with honey and enjoy!
Japanese Soba Noodles
Ingredients:
For the noodles:
⅘ cup of buckwheat flour
⅕ cup of wholewheat flour
½ cup hot water
Salt to taste
Starch or cornflour (for dusting)
For the stir fry:
2 tbsp teriyaki sauce
2 onions (thinly sliced)
2 carrots
2 tbsp oil
A few sprigs of spring onions (chopped)
250 gm mushrooms (roughly chopped)
Salt to taste
Procedure:
Pour water (a little at a time) and form a dough. Knead well.
Cover with a moist kitchen towel and keep it in the refrigerator for 30 minutes.
Knead again after some time. Make 4 balls and apply cornflour on each ball or starch before rolling it out. Make the dough as thin as possible. Sprinkle some cornflour if it starts sticking.
Layer all the rectangular sheets with enough cornflour in between the layers. Using a large knife, carefully slice the dough to make thin strips.
In a saucepan, add water and bring to boil. Cook the noodles in turns for 2 minutes.
In another saucepan, heat oil and stir-fry the onions for 3-4 minutes or until softened. Add the mushrooms and carrots and toss well.
Add the noodles and teriyaki sauce and mix thoroughly. Let it cook for 2 minutes.
Season with salt and sprinkle in the spring onions. Toss well.
Serve immediately and enjoy!
Falhari Pakode
Ingredients:
3-4 potatoes (medium size)
5 tbsp buckwheat flour
1 green chili (chopped)
1 tsp anardana
½ tsp cumin powder
1 cup of water
Oil (for frying)
Rock salt to taste
Procedure:
Peel and cut the potatoes into small cubes.
Add the other ingredients to the potatoes and mix thoroughly.
Add water and keep on mixing till you get a thick batter.
In a pan, heat oil for deep frying.
Shape the batter with your hands and drop them in the hot oil.
Fry the pakoras till they are golden and crisp. Drain the excess oil with the help of a napkin.
Serve them hot with green chutney or mint yogurt dip and enjoy!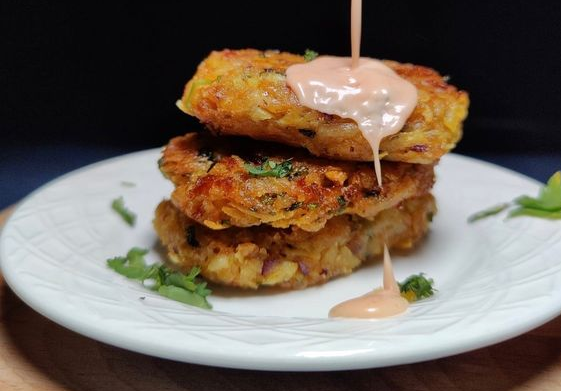 This gluten-free flour is a highly nutritious whole grain and is considered to be a superfood by many people. Among its many health benefits, buckwheat may also help improve heart health, promote weight loss, and help manage diabetes. To remain strong and healthy, always go for products that are 100% natural. Incorporate Himalayan Natives 100% natural and GMO-free buckwheat flour recipes in your diet to lead a life that is active and energetic!
---
---