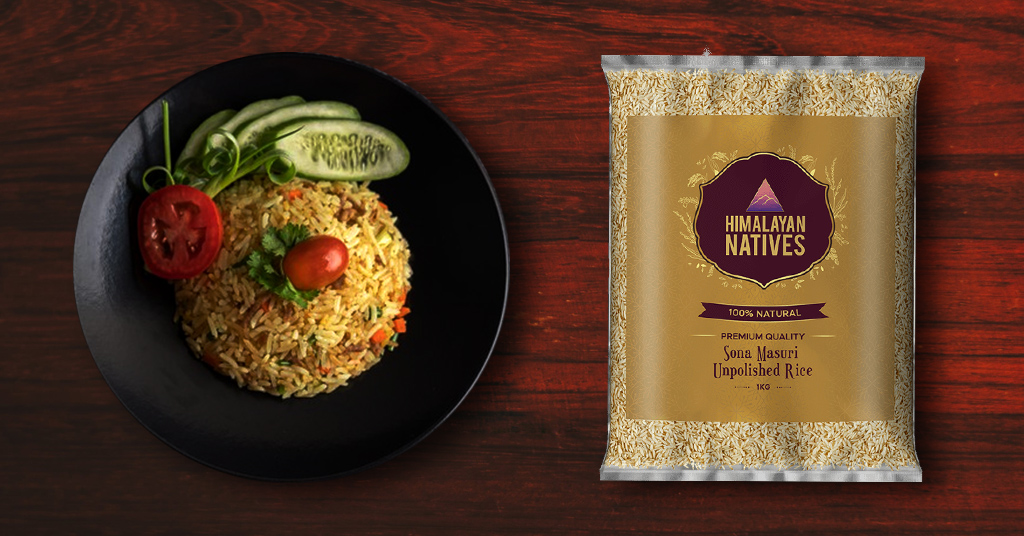 While talking about rice, most people refer to the white varieties of rice like sona masuri rice, basmati rice, which come in many shapes, aromas, and flavors. Due to the growing importance of eating healthy and leading an active lifestyle, refined food products are now taking a backseat. We are all now being careful as to what items are being packed into our grocery bags, ensuring that they contain vital nutrients required by our body rather than just empty calories.
Brown rice is considered a healthier alternative to white rice as during its processing, the outermost layer, known as the hull, is removed. While on the other hand, for white rice, apart from the hull, other layers like the bran and certain parts of the germ are polished to extract finer grains. According to experts, the outer layers of rice provide the body with vital nutrients and are loaded with vitamins and minerals such as magnesium, phosphorous, copper, etc.
Furthermore, since brown rice is high in fiber content, eating small quantities of it makes you feel fuller, aiding in weight loss. Refined rice recipes may be more flavorful than brown rice recipes but lack essential nutrients.
Let us take a look at some of the delicious and healthy brown rice recipes:
Mushroom Brown Rice Recipe
Ingredients:
1 cup of brown rice (washed)
Mushrooms (washed and sliced)
1 onion (chopped)
½ cup of butter (or 2 tbsp olive oil)
1 green capsicum
1 tsp black pepper
Salt to taste
2 cups of water
Procedure:
Wash the brown rice thoroughly with water.
Cut the mushrooms, onions, and capsicum.
In a pan, add butter or olive oil. Add onions. Saute till they turn slightly pinkish.
Add mushrooms. Saute till they start wilting.
Add capsicum. Saute for some time. Now add the brown rice. Saute for 5-7 minutes.
Add salt, pepper, and water.
Cook for 15 minutes.
Serve and enjoy!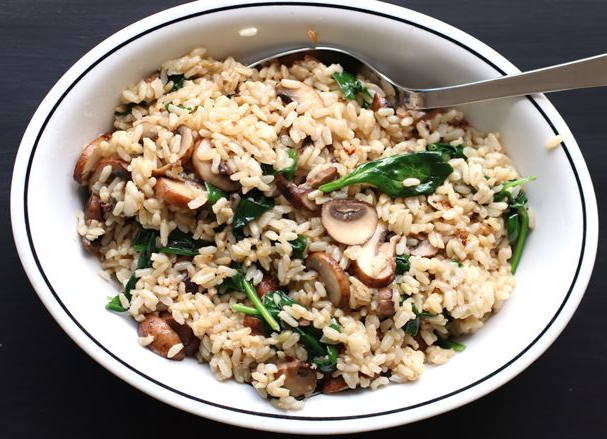 Green Coriander Brown Rice
Ingredients:
1 cup of brown rice
1 green capsicum
1 onion
1 tsp ginger garlic paste
30ml curd
2 tbsp coriander mint and green chilli paste
1 tsp garam masala
½ tsp cumin seeds
2 bay leaves
½ tsp coriander powder
1 tsp olive oil
Salt to taste
Procedure:
In a pan, heat oil and add cumin seeds.
Add bay leaves after the seeds crackle. Stir gently. Add onions. Stir until they turn brown.
Add ginger-garlic paste, coriander mint paste and curd to the vessel and cook well. Add the dry masalas. Cook for 5-6 minutes. Now add capsicum. Finally, add rice and water.
Cover the vessel with a lid and let it cook for 15 minutes or as required.
Garnish with some coriander.
Serve and enjoy!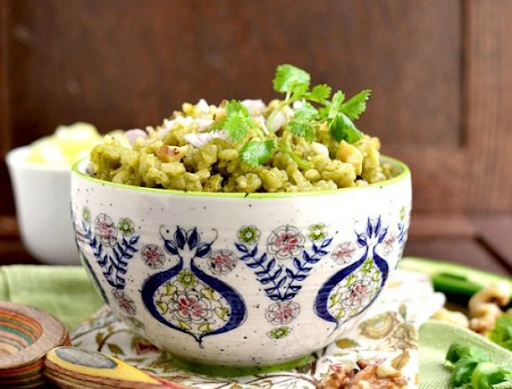 Brown Rice Onion Pilaf Recipe
Ingredients:
1 ½ cup brown rice (washed and soaked)
20 ml of oil
1 tbsp butter
1 onion (sliced)
1 bay leaf
½ tsp cinnamon powder
1 pinch sugar
3- 3 ½ cups of vegetable stock/ plain water
Salt to taste
Pepper to taste
Procedure:
In a pan, add oil and butter.
Add sliced onions and saute for some time.
Add bay leaf, cinnamon and sugar. Saute till brown and caramelized.
Add soaked rice, salt and pepper. Saute.
Add the vegetable stock.
Cover and cook till done.
Serve and enjoy!
(Brown rice requires more water for cooking as compared to white rice)
Brown Rice Salad Recipe
Ingredients:
200 gm brown rice
1 red pepper
1 green pepper
4 spring onions (finely chopped)
2 tomatoes
2 tbsp fresh parsley (chopped)
2-3 garlic cloves (chopped)
½ lemon
2 tbsp olive oil
Salt
Black pepper
Procedure:
Wash, rinse and cook the rice.
Once cooked, drain and rinse in cold water. Let it cool.
Slice the vegetables thinly.
Cut the tomatoes into wedges. Mix all the prepared vegetables with the cooked rice.
In a bowl, add lemon juice and mix it with the olive oil, salt and black pepper.
Peel and chop the garlic and add it to the above mixture.
Blend until smooth and pour on to the rice salad, stirring it gently to coat the ingredients.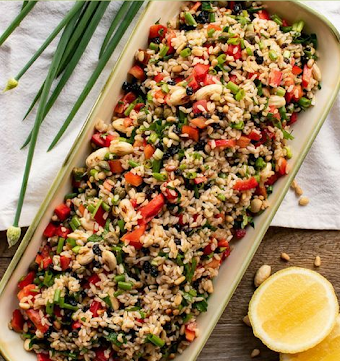 Stay healthy, fit and active throughout the year by making simple changes to your diet along with regular exercise. Next time when you're planning on preparing any rice dishes, replace white rice with brown rice and do try some of the above-mentioned brown rice recipes with 100% natural Himalayan Natives Brown rice! Our rice varieties are 100% natural, GMO-free and pesticide-free. It comes with no added colors and preservatives.
---
---