Some Amazing Indian Dal Recipes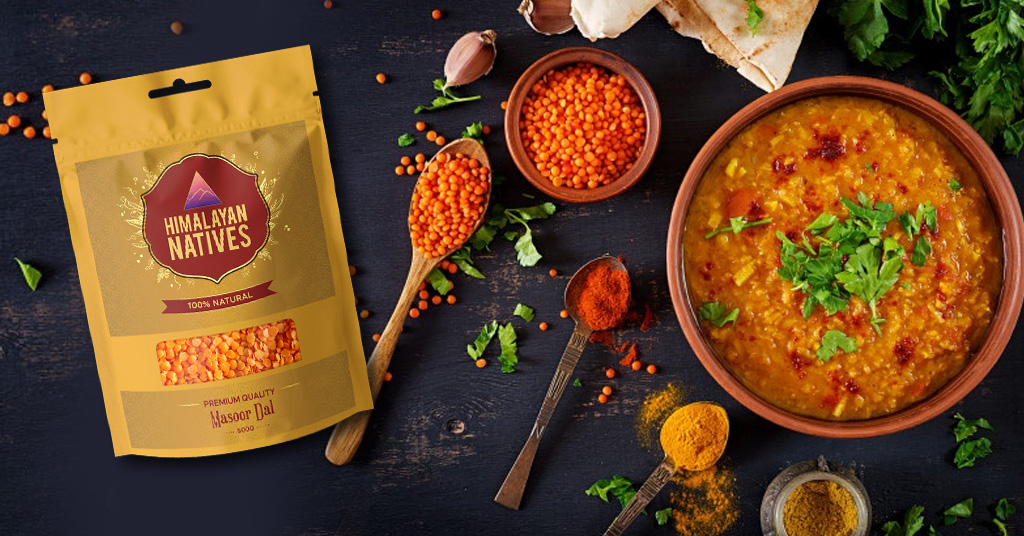 Dal is one common dish with which most Indians have an umbilical-like connection. Technically the word "dal" simply denotes a split pulse, but in India, it encompasses dried beans, chickpeas and peas and a thick puree-like stew or soup made from lentils with a combination of different spices.
An indispensable part of most Indian thalis, dal recipes can include from vegetables to eggs. There are several varieties of dals, ranging from the most basic and the simple tadka dal to the most extraordinary smoky and creamy dal makhani. A creamy texture is one of the similarities of dals while their unique fragrance sets them apart.
Here are our best dal recipes that once can easily cook at home with a simple ingredients list and step by step procedures.
List of some delicious Dal recipes
Palak Toor Dal
This is a simple, delicious, and filling toor dal recipe made with a combination of spinach and a number of spices.
Ingredients:
2 cups of spinach (palak) (chopped)
½ cup toor dal (soaked and drained)
3 cups of water
1 tsp green chilies (finely chopped)
¼ tsp turmeric powder
½ tsp ginger paste
1 tbsp pure ghee
Salt to taste
3 Kashmiri red chilis
3 bay leaves
3 cloves
A pinch of hing
½ tsp cumin seeds
½ tsp chili powder
2 tbsp fresh coriander leaves (chopped)
Instructions:
In a pressure cooker, add 3 cups of water. Mix toor dal, spinach, green chilis, turmeric powder salt, and ginger paste and cook for two whistles.
Using a and blender, blend the dal in a coarse mixture. Keep it aside.
Heat the ghee in a pan. Add bay leaves, cloves, cumin seeds, hing, and red chilis and saute on medium heat for a while.
Pour this mixture on the cooked dal. Add chili powder and coriander leaves and mix thoroughly. Cook it on a medium flame for 4-5 mins while stirring occasionally.
Serve hot with jeera rice and enjoy!
Dal Makhani
A popular Urad dal recipe combined with the flavors of butter, Kasoori methi, chilies and tomatoes, making it a sumptuous main course dish.
Ingredients:
2 cups of urad dal (whole)
8 cups of water
1 tbsp ginger (sliced)
2 tbsp butter
1 tbsp oil
1 tsp Kasoori methi
2 cups of tomato puree
2 tsp shahi jeera
1 tsp chili powder
1 tsp sugar
2 tbsp salt
½ cup of cream
Green chilies (for garnishing) (slit lengthwise)
Instructions:
In a pan add water, urad dal, salt (1 tbsp), and ginger. Cook until dal becomes tender.
In another pan, heat butter and oil. Add shahi jeera and Kasoori methi. After some time, when they begin to splutter, add tomato puree, remaining salt, chili powder, and sugar.
Stir-fry over a high flame, till the oil gets separated from the mixture.
Add the cooked dal and bring to boil. Let it simmer, uncovered, till well blended for some time.
Add cream and stir well once it gets heated through.
Garnish with green chilies and serve hot with naan or jeera rice.
Panchratna Dal
A lip-smacking and healthy Rajasthani dal recipe prepared with five types of lentils: Moong, channa, masoor, urad, and toor, and cooked with various spices to make it a creamy dish.
Ingredients:
¼ cup of whole urad dal
¼ cup of chana dal
¼ cup of toor dal
¼ cup of moong dal
¼ cup of masoor dal
1 tbsp ginger-garlic paste (garlic is optional)
2 small onions (finely chopped)
2 large tomatoes
2-3 green chilies
½ tsp turmeric powder
1 tsp coriander powder
1 tsp cumin seeds
A pinch of asafoetida powder (Hing)
1 ½ tbsp pure ghee
Salt to taste
Coriander leaves (for garnishing)
Instructions:
Wash and soak the dals for 1-2 hours.
In a pressure cooker, add some water. Add all the lentils or dals. Add salt and turmeric and cook till 3-4 whistles of the cooker.
In a large pan, add ghee and let it heat up. Add a pinch of hing and cumin seeds and fry for some time.
Add ginger-garlic paste or just ginger paste and saute thoroughly. Add onions and saute them till they turn slightly brown in color.
Add tomatoes, green chilies, coriander powder and cook till the oil separates.
Slightly whisk the dal mixture and pour it in the pan.
Mix thoroughly, add some water if required and cook on low flame for at least 15 minutes. This dal should have a creamy consistency. The longer you cook it on low flame, the more creamy it is.
Garnish with coriander leaves.
Serve it hot with rice or chapatis.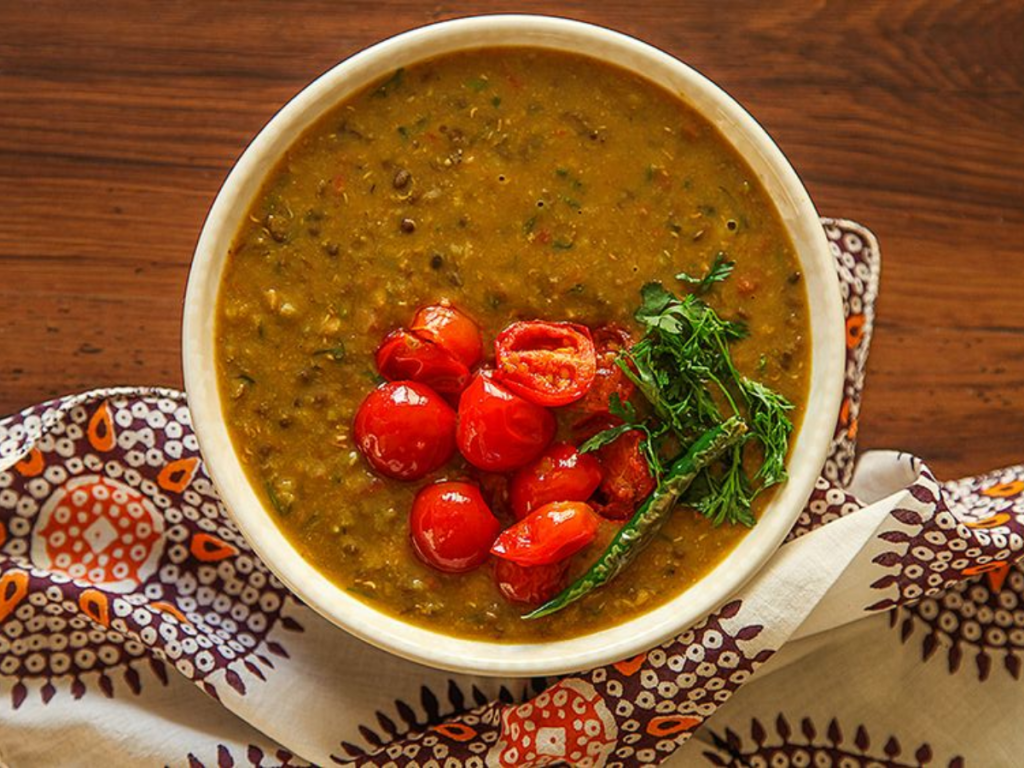 Chana Dal
This is a typical Bengali style Chana dal recipe which has a mildly spicy taste and is highly packed with nutrition.
Ingredients:
1 cup of chana dal
½ cup of coconut (chopped)
2 ½ cups of water
1 tsp pure ghee
1 cinnamon stick
¼ cup of raisins
1 bay Leaf
1 clove
½ tsp turmeric
½ tsp salt
A pinch of sugar
For Tadka:
1 tsp pure ghee
1 tsp cumin Seeds
2 bay leaves
2 cloves
4 cardamom
2 red chili (Whole)
1 cinnamon stick
Instructions:
Wash and soak a cup of chana dal for about ten minutes
In a pan, add ghee and chopped coconut to it.
Fry the coconut until they turn golden brown.
In a pressure cooker, add the soaked chana dal.
Add cinnamon, clove, bay leaf, raisins, fried coconut, turmeric, salt, and sugar to the cooker.
Mix thoroughly and add water. Pressure cook it.
Add ghee in a pan. Add cumin seeds, bay leaves, cloves, cinnamon, cardamom and red chili. Thoroughly saute them.
Add the sauteed spices to the cooked dal in the pressure cooker. Mix thoroughly.
Garnish with the remaining fried coconut pieces.
Serve with roti or puri and enjoy!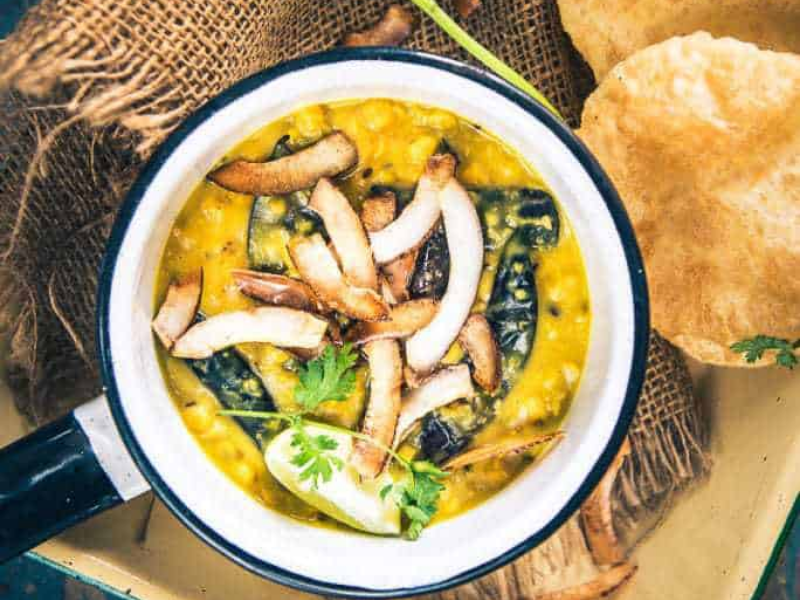 When we think of good food one of the most loved preparations that come to mind is the quintessential dal. This is one item that is included in every menu of home meals, restaurants, and parties. Try out these mouth-watering and filling dal recipes. These recipes are perfect for any lunch and dinner parties when served with butter naan, rice, or tandoori roti!