Popular Recipes for Holi, the Festival of Food and Colours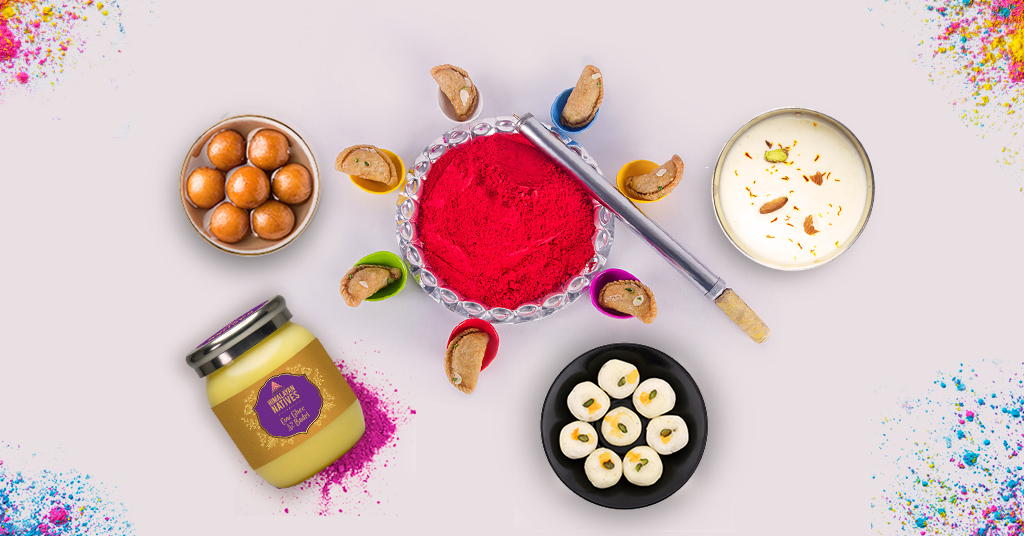 Most of us celebrate Holi every year, but do we still remember its significance?
Holi marks the arrival of spring after the long and chilly winters. It is an ancient Hindu festival that is considered among one of the most cherished and celebrated festivals in India. It is celebrated in most parts of the country and has gained popularity among many of the non-Hindu communities as well.
Holi is an exuberant and a colourful celebration of mythical stories, legends and deities signifying the victory of good over evil. This festival not only involves religious celebrations and devotions but also celebratory music, traditional dances and playing with colours with friends and family. Interestingly, different cities and states across India have unique traditions to celebrate this day. From smearing colours on each other to enjoying a plateful of lip-smacking delicious holi dishes, the festival of Holi ushers a carnivalesque mood amongst people of all age groups, every year.
Let us dive into some of the most popular and lip-smacking holi dishes:
Thandai
One of the most popular loved Holi drinks, has been prevalent in the Northern parts of India for a few decades. It is prepared with a mix of dry fruits, seeds, and a few spices.
Ingredients:
1 cup of warm water
3 tbsp or 30 gm of almonds
2 tbsp or 20 gms of pistachios
2 tbsp poppy seeds (khus khus)
¼ cup or 30 gm of melon seeds
2 tbsp dried rose petals or rose water or gulkand
1 tbsp fennel seeds
½ tsp black pepper (whole)
3-4 green cardamoms with seeds (husks removed)
1 pinch saffron (optional)
½ cup or 100 gms of sugar
1 glass of chilled milk
Ice cubes (as required)
Few rose petals or chopped almonds or pistachios (for garnishing)
Procedure:
Soak almonds, pistachios, poppy seeds, melon seeds, dried rose petals, 1 tbsp fennel seeds and ½ tsp black pepper in a bowl of warm water. Keep it aside for 2 hours.
Now pour the entire bowl of ingredients in a blender. Add ½ cup of sugar, 3-4 cardamom seeds and one pinch of saffron and mix thoroughly until it turns into a smooth paste.
Add 4 tbsp of the thandai paste in a glass. Pour chilled milk (or use a combination of milk and water in equal amounts). Thoroughly mix the ingredients.
Add 2-3 ice cubes.
Garnish with almonds or rose petals.
Serve fresh, and enjoy.
Recipe source: vegrecipesofindia
Gujiya
Gujiya is a popular crisp and flaky North Indian holi special sweet made with a stuffing of khoya or mawa and dry fruits.
Ingredients:
For gujiya outer crust
1 cup of whole wheat flour and 1 cup all-purpose flour
¼ tsp salt
⅓ to ½ cup water or as required
2 tbsp pure ghee
For stuffing
1 cup or 200 gms of khoya(or mawa)
½ tbsp ghee
⅓ cup of chopped dry fruits (cashews, almonds, pistachios, raisins)
⅓ cup of powdered sugar (or as required)
½ tsp cardamom powder
Procedure:
For the dough:
Add cold water, flour and ghee in a bowl and make a soft dough. Cover it with a moist cloth for 15-20 mins and keep it aside.
For the stuffing:
Heat a pan with 1 tbsp ghee and add khoya or mawa. Stir continuously at low heat until golden brown. Turn off the flame and let the khoya stuffing cool down.
Add powdered sugar, chopped dry fruits, and cardamom powder. Mix thoroughly and keep it.
For making gujiyas:
Divide the dough into small round shaped balls.
Roll the balls into small puris and place it on the gujiya mold.
Add the stuffing in the middle portion of the balls. Apply little water over the edges. Close mold and press gently.
Heat oil in a pan.
Deep fry both the sides of the gujiyas on medium heat until golden brown.
Remove the gujiyas on a dish and drain the excess oil on kitchen paper tissues.
Repeat the process with the remaining dough and khoya. After cooling down completely, store them in an air-tight box.
Serve and enjoy with lassi!
Recipe source: vegrecipesofindia
Dahi Vada
Another popular North Indian dish, Dahi vada, a street food snack is made from lentil dumplings in yogurt, served with chutneys and spice powder seasonings.
Ingredients:
½ cup or 125gms of urad dal
1 green chili (chopped)
½ inch ginger (chopped)
1 tsp cumin seeds
1 pinch of asafoetida (hing)
3 tbsp water or as required (for grinding the batter)
½ tbsp raisins
8- 9 cashews (chopped)
Salt (as required)
2- 2.25 cups of curd (yogurt)
½ – 1 tsp chaat masala (or as required)
¼ – ½ teaspoon red chili powder (or as required)
1 tsp roasted cumin powder
Black salt or regular salt (as required)
Instructions:
Soak the urad dal in water overnight or for 4-6 hours.
In a blender, add urad daal, water, green chilies, ginger, cumin seeds, and hing. Grind it thoroughly until smooth and thick.
Remove the batter in a bowl and stir it for some time to make it fluffy and light.
Heat a pan with oil for deep frying on medium flame.
Add 2-3 spoonfuls of the batter in the pan. Fry both sides until the vadas turn pale golden.
In another pan, add water and soak the vadas for 15-20 minutes.
Remove the excess water from the vadas by pressing them slightly. Keep it aside.
Add yogurt in a bowl and whisk it well until smooth.
Add the vadas with the yogurt and top it with green chutney and tamarind chutney.
Sprinkle red chili powder, roasted cumin powder, chaat masala, and black salt.
Garnish with chopped coriander leaves.
Serve it and enjoy!
Papdi Chaat
The showstopper of all street foods, a people's favourite, made with boiled potatoes, chickpeas and spices.
Ingredients:
20 pieces of papdi
2 peeled potatoes
1 tsp red chili powder
½ tsp roasted cumin powder
½ tsp chaat masala
Salt to taste
1 finely chopped onion
1 finely chopped tomato
Fresh coriander leaves (chopped)
Chaat masala to sprinkle
¼ cup of beaten curd
¼ cup of sweet tamarind chutney (imli chutney)
¼ cup of green chutney (mint- coriander chutney)
¼ cup sev
Procedure:
Cut the potatoes into small pieces. Boil them.
In a bowl, add the boiled potatoes, red chili powder, cumin powder, chaat masala, and salt. Mix well and keep it aside.
For Preparing Chaat:
Place the 6-7 papdi on a serving plate.
Top it with the potato mixture.
Add sweet tamarind chutney and curd over it.
Sprinkle chopped onions, tomatoes and chaat masala.
Season it with freshly chopped coriander leaves and sev.
Serve immediately and enjoy!
Recipe source: yummly.com
Jalebi
Jalebi is a hot-favourite special Holi dish. It is a circular-shaped, deep-fried dough soaked in sugar syrup. Jalebis tastes best when served warm, straight from the kadhai.
Ingredients:
For the batter:
100 grams of all-purpose flour
30 grams cornflour
4 tbsp curd
1 tsp orange or yellow food colour
1 tbsp oil or ghee
For the syrup:
1 cup of granulated white sugar
1 cup of water
4 threads of saffron or 4-5 drops of yellow food colouring
Procedure:
Add flour, cornflour, ghee, curd, and water and mix them thoroughly to make a thick batter.
Add the food colours for a golden yellow tinge.
Cover the bowl and leave the batter to ferment in a warm place for 12 hours or overnight.
Thoroughly whisk the fermented batter and pour some of it in a plastic bag forming a cone and make a tiny hole in the plastic.
Heat oil or ghee in a pan on medium flame.
Squeeze the batter to form concentric rings.
Fry both sides until slightly golden.
Make a syrup using sugar, water, and saffron and cook till it reaches a one string consistency.
Soak the jalebis in hot sugar syrup for 10 mins.
Remove jalebis from the syrup and serve them warm!
Recipe source: https://www.yummly.com/recipe/
The festival of colours is celebrated as a day of spreading happiness, love, and extravagant feasting. Most of us eagerly await this day for its vibrancy, positivity and a reason for us to indulge in a number of healthy and mouth-watering, delicious dishes. It marks a reunion among friends, relatives, and neighbours and is a day of rejoicing! This Holi, celebrate safely and cook healthily with Himalayan Natives!