Popular Chia and Basil Seeds Recipes for Weight Loss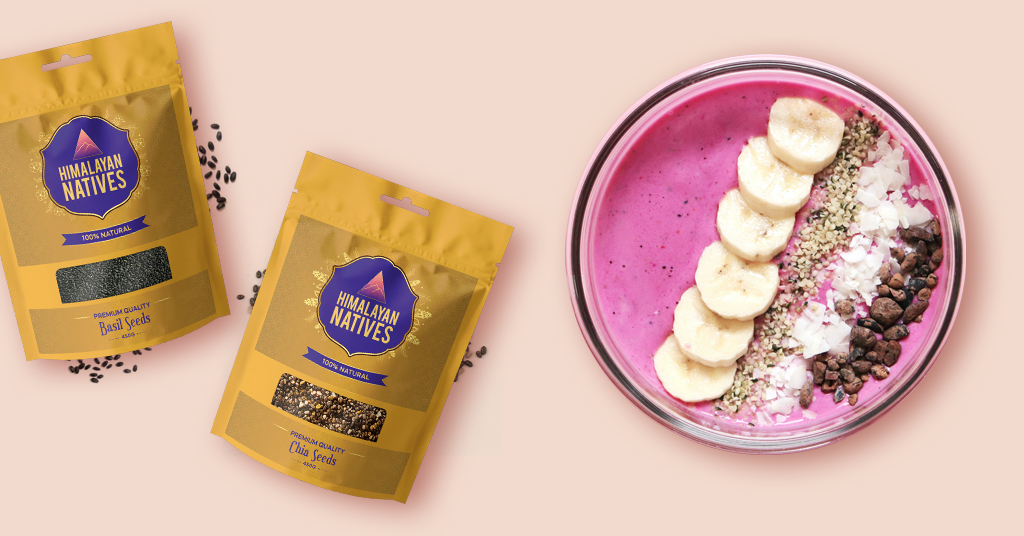 Seeds have become the new superfoods of today. They not only hold essential nutrients but also help lose and manage weight effectively. Several seeds ranging from chia seeds, flax seeds to pumpkin seeds, and sabja/basil seeds have earned the reputation of being a weight loss-friendly ingredient that can be incorporated in diets to help shed off a few kilos.
Chia seeds work as an amazing ingredient for weight loss. Loaded with antioxidants, protein, healthy fats, and dietary fiber, consumption of these seeds helps keep your stomach full for longer periods of time as well as flush out toxins, build lean muscle mass and reduce inflammation.
Sabja seeds, or basil seeds, are also filled with high fiber, which helps keep your stomach full for a longer time thereby reducing your appetite and further preventing overeating and sudden cravings. They are also a rich source of alpha-linolenic acid (ALA) that comes from high levels of Omega-3 fatty acids which help in stimulating the fat-burning metabolism in the body.
Let us take a look at some of the healthy yet quick recipes that can be prepared with Chia and Basil seeds for weight loss:
Mixed Fruit Chia Smoothie
Ingredients:
1 whole banana (peeled)
1 cup of blueberries
2 tbsp chia seeds
1 tablespoon yogurt
1 cup full-fat milk or soy milk
Method:
Peel the banana and blend it in a blender.
Add the blueberries, yogurt, milk, and chia seeds.
Blend it thoroughly until smooth and pour it into a glass.
Drink up and energize yourself!
Chia Muffins
Ingredients:
⅔ cup of almond milk
1 cup of rolled oats
1 cup mashed banana
½ cup of brown sugar
¼ cup of white sugar
⅓ cup of ghee
2 ½ tbsp chia seeds
2 tsp baking soda
2 cups of flour
2 tsp apple cider vinegar
½ tsp salt
½ tsp cinnamon
¼ tsp nutmeg
Method:
Preheat oven and grease a muffin tray with oil or ghee.
In a bowl, whisk almond milk and apple cider vinegar and keep it aside.
In another bowl, mix flour, chia seeds, cinnamon, nutmeg, baking powder, and salt.
Add mashed banana, sugar (brown and white), and ghee to the apple cider vinegar and milk mixture. Mix thoroughly.
Stir in the dry ingredients.
Add 1-2 tbsp of batter to each muffin mold in the tray and bake for 20-25 minutes.
Bake it, serve and enjoy!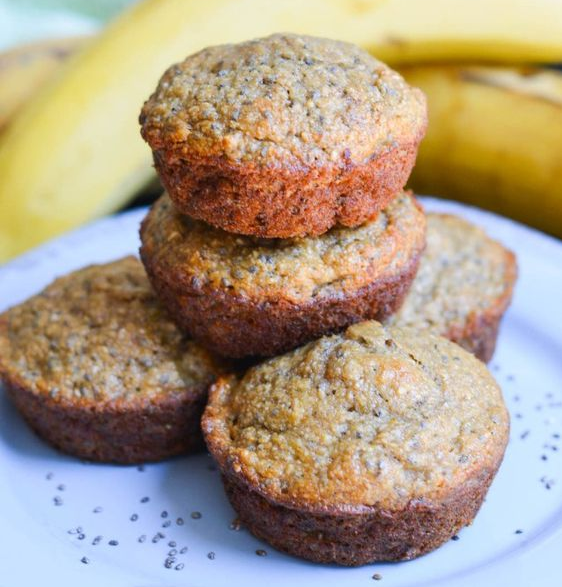 Banana Pancake with Chia Seeds
Ingredients:
1 ripe banana
½ cup flour
2 tbsp ground oats
2 tbsp chia seeds (soaked)
¼ cup of almond milk
1 tsp cinnamon
Berries and honey (for topping)
Method:
Mash the banana.
Add flour and ground oats. Mix thoroughly.
Add milk, cinnamon, and chia seeds. Mix well again.
Heat a nonstick skillet and put a ladle of batter.
Cook both sides for two minutes.
Transfer the pancakes to a plate and top it with berries and honey.
Serve and enjoy!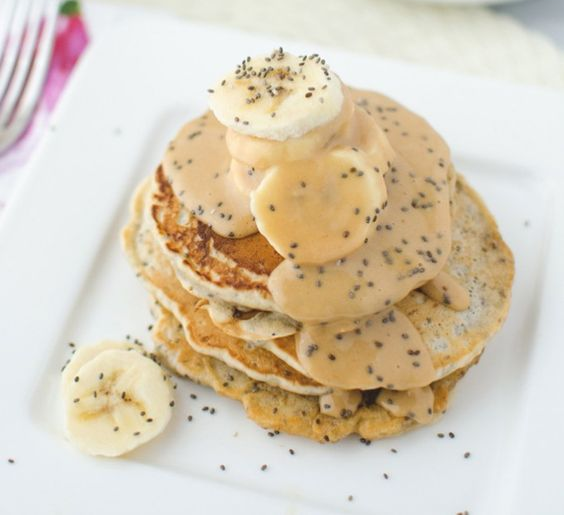 Buckwheat Porridge with Basil Seeds
Ingredients:
½ cup of buckwheat groats
2 -3 cups of coconut milk
2 tsp basil seeds
2 tsp raw honey (optional)
1 tsp ground cardamom
¼ tsp vanilla powder
Fresh berries or dried coconut (topping)
Method:
In a bowl, add buckwheat groats with water, cover them and let it sit for 2 to 4 hours. Drain the water and rinse thoroughly to remove the mucilaginous.
In a pan, add all the ingredients and set over medium heat. Stir occasionally to stop the porridge from sticking at the bottom of the pan. Simmer it and then lower the heat.
Add more milk as needed or if it starts to stick at the bottom.
Once the buckwheat has softened and expanded, and the basil seeds have soaked up all the liquid, the porridge should be ready.
Pour the porridge into a serving bowl and top it up with your favorite toppings!
Strawberry Smoothie with Basil Seeds
Ingredients:
5-6 strawberries (chopped)
1 tsp soaked basil seeds
Honey to taste
250 ml milk (chilled)
Water
Method:
Soak basil seeds in ½ cup of water.
In a blender, add strawberries, milk, and honey.
Pour the soaked basil seeds into a glass and add the mixture.
Serve, drink up, and enjoy!
So, it's not too difficult to incorporate chia seeds and basil seeds into your everyday diet. Apart from eating good, it is also important to exercise or do yoga for at least 4-5 hours a week. The results will reflect on your overall health and weight in a few month's time if you adhere to a healthy lifestyle. Himalayan Natives 100% Natural Chia seeds and Basil seeds are packed with nutrients as they are free from chemicals and preservatives. Start including basil seeds and chia seeds for weight loss in your diet now!