28 Dishes from the 28 States made in Pure Ghee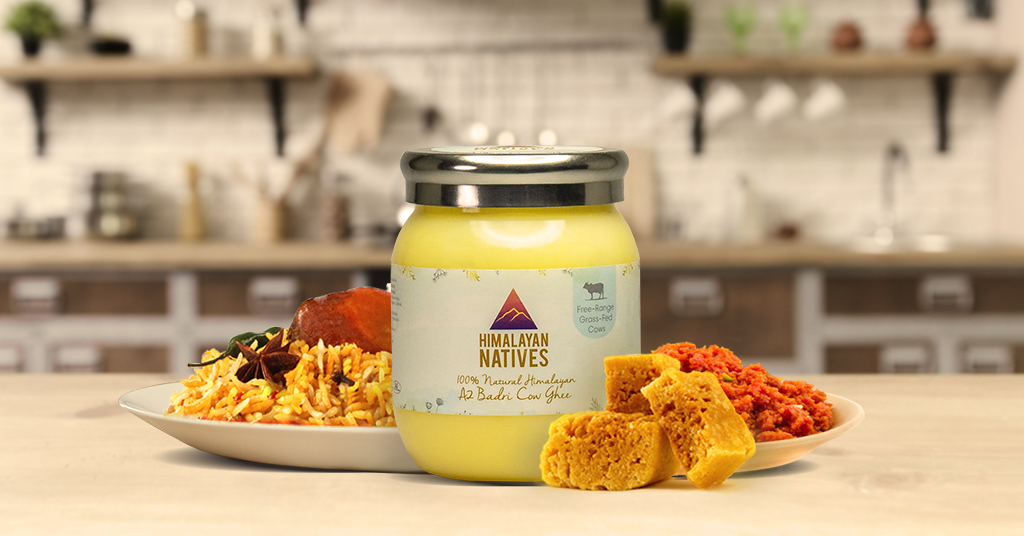 The cultural diversity of our country exposes us to various kinds of traditions, lifestyles, and languages. The very same diversity gives us the privilege to experience various dishes originating from different cultural backgrounds.
Although there are numerous ingredients that differentiate one Indian cuisine from another, there are a few ingredients that are loved and widely used in every cuisine across the country. One such ingredient is the extensively loved ghee. Whatever part of India you may be in, it is likely that there is great consumption of this magical golden liquid there.
Here is a curated list of dishes made in ghee, an ingredient that binds together all cuisines from all 28 states of India.
Mittha, Himachal Pradesh:
Mittha is a traditional sweet dish of Himachal Pradesh that is widely cooked on various special occasions. It is made of sweetened rice and is topped off with dry fruits like almonds, cashews and dry coconut shreds. Given that this preparation does not consume a lot of time, it is regularly cooked in every household of this mountainous and beautiful state.
Makki Ki Roti, Punjab:
We can say that this traditional bread is a trademark of Punjab. Made from maize flour, this flatbread is a very simple yet versatile dish. Although, the most popular pairing of Makki ki roti is with Sarson ka Saag, it is often paired with hot tea for breakfast.
Chainsoo, Uttarakhand:
Chainsoo is made with black gram dal, a high protein pulse grain. The dal is roasted and ground before being cooked in ghee. It can be paired with both rice and chapati. Chainsoo is famously served with a topping of desi ghee and coriander leaves.
Malpua, Haryana:
Malpuas are deep fried pancakes that are soaked in sugar syrup for a short period before being served. Malpuas are considered to be one of the oldest and most loved sweets of India. It is made from a batter of white flour, natural ghee, curd and various nuts. This sweet delicacy is widely loved and savoured by people across the country.
Dal Bati Churma, Rajasthan:
This dish is believed to have originated from the famous city of Mewar. The perfectly baked baatis are slatthered with pure ghee and are consumed with dal and a churma made with flour, ghee and powdered sugar. The combination of daal, baati, and churma makes for a heavy and rich meal which is generally prefered during lunch.
Galouti Kebab, Uttar Pradesh:
This melt-in-your mouth delicacy is yet another popular dish from the Mughlai cuisine. Legends say that these kebabs were invented for the then Nawab, who had lost all his dentures owing to his old age. Galouti kebabs have a silky-creamy texture and can be easily chewed. These kebabs are made by mixing minced meat with several exotic spices, and are then fried in cow ghee. This royal and flavoursome appetizer is a must try for all the meat lovers out there!
Thekua, Jharkhand:
Thekua, a dry sweet made from a mix of ingredients including wheat flour, sugar, cow ghee, jaggery, and nuts and is deep fried until it hardens. This sweet snack can be preserved for various days and is fondly prepared as 'prasad' for the famous Chhath puja.
Mawa Jalebi, Madhya Pradesh:
Mawa jalebi is prepared using mawa which is usually homemade. This delectable sweet is widely made on festivals like Diwali and Raksha Bandhan. Garnished with nuts and a few saffron strands this sweet dish is a perfect warm snack during the chilly winter evenings.
Dehrori, Chhattisgarh:
Dehrori is a traditional speciality sweet cooked and served on special occasions. Chhattisgarhi Dehrori is made with a mix of rice batter and curd which is then fermented overnight. The fermented batter is shaped into small dumplings and is then fried in cow ghee. The fried dumplings are then soaked in sugar syrup to add sweetness. Often people refer to Dehrori as the 'Rice Gulaab Jamun'.
Khichdi, Odisha:
This dish is made using ingredients like cilantro leaves, desi ghee, cumin seeds, ginger, shredded coconut, rice, and raisins. This traditional version of khichdi is also made as an offering to the Gods in the Jagannath temple. Since the temple attracts tourists from all over the world, let alone India, this khichdi is savoured by people of all backgrounds.
Litti Chokha, Bihar:
Popularly known for its rustic taste, the classic Litti Chokha of Bihar is known across India for its humble and earthy flavours. Littis are small ball-shaped pieces of baked dough which are filled with sattu and then roasted over a grill. Paired with a fine dollop of ghee poured on top, and a chokha made from potatoes or brinjal, you will find this dish to be a wonderful fusion of flavours and comfort.
Doi Maach, West Bengal:
Doi Maach is one of the signature dishes of Bengal that is served during most traditional occasions. It is a simple, yet delicious dish that is savoured by people of all ages. The fish is marinated in spices like turmeric, chilly powder, mustard oil and salt and is then fried in desi cow ghee. Once fried, the tender fried fish is cooked in a yoghurt based gravy. Doi maach is often served with a squeeze of lemon on top to give a citrusy kick to the warm flavours.
Dhindo, Sikkim:
Dhindo is a North-eastern dish prepared by cooking flour in pure ghee and water. Water is brought to a boil and slowly flour and ghee are added to it. Ghee helps you stay warm during winter, thus, Dhindo, a ghee-heavy dish is appropriate for a place that gets as cold as Sikkim. Dhindho's texture resembles that of a halwa and is mainly consumed in mountainous regions and is consumed as a main meal.
Shir Sewain, Meghalaya:
This rich dessert features khoya and milk. Made in pure ghee, Shir sewain is a very comforting and easy to make dessert. Spices like cardamom and saffron paired with nuts are added to this semi-liquid dessert to make it richer and more flavourful.
Bhangui, Tripura:
Bhangui is a well known North-eastern rice dish that is an essential part of people's diet in Tripura. In order to prepare this dish, the rice is sun dried and is then boiled with cow ghee, onion, and ginger. The ingredients are wrapped in a banana leaf before boiling to enhance the aromatic element of the dish and to keep the nutrients intact. It fondly eaten with a serving of meat or fish on the side.
Bora chaulor payas, Assam:
This delicious Assamese dessert is made using milk, sticky rice, bay leaves, cow ghee and cardamom. It is thick and creamy in texture. People often use jaggery to sweeten Bora chaulor payas. Bora chaulor payas is quite easy to cook and makes for a perfect warm and delicious cup of dessert.
Shya Phrum Rimom, Arunachal Pradesh:
Shya phrum rimon when translated means meat, paneer and blue-green algae. Making this dish requires boiling the meat and then mixing it with solu (chilli), rimon and chhurpi which is then cooked on a low flame. Natural Yak Ghee is added to Shya phrum rimon just a few minutes before taking it out. This dish is usually served alongside kongpu flour, a finger millet or rice.
Akibiye, Nagaland:
Akibiye is a simple dish made with bamboo shoots and colocasia. Known for its simplicity and earthy flavours, this dish is dearly enjoyed by the Naga community. Since the gravy of Akibiye is thick and rich, it goes beautifully with hot rice served with a spoonful of ghee.
Madhurjan Thongba, Manipur:
Madhurjan thongba are sweet dumplings made out of chickpea flour. It is a traditional sweet dish in the North-East and is truly a treat to the taste buds. Once cooked, the dumplings are soaked in thickened sweet milk mixed with fresh coconut. This delicious deep fried dessert has a refreshing taste and comes with a surprise of authentic flavours.
Akibiye, Nagaland:
Akibiye is a simple dish made with bamboo shoots and colocasia. Known for its simplicity and earthy flavours, this dish is dearly enjoyed by the Naga community. Since the gravy of Akibiye is thick and rich, it goes beautifully with hot rice served with a spoonful of ghee.
Mohanthal, Gujarat:
Mohanthal is a locally loved traditional sweet dish in the state of Gujarat. Made with a mix of gram flour and natural ghee, Mohanthal has a texture similar to that of chocolate fudge. People often add dry fruits and nuts to the mixture to add a crunchy texture to the dish. Mohanthal is widely served during a number of occasions and festivals in Gujarat.
Puran Poli, Maharashtra:
Puran Poli is the ultimate spirit of every occasion celebrated in Maharashtra. It is essentially a flat bread made with white flour with a filling made of chana dal, sugar, and jaggery. This is generally served as a side dish and is both flavoursome and rich, yet easy to make.
Bebinca, Goa:
This rich dessert is a must-have at every celebration in Goa. Bebinca is a multi-layered cake made from a coconut-flavoured batter and desi ghee. Each layer of this cake is thinned out and cooked separately, making Bebinca a time-consuming dessert. But all it takes is a single bite into the cake, and you'd know all that effort was totally worth it!
Mysore Pak, Karnataka:
This is a traditional sweet made with gram flour, pure ghee, sugar, and cardamom. Mysore Pak has a buttery texture similar to that of a dense cookie. The city of Mysore is known for this speciality and this sweet dish attracts foodies from all parts of the world. If you're in Mysore, this is a must have without fail!
Hyderabadi Biryani, Telangana:
The Hyderabadi Biryani is a classic dish that was a result of blending the Andhra & Mughlai cuisines in Nizam's kitchen, who was a monarch of the state of Hyderabad in 1724. What makes this variant of biryani stand out is the meticulous process that goes behind cooking it. Cooked on a slow dum process, the Hyderabadi biryani requires no sauteing of spices or meat, instead, the meat in this biryani is beautifully marinated with several spices and herbs giving it a tender and juicy flavour. Refer to Swathi's Recipes for a yummy and easy Hyderabadi Biryani recipe.
Gutti Vankaya Curry, Andhra Pradesh:
This Andhra special dish is made by stuffing brinjals with a spiced onion mix. The stuffed brinjals are then cooked in a rich and spicy peanut based gravy. Gutti vankaya (eggplant bouquet) curry is fondly served with rice topped with a dollop of desi ghee. The punch of pure ghee gives an additional layer of delicious flavour to this dish. This traditional dish can be easily made with both brinjals or eggplants.
Tirunelveli Halwa, Tamil Nadu:
Made in pure ghee, the Tirunelveli halwa is a South Indian speciality famously known across the South region. It is made using a particular wheat variety called Sambha Godhumai, sugar, nuts, and of course – ghee, the super ingredient for tasty food.
Banana Halwa, Kerala:
Kerala's most loved and everyday meal, Banana Halwa is a super easy meal to cook. It includes simple ingredients like mashed bananas, sugar, cardamom, and cow ghee. This glossy dessert is often garnished with nuts and a dash of saffron to add more flavours to the dish.
We are a country of people who love and worship food. Ghee is not only an ingredient for us but is also an indispensable tradition. Desi ghee is the magic ingredient that adds flavour, texture, and aroma to every dish.
Finding ghee that is authentic and pure is equally important in order to be able to enjoy the right flavours, texture and aroma. You can check out our different variants of ghee, and who knows you might come across something which you'd cherish forever!

Now that you're familiar with various dishes originating from different parts of the country, go ahead and try out some of these lovely recipes starring the magical golden liquid- desi cow ghee!