Irresistible Dessert Recipes with Honey
The word "dessert" comes from the French verb "desservir" which means "to clear the table." The concept of dessert essentially emerged from the people of France. In the 16th century, the French divided the sweet parts of the meal from the sour, tangy and savoury parts. The term "dessert" is most commonly used in France, America, Australia, Canada and Ireland. The people of England call it "afters", the "sweet" or "pudding" instead. In the 18th and 19th century, desserts were often considered as the highlight of the meal. When it was served at the end of a dinner, it was seen as a sign of prosperity and a well-managed household.
When it comes to desserts, people do not need a reason to consume it. It is all about feeding the soul with food that makes you feel like you have finally found heaven on earth!
But desserts aren't the healthiest of the foods which have led many people including millennials to look for indulgent dessert recipes that are also healthy. There is no need to worry anymore, there are some easy substitutes that can be used while making desserts that will leave you feeling less guilty and conscious at the thought of having it.
Honey is a popular and versatile natural sweetener that can be often used in baking, for preparing sauces and some beverages. For desserts, it is mostly used along with granulated sugar to properly bring out the desired flavor. Honey works best in moist, dense, and full-flavored bakes. In comparison to granulated sugar, honey tastes sweeter, so one needs to be mindful of the amount of both the ingredients required for the dish. Also, given the liquid consistency of honey, one will need less fluid in some of the recipes. Honey is quicker to caramelize than normal sugar and gives a dark finish to your bake.
Honey lends an incredible taste and provides many functional benefits to the body such as it helps increase hemoglobin, boost immunity, enhance energy, maintain the digestive system, and more such positive impacts. It has a great appeal to foodies looking for indulgent, sweet dishes with clean labels and natural ingredients.
Let's check out some delicious and indulging honey dessert recipes:
Russian Honey Cake (Medovik)
Ingredients:
For the cake layer:
½ cup raw honey
½ cup granulated sugar
2 tbsp unsalted butter
3 large eggs (beaten)
1 tsp baking soda
3 cups of all-purpose flour
For the sour cream frosting:
4 cups sour cream
2 cups powdered sugar
1 cup whipped cream
Procedure:
For cake layers:
In a saucepan, add sugar, honey and unsalted butter. Melt them over medium or low heat. Keep whisking occasionally until the sugar melts.
Once the sugar dissolves, remove the saucepan from heat. While it's still hot, add the beaten eggs in a slow steady stream while whisking vigorously until all of the quantity of the beaten eggs is added to the mixture. Whisk constantly.
Whisk in the baking soda thoroughly until zero lumps. Then add flour slowly, one cup at a time with a spatula until the dough reaches a clay consistency and is non-sticky.
Cut the dough into 8 equal pieces. These turn out best when the dough is still warm.
Spread flour on a surface, roll each piece in the desired circular shape and thickness. Sprinkle the top of the roll with a little flour to keep the dough from sticking to the rolling pin.
Place the dough on a large sheet of parchment paper and bake two at a time at 350˚F for 4-5 minutes or until slightly golden. Transfer to a wire rack, keep it aside for some time and let it cool completely. Repeat the same with the remaining layers.
With the leftover dough, cut it into small pieces and bake it separated evenly on a reused parchment sheet. Once it's baked, let it cool for some time. Once firm, crush them with a rolling pin or a food processor until fine crumbs.
For frosting:
Take heavy cream in a bowl and beat it until fluffy for 1-2 min on high speed.
In a separate bowl, whisk the sour cream and powdered sugar together. Add the whipped cream into the sour cream and you have your frosting. Refrigerate until ready to use.
Assembling the cake:
Spread about ⅓ cup of frosting on each cake layer. Press the cake layers gently while placing one on top of the other to keep the layers from having air gaps. Add frost on the top and sides of the cake with the remaining frosting (optional).
Dust the top and sides with crumbs. Cover the cake with a plastic wrap and refrigerate overnight or 8-12 hours. This cake needs time to absorb some of the creams and soften.
Russian honey cake is now ready to be served and enjoyed!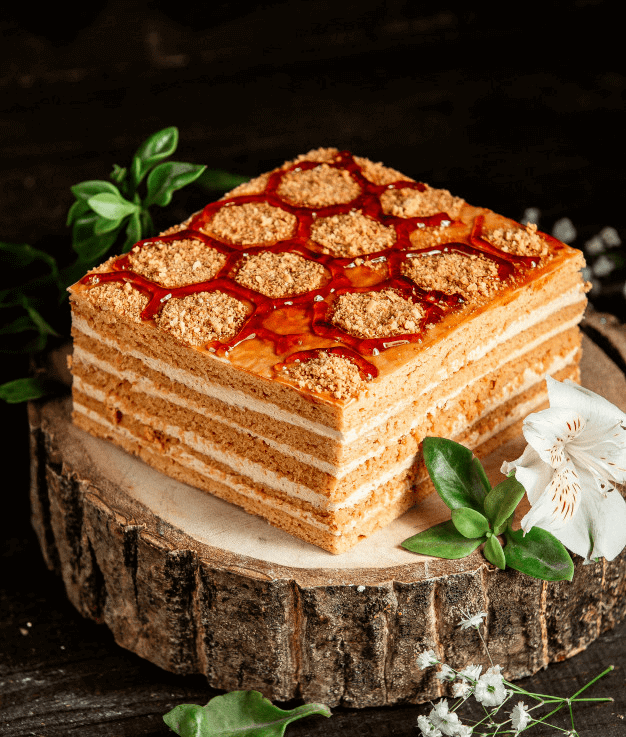 Eggless Honey Cake
Ingredients:
For the eggless sponge:
2 ⅛ cup all-purpose flour
1 tsp baking powder
⅛ tsp baking soda
¼ cup butter
400 gm sweetened condensed milk
1 tsp vanilla extract
¼ cup curd/ yogurt
1 cup milk
Salt to taste
For the honey syrup:
¾ cup of sugar
¾ cup of water
2 tbsp honey
Rose or pineapple essence (optional)
For jam glazing or topping:
Jam (any flavor of choice) as required
Coconut flakes
Procedure:
For cake sponge:
In a bowl, take condensed milk, butter, and vanilla extract. Mix thoroughly until the mixture turns fluffy and light.
In another mixing bowl, sieve flour, baking powder, and soda together.
Add dry ingredients mixture part by part to the wet mixture. Slowly add milk and make a thick batter that is lump-free.
Preheat the oven at 170 degrees C. Grease the cake tin with ghee or oil and add the cake batter and bake for 35-40 minutes.
For honey syrup:
Mix water, sugar and honey thoroughly in a pan and bring to a boil. Cook for 2-3 minutes. Once the syrup is thick remove from flame. Add rose or pineapple essence to it.
For jam topping:
In a bowl, cook the jam in low flame for 1-2 minutes to make it spreadable.
For assembling the cake:
Once the cake is done, let it cool. Trim the edges if required.
Take a large tray and drizzle ⅛ cup of honey syrup over it so that it spreads along with the entire tray. Now place the prepared cake on the tray.
Pour the remaining honey syrup over the cake and let the cake soak the syrup well.
Spread the jam evenly on the top of the cake. Garnish with coconut flakes.
Slice and serve the eggless honey cake and enjoy!
Honey Gelato Icecream
Ingredients:
For caramelized honey:
⅔ cup of honey
½ tsp of lemon juice
1 tbsp of water
For the custard:
⅔ cup of honey
½ tsp of lemon juice
1 tbsp of water
Procedure:
For honey caramel:
Mix honey, lemon juice, and water in a small saucepan.
Bring mixture to a simmer and cook for 8-10 minutes or until it turns dark in color. Remove from heat and keep it aside.
For the custard:
In a medium saucepan, bring milk and basil to a simmer. Remove from heat and allow it to soak for 10 minutes.
Remove basil, and whisk warm honey in the milk.
In a medium bowl, whisk egg yolks until smooth.
Slowly pour hot honey-milk mixture into the egg yolks and add salt.
Add the mixture in the saucepan and cook on a low flame for 5 minutes. Stir constantly.
Remove the pan from heat and add cream cheese until well combined.
Strain mixture through a sieve, cover it with plastic wrap, and refrigerate until cold.
Churn the mixture in an ice cream maker, following the manufacturer's instructions.
Serve and enjoy!
Honey Oatmeal Cookies
Ingredients:
½ cup of butter (softened)
½ cup of granulated sugar
½ cup of pure honey
1 large egg
1 tsp vanilla extract
1 ½ cups of rolled oats
1 cup of whole wheat flour
¼ tsp salt
1 tsp ground cinnamon
½ tsp baking soda
1 cup raisins, chocolate or butterscotch chips
Procedure:
In a bowl, mix butter with sugar until thoroughly blended. Add honey, egg, and vanilla and mix well until smooth.
In a separate bowl, add oats, flour, salt, cinnamon, and baking soda and blend into the honey mixture. Add raisins or chips and combine them.
Drop tablespoons of dough in a rounded shape on the greased baking sheet. Bake at 350°F for 12 to 14 minutes until the cookies turn golden brown.
Remove from the oven and allow cookies to cool 2- 3 minutes before removing from the baking sheet.
Cool completely then store in an airtight container.
Serve and enjoy!
It is most advisable to use raw and unpasteurized honey for preparing desserts. As they say, darker the color, stronger the flavor. Pure honey may sometimes solidify at room temperature, but you can turn it into liquid by gently heating the jar in warm water. Create a buzz with the above healthy honey cake recipes and honey desserts during the weekend or occasional evening parties!