Everything You Need To Know About Ghee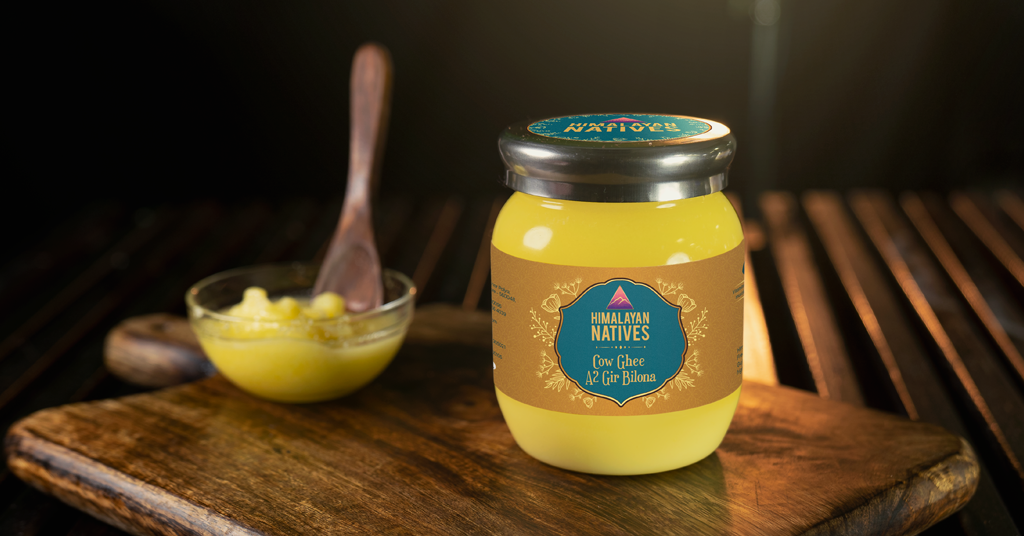 Ghee or clarified butter has been a part of the Indian cuisine since the time of the Vedas. Whether it is good fat or bad fat has always been a topic of debate. In the recent past, ghee has been recognized as a healthy fat by paleo diet followers, by lactose-intolerant people and by people who face difficulty in digesting dairy products. This recent acceptance of ghee as a nutritious and delicious ingredient has made it a part of living a wholesome lifestyle.
What is Ghee?
Ghee, also known as clarified butter or anhydrous milk fat is the natural golden-yellow substance that is left over after the impurities of butter are melted away. Ghee is formed after the butter has gone through a clarification process that strips away the parts of butter that are the most difficult to digest, like lactose casein, whey proteins, and trace minerals. It is also considered a superfood by many fitness and health enthusiasts as it plays a big role in a ketogenic diet. Ghee has been used for thousands of years for cooking and during religious ceremonies, as well as therapeutically, both internally and externally.
Is Ghee dairy-free?
A controversial question that always lingers around Ghee is whether it is dairy-free. Well, technically ghee is a dairy product but it is one product that can be consumed by people who have lactose or casein intolerance. Ghee is not dairy-free because it's butterfat. However, it's lactose-free because all of the milk solids are completely removed while manufacturing ghee. So if you're lactose intolerant and are avoiding dairy, ghee is a safe option for you. This is why ghee is considered to be a healthier alternative to butter, and it can be moderately included in any diet.
How is Ghee Different From Butter?
Ghee is produced from the direct heating of cream or butter that is churned from fresh or ripened cream (dahi) that is obtained by the fermentation of milk.
Whereas butter is a fat made by the churning of cream of milk. The churning process separates the solids (butterfat) from the buttermilk.
Let us see whether ghee is healthier or butter.
Nutrition:
Ghee is unprocessed fat with the presence of essential nutrients like Omega 3 fatty acids, Vitamin A and many more whereas butter is processed and lacks some of the vital nutrients that are present in ghee. Ghee does not contain any trans-fat, unlike butter which consists of 3% trans fat.
Smoke point:
Since ghee is free from milk, it has a high smoke point and can withstand high temperatures. Given its high smoke point, it can be used to cook at high temperatures, unlike butter that burns at higher temperatures, making it a healthier and easier option.
Taste:
Though both are made from milk, they have different tastes and flavours. Butter has a salty and creamier taste, while ghee has a rich nutty flavour and can be consumed by people with lactose intolerance.
Storage:
Ghee can be easily stored in an air-tight container at room temperature. Once opened, a bottle of ghee has a shelf life of up to 9 months. On the other hand, butter has to be always refrigerated, otherwise, it can turn rancid at room temperature. It also has to be kept tightly wrapped to protect it from absorbing rouge flavours.
Usage:
Ghee is versatile and can be used as a dressing for paranthas, frying chapatis or as a greasing agent while baking a cake. It can be incorporated into a variety of dishes and cuisines. Butter, on the other hand, has limited usage, it is mainly used as an ingredient for baking, making sauces or as a bread spread.
The Traditional Process of Making Ghee
Ghee is widely available in the market in the organic and commercial form in different jars and bottles. But it is always good to consume organic and natural ghee compared to the commercial ones as natural ghee retains the nutrient value of the ingredients and is not just about the taste of ghee. There are various methods of making ghee from milk and unsalted butter.
The traditional method or the hand-churned method of making ghee is the most popular method that has been followed by people for ages to produce 100% natural, pure ghee free from chemicals, preservatives and artificial colours.
The Traditional Process of Making Pure and Natural Ghee:
Boil the milk to extract the milk cream.
Keep storing the milk cream till you achieve the sufficient amount.
Churn the collected milk cream (malai) in a pan to extract the butterfat.
Gently boil the butterfat till you have a clear liquid fat with brown solid residues. Make sure that it does not burn.
Pour and cool the liquid fat in a glass container through a fine sieve.
Discard the brown solid residue which settled at the bottom.
Benefits of Ghee
Apart from being an integral part of Indian cuisine, there are several health benefits related to ghee which can be enjoyed if consumed on a regular basis. It helps keep a person mentally, physically and emotionally fit and healthy.
Let us dive into some of the reasons for consuming ghee on a daily basis:
Boosts immunity:
Pure and 100% natural desi ghee consists of antioxidants that help the body absorb the essential vitamins and minerals. The presence of Butyric Acid in ghee helps strengthen immunity by increasing the production of T-cells that fights against bacteria and germs in the stomach.
Helps reduce heart risk:
Ghee consists of high amounts of Omega-3 fatty acids which help reduce fat cells and triglycerides that may trigger heart-related diseases. It also helps reduce inflammation in the body and prevent the formation of harmful blood clots.
Increases fat burning:
Presence of Conjugated Linoleic Acid in pure ghee helps the body spend energy faster thereby speeding up the process of fat-burning in the body.
Strengthens bones:
Vitamin K2 in ghee ensures the deposition of calcium in the right places in the body which helps in the strengthening of bones and teeth. It also helps in the prevention of calcification of soft tissues, which is one of the major causes of degenerative diseases like diabetes, rheumatoid arthritis, osteoporosis.
Aids muscle growth:
The presence of Vitamins A & E in ghee is beneficial for muscle growth in the body. Vitamin A supports protein synthesis and glycogen production, which aids in the growth of muscles, while Vitamin E, being an antioxidant, blocks the effect of free radicals that restricts muscle growth.
Ghee can prove to be a powerful ingredient in a child's diet from their growing stage to their adolescent years. It can help build immunity and act as a natural nutrient and vitamin booster in the early stages of growth and development in children.
How Does Ghee Help During Pregnancy?
A balanced diet and nutrition are of utmost importance for a woman during her pregnancy. During this period, a woman is advised to consume healthy fats like ghee due to a number of reasons. Pure and natural ghee is full of nutrients like vitamins, omega 3 fatty acids, butyric acid, etc. which is believed to help develop a baby's brain and provide it with essential nutrients. Therefore homemade or 100% natural ghee is a healthier option for consumption when compared to any commercial ghee procured from the market.
Consumption of ghee helps in the following ways for a pregnant woman:
Helps improve digestion.
Helps ease labour.
Provides relief from constipation during pregnancy.
Keeps the baby well-nourished.
Aids in the proper development of the baby's brain.
Ghee as a Cleansing Agent
Ghee has the ability to penetrate into deep layers of tissues and cells and helps pull-out fat-soluble toxins hidden in these tissues, and flush them out of the body. It also helps the body burn its own fat cells by increasing oxygen consumption thereby detoxing the body.
Ghee helps detox the body in the following ways:

Flushes out old bile and produces new bile
Removes toxins from the body
Keeps the intestines healthy
Softens the hardened tissues
Increases the energy level
Incorporate Ghee in Your Diet With These Tasty Yet Healthy Recipes
Some of us are probably aware of the health-boosting benefits of ghee and some are still rediscovering the hidden advantages of ghee. People are in search of healthy recipes that have ghee as an ingredient and are easy-to-prepare at home to include pure and natural ghee in their everyday diet. Considered a superfood, pure ghee serves as a wonderful food ingredient for baking, cooking, frying purposes or as a dressing on various dishes. It is also widely used in Indian households by mothers in their food recipes for their babies during their growing years.
Below are a few recipes that are easy-to-make for babies, breakfast, lunch, dinner and desserts:
Recipes for Babies Using Ghee:
1. Dal & Rice with Ghee
Ingredients:
½ cup of rice
½ cup of daal (of your choice)
1 tsp ghee
1 pinch of jeera powder
½ tsp mustard seeds (powder)
2 curry leaves
3 cups of water
Procedure:
Wash the dal and rice in normal water
Heat ghee in a pressure cooker
Add curry leaves, jeera and mustard seeds powder in the cooker and saute it.
Add the dal and rice with water
Cook them until 3-4 whistles and till they are soft.
Feed your baby when it's warm and they will surely enjoy it!
Recipe source: Baby Destination
2. Rice Pudding
Ingredients:

4 cups of milk
1 tsp ghee
½ cup of rice
½ tsp sugar
Procedure:

Boil the milk in a pan and add sugar
Mix the rice and milk, and stir continuously
Cook the rice in low flame
Rice can also be cooked in a pressure cooker to make it soft
Add a dollop of ghee on rice after it is cooked
Recipe source: Baby Destination
3. Broken Wheat Porridge
Ingredients:

2 tbsp Dalia or broken wheat
½ cup of water
1 tsp ghee
1 cup of milk
½ tsp sugar
1 tsp grated almonds (recommended for toddlers above 12 months)
Procedure:

Heat ghee in a pan
Add Dalia and toss it gently until it is light-brown in colour
At low heat, pour the milk in the pan. Keep stirring until it comes to a boil
Add sugar and turn off the heat.
Garnish with grated almonds and feed it to your baby.
Recipe source: Baby Destination
Breakfast Recipes Using Ghee:
Beginning the day with a filling, healthy and tasty breakfast is a great feeling. It keeps you full, energized and active for the rest of the day or at least till your lunch!
1. Banana Pancakes
Ingredients:

2 large-sized eggs
3-4 large-sized ripe banana (mashed)
½ tsp baking powder
1-2 tbsp whole milk
¼ cup flour (maida)
2 tbsp melted ghee
¼ tsp salt
Whipped cream (for garnishing)
Raw honey (for glazing)
Procedure:

Whisk eggs, flour or maida, baking powder, milk and salt together in a bowl.
Add mashed banana in the bowl and mix thoroughly.
Heat a pan and add ghee.
Pour ¼ cup of the above pancake batter into the pan in a circular shape.
Cook both sides of the pancake for 8-10 seconds.
Keep the pancake in a plate and repeat the process with the remaining batter.
Top it up and glaze it with some whipped cream and raw honey.
2. Chana Dosa
Ingredients:

1 cup of Kabuli chana or chickpeas
2 tbsp rice flour
¼ tsp baking soda – 1/4 tsp
1 tbsp pure ghee
1 whole onion
1 or 2 green chillies
1 tsp ginger
2 tbsp coriander
Salt to taste
1 tsp pepper
Water (as required)
Procedure:

Soak the chana or chickpeas for a few hours.
In a blender, add chana, onions, chillies, ginger and blend thoroughly until smooth.
Add rice flour, salt, pepper and baking soda. Mix well.
Add water to make the batter with pouring consistency.
On a pan add ghee and heat it.
Add the batter in circular shapes.
Cook both sides for at least 2 minutes.
Serve with chutney or pickles!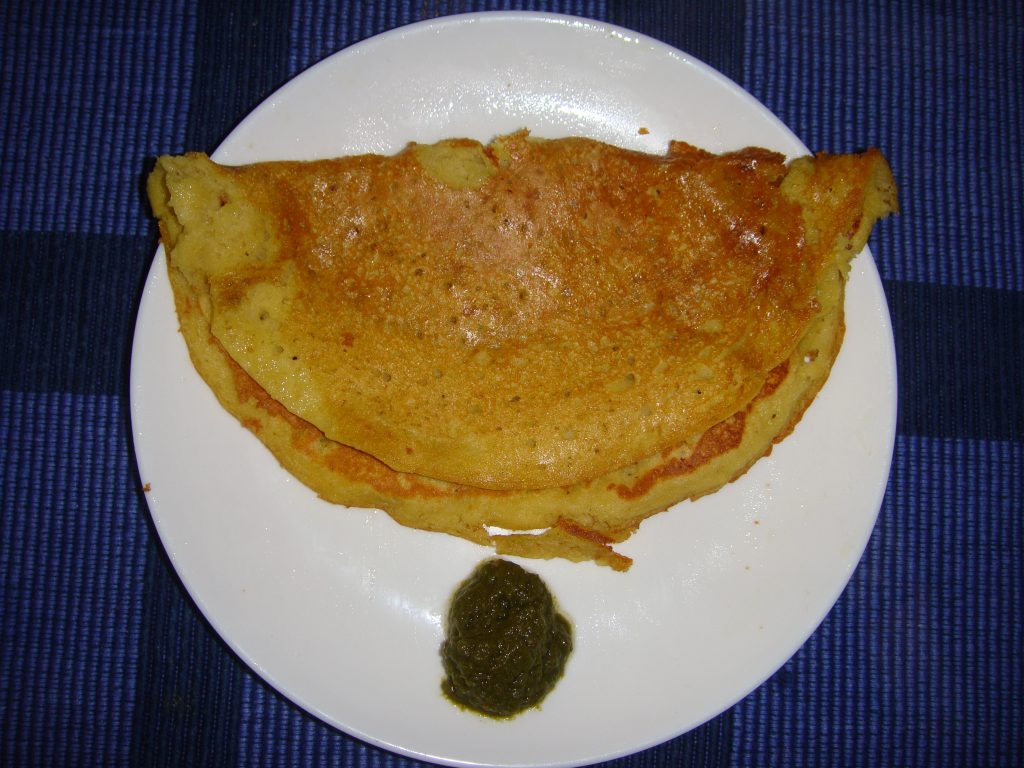 Lunch Recipes Using Ghee:
1. Moong Dal Curry
Ingredients:
1 cup of split skinless moong beans
1-2 tbsp ghee
1/4 tsp turmeric
1 tsp red chilli powder
1 cup chopped tomatoes
Salt to taste
1/4 cup fresh coriander (chopped)
Procedure:
Heat ghee in a pan.
Add turmeric, red chilli powder and tomatoes. Stir thoroughly.
Keep stirring and add salt and spices.
Lower the heat and simmer the curry.
Remove the water from the soaking moong beans and add the beans to the tomato curry. Stir and add one and a half cups of water to the pan.
Increase the flame. Bring the curry to a boil then reduce the flame to medium and then to simmer.
The moong daal is ready when the beans break easily if pushed between the thumb and forefinger.
Garnish with the chopped coriander.
Best eaten hot, with chapati, rice or salad.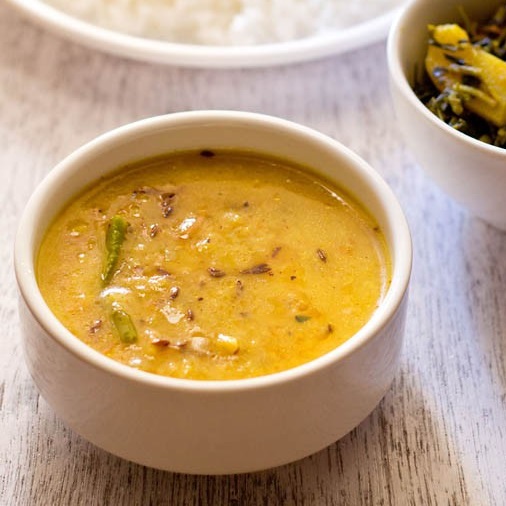 2. Paneer Paratha
For the wheat dough:
Ingredients:
1 cup of wheat flour
1/2 tsp salt
1/2 cup of milk
1/2 cup of wheat flour (for dusting)
For Paneer stuffing:
1 cup of grated Paneer
1 green chilli (chopped)
Salt to taste
1/4 tsp garam masala
1/4 cup of coriander leaves (chopped)
1/4 tsp red chilli powder
2 tbsp ghee
Procedure:
Take 1 cup of wheat flour, add salt and thoroughly mix it in a bowl.
Add 1/2 cup of milk and mix it.
Add water and knead the dough until soft.
For stuffing, add grated paneer and spices in another bowl and mix well.
Take a medium-sized ball dough and roll as per the desired diameter.
Place the prepared stuffing in the centre of the dough.
Take the edge and start pleating and bring it to the centre.
Press the pleats from the centre.
Sprinkle some flour and roll in the size of a chapati.
Heat a Tawa or a frying pan greased with ghee.
Place the rolled paratha on a hot Tawa/griddle and cook both sides.
Apply ghee and press gently.
Serve the hot paneer parathas with sauce, raita or pickle or a sabzi.
Recipe Source: Yummly

Recipes Using Ghee for Dinner:
1. Jeera Aloo
Ingredients:
2 tbsp pure ghee
2 tsp cumin seeds
2 small green chillies
200gm potatoes (peeled, chopped and boiled)
¼ tsp turmeric powder
Salt to taste
½ tbsp of ginger (chopped and peeled)
6 curry leaves
¼ cup of fresh coriander (chopped) (for garnishing)
Procedure:
Heat ghee in a pan.
Lower the heat and add cumin seeds and cover it with a lid.
Add green chillies, ginger and curry leaves. Stir fry them for a minute.
Add potatoes in the pan.
Add powdered turmeric and salt.
Stir for a while, and then cover the pot and bring the flame to low.
Stir and simmer for a few minutes.
Garnish with coriander leaves.
Serve with hot chapatis with ghee and enjoy!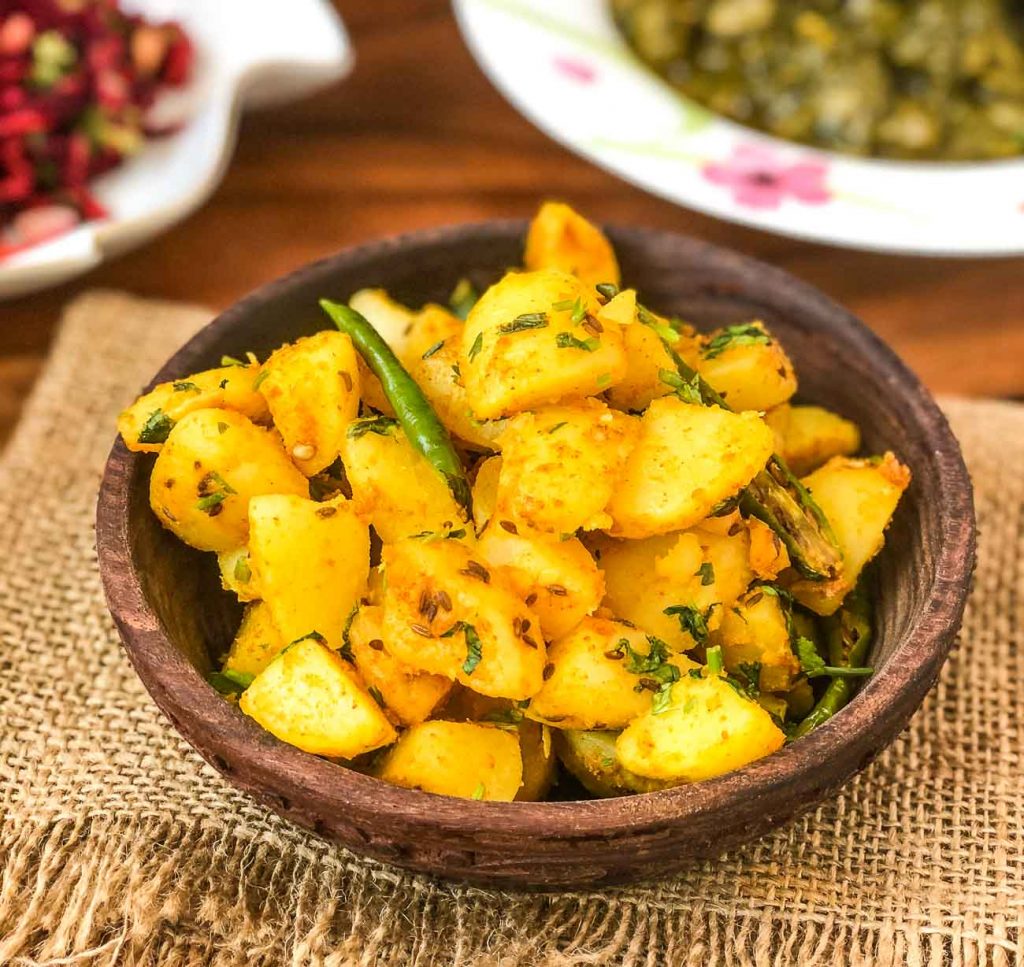 2. Vegetable Pulao
Ingredients:
1 ½ cup of basmati rice
2 tbsp ghee
1 onion (finely sliced)
2 green chillies (slit or chopped)
1- 1 ½ cups of mixed vegetables- carrots, beans, peas
Salt (as needed)
2 ½ cups of water
3 tbsp mint (pudina or coriander – finely chopped)
1 ½ tsp ginger-garlic paste
1 bay leaf
1 chakri phool
1 strand of javitri
½ -¾ tsp cumin
4 green cardamoms
6 cloves
2 cinnamon
Procedure:
Heat the pan or cooker with ghee.
Fry all the spices until they sizzle.
Fry onions and chillies till the onions turn golden-brown.
Saute the ginger-garlic paste.
Add the mixed veggies and mint. Saute them.
Pour water and add salt.
Bring the water to boil. Add basmati rice.
Cook on medium flame in a pot until all the water is absorbed. Cover with a lid and cook for 4-5 mins.
Remove the lid and keep it in a bowl.
Serve it warm and enjoy!
Recipe Source: Indian Healthy Recipes
Dessert Recipes Using Ghee:
1. Gajar Ka Halwa
Ingredients:
250 gm carrots
150 gm sugar
500 ml of milk
100 gm pure ghee
50 gm cashews (broken)
1 tsp cardamom (powder)
Procedure:
Wash and carrots and grate it.
Heat the 50 gm pure ghee in a pan and fry the cashews. Keep it aside.
Add the grated carrots and milk in the pan and cook until it thickens.
Add the remaining 50 gms ghee, cardamom powder and fried cashews and stir well.
Serve and enjoy!
Recipe source: Yummly
2. Rava (Sooji) Ladoo
Ingredients:

1 cup of sooji or rava
4 tbsp+ 1 tbsp pure ghee
4-5 green cardamom pods
2-3 tbsp milk
2 tbsp cashews (broken)
1 cup of sugar
1 tbsp raisins
Procedure:
Heat 1 tbsp of ghee in a pan on medium flame.
Add sooji or rava and still is continuously for 5-7 mins. Once roasted, keep it aside and let it cool.
Add 1 tsp of ghee and fry the cashews and raisins until they turn golden brown.
Grind the sooji or rava in a blender and keep it in a bowl. Add the fried cashews and raisins in it.
In a blender, grind the sugar and cardamom seeds.
Thoroughly mix the sugar mixture with the sooji and nuts mixture.
Add 3 tbsp of ghee and 1-2 tbsp of milk. Mix well.
Take a small amount of mixture and form a ball in a round shape.
Repeat the process with the remaining mixture.
Garnish with nuts and enjoy it after dinner!
Recipe source: Yummly
Until recently, ghee was seen as a calorific fat that has been used extensively in Indian cooking. With recent studies, it is now considered as "healthy fat" with health-boosting benefits like improved digestion, better immunity, reduced heart risks and stronger bones, among others. It is widely used as an ingredient in cooking several dishes across different states in India. Ghee is also popular around the globe and various versions of it are used by people in the West, Middle-east, few African countries and in some parts of Europe since a long time.
There are different types of ghee found in the market. However, always opt for 100% pure, natural and chemical-free ghee over commercial ghee for consumption due to its rich nutrient content.