Black Salt: Types, Health Benefits, and More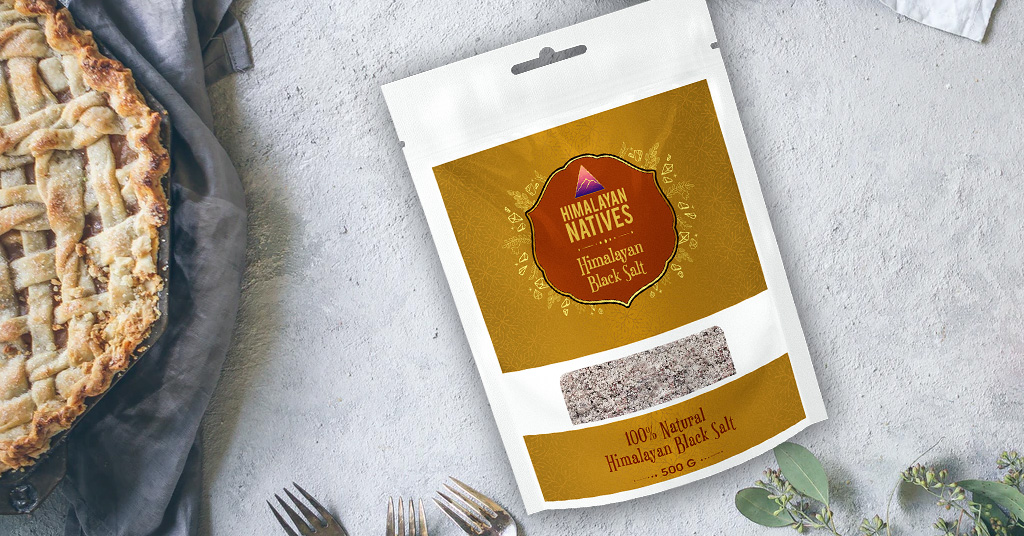 Black salt is a type of Indian volcanic rock salt which is known by many other names like Himalayan black salt, Kala namak, Sulemani namak, and Kala loon. Unlike its name, there is a pinkish-grey hue in black salt due to the presence of iron and other minerals. It is commonly used in Pakistan, India, and other Asian countries. The salt crystals found in the halite mines of the Himalayan region are burnt in high temperatures and later mixed with few Indian spices and herbs including the seeds of the harad fruit consisting of sulfur to give it therapeutic properties. Black salt may also consist of trace impurities of sulfates, sulfides, iron, and magnesium which may together further contribute to the salt's color, smell, and taste. Primarily, there are three main types of black salt – Himalayan Black Salt, Black Lava Salt, and Black Ritual Salt (which is not for consumption purposes).
Types of Black Salt for Consumption
Himalayan Black Salt
As explained above, Himalayan Black Salt may also be called Indian black salt or Kala namak. Though it's been acknowledged for its medicinal properties, there are only a few studies to support these claims. With a pungent, savory, and umami flavor, it's commonly used in cooking, especially in Asian and Indian cuisine. Additionally, due to its subtle sulfurous aroma, it is used in vegan cooking to provide an egg-like flavor.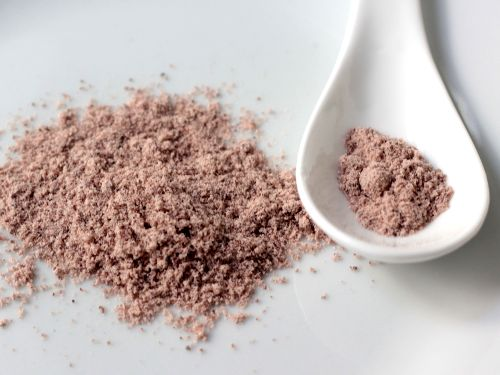 Black Lava Salt
Black lava salt is also known as the Hawaiian black salt, as it usually comes from Hawaii.
While Himalayan black salt has a pinkish-brown hue, black lava salt is true to its name and is black in color. It has a distinctive, earthy flavor and is sprinkled on food as a finishing touch. Since it also gives food a mild, smoky taste, it serves as a great addition to dishes that are intended to have a smoky flavor.

Benefits of Himalayan Black Salt
Like Himalayan Pink Salt, black salt is also known to be a healthy form of salt. The use of black salt in different dishes, adds a distinctive flavor to most dishes. Many people use black salt as an effective home remedy for stomach problems and it is also known to benefit people with high blood pressure levels, considering it is low on sodium. Here are some of the health benefits of black salt.
Alternative to common salt
Common table salt may have a higher sodium content than the naturally derived black salt or pink salt. Due to its naturally low sodium content, black salt is a healthier and a better option for people with high blood pressure or for people who want to reduce their sodium intake. Diets that include high sodium content tend to increase high blood pressure levels.
Cuts down on bloating & acidity
Bloating in the stomach may happen due to various reasons, some of which include over-eating, allergies, constipation, IBS, and such. Black salt consists of alkaline properties that help reduce the excess acid-formation in the stomach and its minerals help lessen the damage caused by acid reflux. It acts as a great laxative that helps relieve you from uncomfortable bowel issues.
Aids in preventing cramps & spasm
A sufficient amount of potassium is naturally present in black salt which plays a vital role in the regulation of proper muscle functioning and also helps absorb other minerals. Black salt may help reduce muscle cramps and spasms by relaxing them.
Reduces water retention
Water retention is caused by the accumulation of fluids in tissues or cavities of the body. One of the major causes of water retention is the consumption of excessive sodium. Black salt, when compared to common salt, is seen to have lesser sodium content which makes it an easy cure for water retention.
Supports blood circulation
Black salt is considered as a natural blood thinner which in turn, ensures proper blood circulation in the body, thereby further reducing blood clots and cholesterol problems.
Helps cure skin issues
The anti-inflammatory properties and coarse texture of black salt aids in healing cracked heels, swollen feet, and sometimes even minor sprains. Black salt, when used as a natural face cleanser in face masks, it helps open clogged pores and provides a glowing skin.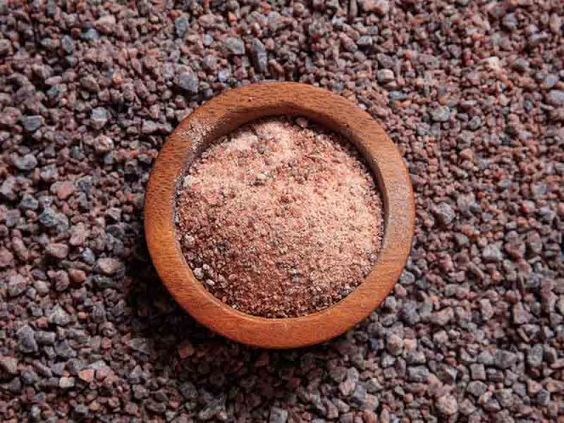 Common recipes with Himalayan Black Salt
Jal Jeera
Ingredients:
¼ tsp cumin or jeera
½ tsp fennel powder
½ tsp black pepper powder
1 tsp dry mango or amchur powder
3 tsp of thick tamarind pulp
Black salt to taste
Fresh mint leaves
Procedure:
Grind fresh mint leaves into a paste and add tamarind pulp in a jar.
Add cumin seeds, fennel, black pepper, and amchur powders. Grind them into a smooth paste. Transfer this paste into a bowl.
Take 1 tsp of jal jeera paste in a glass and add cold water to it. Stir thoroughly.
Add black salt. Add more amchur powder (if required) for the tangy taste.
Serve garnished with fresh mint leaves.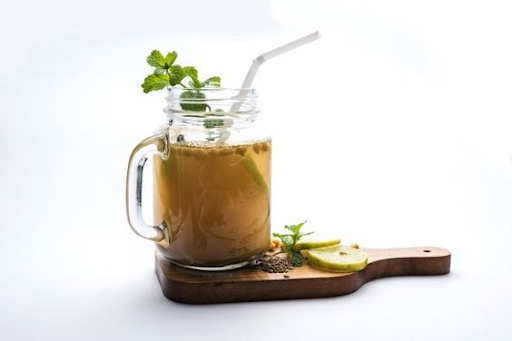 Fruit Chat
Ingredients:
½ cup slightly pulp mangoes (peeled)
½ cup orange (deseeded)
½ cup green grapes (finely chopped)
1 cup apples (thinly sliced)
3 tsp toasted almonds
For seasoning:
¼ cup lemon juice
1 tsp brown sugar
½ tsp black salt or to taste
1 tsp paprika or cayenne pepper
Procedure:
In a bowl, add peeled mangoes, oranges, green grapes, apples, and toasted almonds.
In another bowl, add lemon juice, brown sugar, black salt, and paprika. Stir thoroughly.
Add in the seasoning mix into the fruit bowl. Let it rest for ten minutes in the fridge.
Serve as a snack or as an appetizer and enjoy.
Sunny Side-up Fried Egg (Vegan)
Ingredients:
For egg yolk:
2 tbsp of dried instant mashed potatoes, dehydrated flakes or powder.
7-10 tbsp of hot water (may require more)
1 tsp yeast
¼ tsp turmeric
¼ tsp kala namak salt or black salt (it has a sulphuric "egg" flavor, so it is essential for this recipe)
¾ tsp egg replacer
1 tsp margarine
1 tsp sunflower or canola oil
For egg white:
355 ml pack of tofu
2 tbsp mayonnaise
For garnishing: (optional)
Fresh chopped chives
Freshly ground pepper
Procedure:
For making egg yolk:
Prepare the mashed potatoes by mixing with the water. Add margarine and other ingredients and mash till the consistency becomes thick like a hard-boiled egg yolk.
Scoop out half of the mixture and keep it aside in a separate bowl.
For making egg white:
Using a round cutter, cut through the center of the tofu block in a cylindrical shape in 4 slices. Make the slices equal with a knife.
With a round cutter (small size), cut out the center of the first egg white, for some space for the yolk to be added. Be careful while doing this as the tofu is very fragile. Repeat the same with each egg white.
There will be extra tofu left. Keep that tofu in a container, cover it and refrigerate. This can be used to prepare the egg mayonnaise/salad. Put together some more yolk and then add the mayo as per the required quantity.
In a non-stick pan, heat up some oil. Take 1 tsp of the egg yolk after it's cooled down, roll it using palms and then flatten it slightly. Using the smaller cutter, cut out the yolk in a circular shape to fit it inside the center of the egg white.
Gently place the egg white in hot oil, one at a time and shallow fry it until they turn golden around the edges on both sides. Flip it, and place the egg yolk in the middle to fit the egg white. Slowly press a little with a spoon to settle the yolk properly.
Add some hot water to the mix in your egg yolk bowl that was kept aside. Stir thoroughly until a smooth egg yolk consistency is reached. Using a small teaspoon, pour a tiny amount of this mixture in the center of the egg yolk. Pour some oil from the pan using a spoon on the top of the yolk, to seal it. Sprinkle some salt and pepper.
Gently bring it out from the pan onto your toast and enjoy it with your choice of sauce!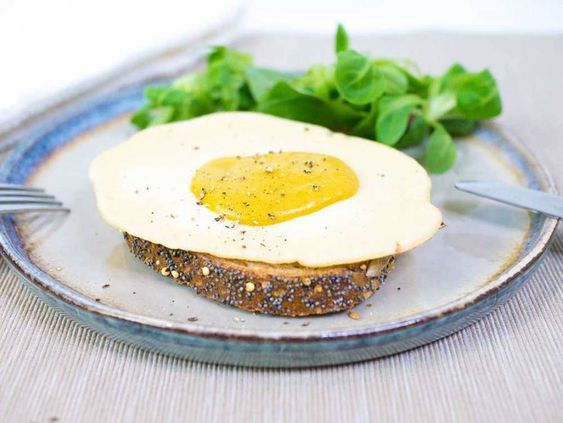 Himalayan black salt is a commercially manufactured edible component made from the Himalayan salt. Black salt works as a laxative and helps in fighting various digestive issues. It is used extensively in Indian dishes given its unique taste. However, excess consumption of black salt should be avoided as it may lead to other health problems like stomach infections, dental cavities, or thyroid dysfunction. Black salt is a healthier alternative to common table salt and can be used to prepare various Indian or Asian recipes.
Himalayan Natives Black Salt or Kala Namak is made using the traditional method of kiln-fired, where the raw salts are fired into a kiln for 24 hours sealed in a ceramic jar along with small quantities of harad seeds, amla, bahera, babul bark, or natron. Our salt is free from all kinds of added chemicals and preservatives. It's best to consume salt in moderation while using it to enhance the flavor of food.