Baking with Ghee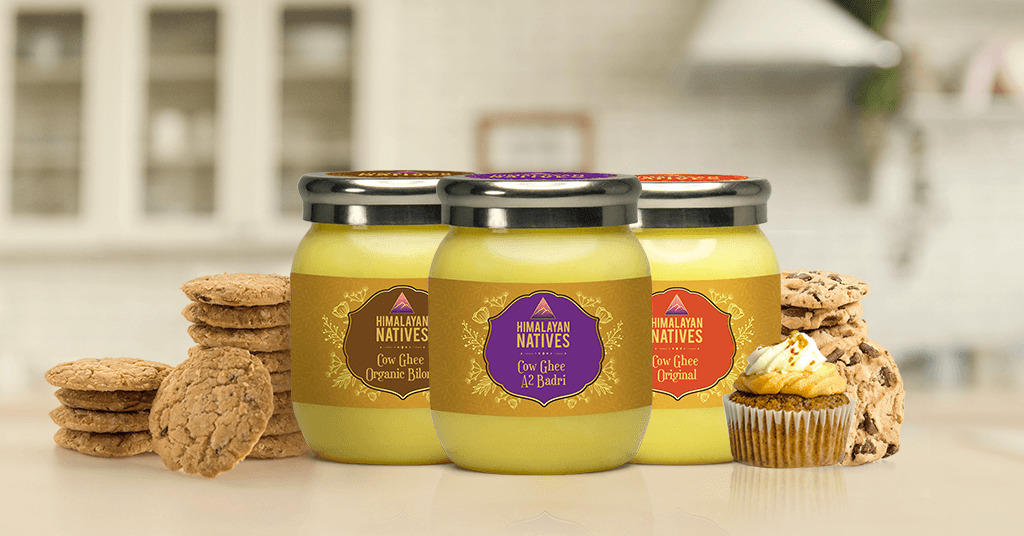 If you're a person who bakes frequently, then you might have noticed that the quality of ingredients you use determines the final outcome, be it cake or cookies. Using low-quality ingredients can spoil the outcome in terms of texture, flavor, dryness and moreover, it increases the chances of your dish getting spoilt.

This weekend, if you plan on baking brownies, cookies, or cakes you could do it differently by using desi cow ghee instead of butter.

The specialty of baking with Ghee

Due to the presence of milk solids and water content, baked foods become rancid sooner. For this reason, some bakers prefer using oils, but foods baked in oil will never come close to the rich flavor of pure cow ghee.

Pure cow ghee coming from free-range, grass-fed cows delivers all the flavors of using butter with the added benefit of increased shelf-life and stability that we can get from oils. Using ghee for baking gives you the luscious texture and nutty, caramel-like flavor of butter. Pure cow ghee with quality flour and fresh ingredients will deliver quality baked foods every single time!

Some more reasons to go for ghee

Ghee has a higher smoke point when we compare it with butter. While butter burns at 350°F (177°C), ghee can withstand heat up to 485°F (252°C). This means ghee is a much better option for baking, sautéing, frying and roasting since it would retain more nutritional aspects compared to other baking essentials.
As ghee is lactose-free (free from milk solids), food baked using ghee can be consumed by people who are lactose intolerant and who have dairy allergies.
The healthy fat in ghee is thought to promote good digestion along with the presence of fat soluble vitamins such as A, E, and K.
In Ayurvedic medicine, ghee is used as a part of a traditional detox.
As per an executive chef Jeremy Rock Smith, the process of making ghee from butter removes whey and casein proteins along with lactose, which encourages a soft texture to the baked foods. Jeremy suggests using 25 percent less ghee (when compared to butter) as it has higher fat content for the same weight.

To make this easier here is a breakdown of fat in ghee and butter:

| | | |
| --- | --- | --- |
| Type of fat per tbsp. | Ghee | Butter |
| saturated | 10 g | 7 g |
| monounsaturated | 3.5 g | 3 g |
| polyunsaturated | 0.5 g | 0.4 g |
Here are a few recipes to get you kick-started!

Carrot cake with ghee
This recipe is for a two layered cake that will take around 30 min to prepare and yields around 12 pieces.
Ingredients:
2 cups of flour
3 cups of finely grated carrot
1 ½ cups of grated jaggery
A ½ cup of granulated sugar
2 tsp. of baking soda
1 tsp. of baking powder, salt & vanilla extract each
2 tsp. of ground cinnamon
½ tsp. of cardamom and nutmeg each
¼ tsp. of powdered ginger
4 eggs, beaten
⅓ cup buttermilk
Zest from one orange
1 cup grass-fed ghee, melted
Procedure:
Preheat oven to 375° F
Apply ghee on two 9-inch cake pans and line the bottom with parchment paper which needs to greased and then coated in flour
In a large bowl, sift the dry ingredients ensuring they do not get clumped
In a separate bowl, mix – eggs, buttermilk, ghee, vanilla, and orange zest. Stir the carrots in with the mixture
Mix this with the dry ingredients. Do not over mix.
Pour this batter evenly in the preheated cake pans and bake them side by side for 25-30 min.
When done, allow the cake to cool and run a knife around the edges to dislodge the cake from pan.Turn the pan upside down on cooling racks and peel the paper and allow the cake to cool completely before frosting.
For the frosting, you would need the following ingredients:
8 oz cream cheese, softened
½ cup of salted butter softened
2 cups of icing sugar
2 tsp. vanilla extract
1 tbsp lemon juice
Directions:
Beat cream cheese and butter until completely mixed without any lumps
Add vanilla extract and lemon juice
Add icing sugar gradually until the desired consistency is reached.
Frost the cake immediately
Jaggery Ginger Cookies
Ingredients:
2 cups flour
2 tsp. baking soda
½ tsp. salt
⅓ cup grated jaggery
2 tbsp filtered water & ginger each
1 tbsp cinnamon
¾ tsp. cardamom
100 ml pure cow ghee
½ cup sugar
1 egg
⅓ cup of sugar
Directions:
Mix grated jaggery, cinnamon, ginger, cardamom, and water in a small saucepan and heat the mixture on low flame. Stir with a spoon and make sure the spices are evenly mixed in the jaggery solution.
In a separate bowl, whisk baking soda, flour, and salt.
In a large bowl, add melted jaggery mixture ghee, sugar, and egg and whisk using a hand mixer for about 5 minutes until the mix becomes light and fluffy.
Add the flour mixture in two parts and mix well. It will form a soft dough that sticks together and pulls away from the sides of the bowl.
If the dough is too sticky, then refrigerate it for 20 minutes, otherwise go ahead and make into about 24-inch balls.
Roll the balls in sugar powder and keep them apart with sufficient spacing on a baking sheet.
Bake at 375º F (190º C) for 12-14 minutes to get crisp cookies and immediately cool them on a wire rack.
Store them in an airtight container.
As we can see, using ghee instead of butter can result in some pretty interesting recipes that are healthy as well. Try these recipes which we are sure would make the perfect ending for any meal and a perfect weekend too.