All you need to know about Honey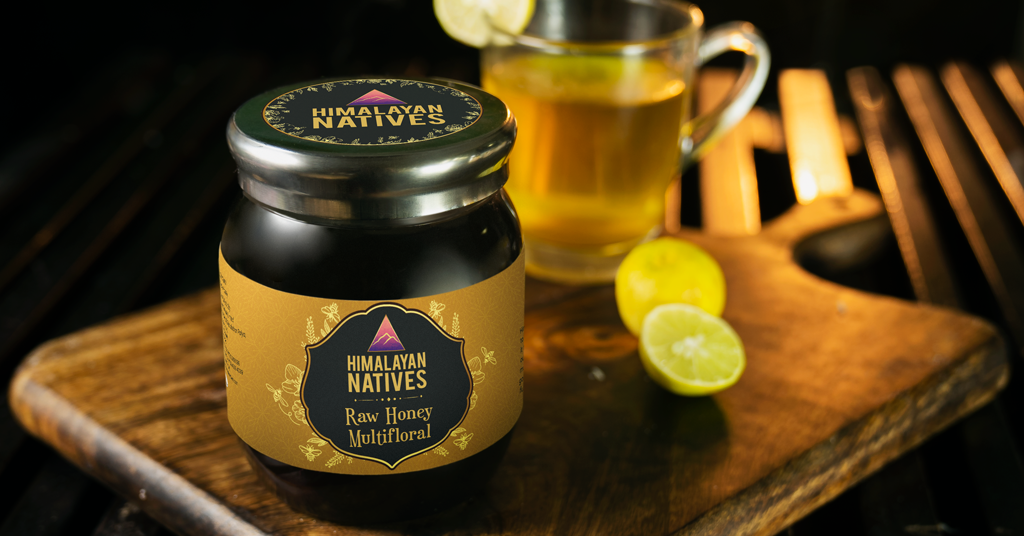 Beekeeping and honey date back to almost 150 million years as deciphered from the fossils of honey bees. One of the first places where bees were ever spotted was on some cave paintings in Spain, around 7000BC. Apart from that, a few beehives were found in a sun temple near Cairo around 2400BC. Bees have often been featured in several Egyptian hieroglyphs and were strongly referred to as a symbol of royalty by the pharaohs. Honey cakes were used by the Egyptians as gifts to gods and even as an ingredient in embalming fluid.
The exact origin of honey is not known, but it surely has been an important piece in the world's cultural history.
In the recent past, honey has been rediscovered by modern science and is believed to be filled with medicinal and nutritional elements and is considered to be more than just a sweetener.
How is honey produced naturally
Honey is a sweet liquid that is extracted from beehives. It is made naturally by honey bees. The flower nectar is collected by the bees which then gets broken down into simple sugars inside the honeycomb. A sweet liquid or honey is made based on the design of the honeycomb and consistent fanning of the wings of the bees which causes evaporation. The taste and colour of honey may vary depending on the type of flower and the nectar from where it has been harvested.
The average honey produced in a year by one beehive amounts to around 65 pounds. Beekeepers harvest the honey by collecting the honeycomb frames and removing the wax cap which the bees make to seal the honey in each shell.
After removing the caps, the frames are placed in an extractor with a centrifuge that takes out the honey from the comb. After extraction, the honey is strained to remove the remaining wax and other non-wanted particles. Finally, honey is stored in bottles or jars and is labeled for selling.

Pure and raw honey is considered to be packed with nutrition and medicinal values for centuries. It has high levels of monosaccharides, fructose, and glucose with about 70% to 80% of sugar content which makes it sweet to taste. Honey is loaded with vital nutrients from nature like enzymes and antioxidants and consists of antibacterial and antifungal properties that protect the body from certain diseases.
Honey has been used in ayurvedic treatments since the middle ages. Ayurveda is popularly referred to as the "Mother of All Healing" as it emphasizes preventive health care and maintenance of health through natural medicinal practices and a healthy diet. In this regard, the healing properties of honey are favoured more than its taste. Modern medical science has also found honey to be useful in chronic wound management and to combat allergies and infections.
Shelf-life of Pure Honey
Scientists have found several honey pots in multiple tombs in Egypt and they were stored for a few thousand years. Honey has low moisture content and is loaded with strong acids and antibacterial compounds which prevent it from getting spoilt as long as it's sealed. It is best to keep honey in an airtight container in a cool, dry place. In case, the honey forms crystals, keep it in a glass or ceramic container and then put in a pan with warm water until it's clear and smooth.
Surprising Benefits of Honey
Honey has some amazing positive effects on health if consumed on a regular basis in our day-to-day life. Let's take a look at some of the amazing benefits of honey:
Relief from cough and cold
The World Health Organization (WHO) recommends honey as a natural remedy for cough and cold. Honey acts as a demulcent agent by soothing the inflamed mucous membrane of the upper respiratory tract and helps to relieve symptoms like difficulty in swallowing and more. Due to its natural antibacterial and antimicrobial properties, raw honey proves to be effective in providing a soothing effect to a sore throat. Honey is also used as a major component in several cough syrups. Gurgling with warm water mixed with honey helps relieve coughing issues.
Helps maintain the digestive system
Honey is considered to be a useful agent in maintaining a healthy digestive system by many experts. It acts as a laxative and emetic that keeps the digestive canal clear of the waste matter. Pure honey helps in the breakdown of complex carbohydrates and sugars with the natural enzymes present in it, thereby keeping the gastrointestinal system healthy. It also helps control excessive production of hydrochloric acid which further prevents symptoms like nausea, vomiting as well as heartburn.
Helps in weight reduction
The presence of natural enzymes in raw honey helps control appetite and curb sudden cravings which can help in managing weight in the long run. Consuming the mixture of one teaspoon of honey mixed with lukewarm water on an empty stomach every morning helps in the weight loss process.
Healthier alternative to sugar
The sugar in your daily diet contributes to excess calories and negligible nutritional benefits to health. This may, in turn, lead to increased body weight and various other health issues like high blood pressure and diabetes. The sweet flavour of honey makes it an ideal substitute for sugar in any diet. It can be added to several food items as a sweeten without having any negative effect on the body.
Boosts immunity
Honey acts as a natural immunity booster. It consists of powerful and effective antioxidants and antibacterial properties which help prevent cell damage, fight diseases and keep the system healthy.
Help increase hemoglobin content
Iron, copper, and magnesium are present naturally in honey which helps build hemoglobin in the body. These properties of honey have made it a favourite of all ayurvedic practitioners where most of them suggest consuming honey on a daily basis. It helps maintain a correct balance of hemoglobin and red blood cells.
Promotes better sleep
For ages, honey has been used as an effective agent in treating people with insomnia. Consumption of two teaspoons of honey with warm water or almond milk before bedtime helps treat this problem. This happens because consuming honey leads to a sudden increase in insulin which releases serotonin which in turn improves your mood and makes you happy. Then the serotonin is converted to melatonin which helps regulate the sleep cycles. For babies and children with sleeping disorders, it is an easy and healthy solution.
Enhances energy
With age, people fall victim to many illnesses or health problems, some of which also turn out to be chronic. Carbohydrates are one of the major food groups that the body uses for energy and honey helps maintain the stored carbohydrates and glycogen levels in the muscles to provide an energy boost to the body.
Helps heal wounds and allergies
During weather change, people become prone to seasonal allergies. Honey is one of the best and easy to do solutions to control/reduce the symptoms of seasonal allergies. It consists of small amounts of pollen and when the body is exposed to these pollens, it triggers the response of the immune system which produces antibodies to fight pollen allergies. The antibacterial properties of honey help in promoting rapid healing and disinfecting wounds, cuts, and sores.
Helps reduce oral issues
The presence of natural antimicrobial and antibacterial properties in honey keeps the teeth and gums healthy and shiny. It prevents deposits of tartar, early decay and premature loss of teeth. Being a mild antiseptic, honey prevents the growth of harmful germs and microorganisms. Honey helps treat ulcers in the oral cavity in the early stages which further prevents the mouth from sepsis, pyogenic infection or formation of pus.
Protects the eyes
Honey has been used in several ways for the treatment of eye ailments. When a cotton ball is dipped in a teaspoon of pure and raw honey mixed with one teaspoon of cold water is applied to the eyes, it helps prevent several eye infections. It's naturally occurring antibacterial and antifungal properties protect the eyes from inflammation, corneal ulcers, conjunctivitis, dry and sore eyes, and other eye infections.
Nowadays people have become conscious of their health and are in constant search of recipes that are filling, healthy and full of nutrition. Honey, being loaded with nutritive elements provide immense health benefits and is commonly found in every household. Due to its health benefits, honey can either be consumed raw or can be easily incorporated in a number of breakfast, lunch, dinner and dessert recipes. It can be used as an ingredient for dressing, baking or as a part of your everyday diet.
Breakfast Recipes with Honey
Honey Cinnamon Quinoa
Ingredients:
¼ cup of milk
¼ cup of regular water
¼ cup of quinoa (rinsed)
½ cup of blackberries
½ cup of peaches (diced)
⅛ tsp cinnamon
1 tsp honey
1 tbsp pecans (or almonds or walnuts)
Sliced fresh fruits (for topping)
Procedure:
Gently boil milk, water and quinoa in a bowl.
Let it cool for 5 minutes.
Add blackberries, peaches, cinnamon and honey.
Serve in bowls and add toppings with fruits of your choice.
Recipe source: Yummly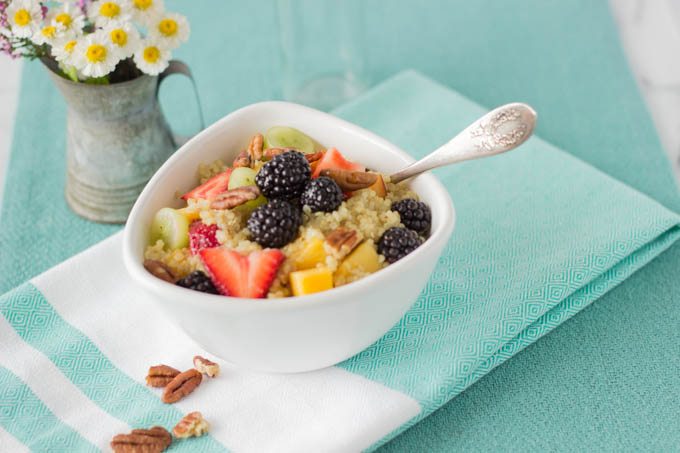 Vanilla Pancakes with Honey
Ingredients:
150 grams plain flour
1 tsp baking powder
150 ml of milk
3-4 tbsp honey
1/2 tsp vanilla extract
1 egg
1-2 tbsp melted butter
Procedure:
Add flour and baking powder in a bowl.
Thoroughly mix milk, honey, vanilla extract and egg in another bowl until smooth and add it to the flour mixture.
Whisk the entire mixture thoroughly until smooth.
Add ghee in a pan and heat it under medium flame.
Place 2-3 scoops of the batter in the pan and gently edge them in a circular shape.
Cook both sides until golden brown.
Repeat the steps with the remaining batter.
Serve it warm with a honey drizzle!
Recipe source: Yummly
Vanilla Honey French Toast
Ingredients:
3 eggs
¾ cup milk
¼ cup heavy cream
1 tbsp vanilla extract
1 tbsp honey
1 tsp cinnamon
8 slices bread
2 tbsp unsalted butter
Procedure:
Whisk the eggs, milk, cream, honey, vanilla and cinnamon together in a bowl.
Melt 1 tbsp of ghee in a skillet.
Soak the bread, one at a time, in the mixture and place the bread in the skillet. Cook both sides until golden brown.
Repeat the procedure with the remaining pieces of bread.
Serve with jam or syrup!
Lunch Recipes with Honey
Honey Toasted Paneer Gravy
Ingredients:
200 gms paneer (cottage cheese)
1 onion (large)
2 tomatoes ( large)
2 bell pepper
3 green chilies (sliced)
1 tsp ginger garlic paste
1 tbsp tomato ketchup
2 tbsp soy sauce
½ tsp chili powder
2 stems of spring onions
10 cashews (soaked in warm milk for 10 mins)
1 tbsp honey (dissolved in warm water)
2 tsp toasted sesame seeds
1 tbsp coriander leaves
3 tbsp ghee
Salt to taste
Procedure:
Add ghee in a pan and shallow fry the paneer and keep the paneer on a sheet of kitchen towel.
Add onion and bell pepper in the pan and fry them. Add ginger-garlic paste and stir fry it again.
Add tomatoes, green chilies, and ketchup. Cook them on a medium flame until the tomatoes turn tender.
Grind the soaked cashews in a blender until smooth and add it in the pan.
Add soy sauce, chili powder, and salt and cook for a few minutes.
Add the fried paneer and mix thoroughly.
Add the honey and warm water mixture once it starts to boil.
Toast the sesame seeds and add.
Garnish with spring onions and coriander leaves.
Serve and enjoy!
Recipe adapted from: Yummly
Image source: F for Flavour
Paneer Pasanda
Ingredients:
For the filling
50 g grated paneer
50 g khoya
½ tsp green chili (finely chopped)
1 tbsp coriander (finely chopped)
½ tsp grated ginger
Salt to taste
6-8 pieces of chopped raisins
6-8 broken cashew nuts
For the gravy
2-3 tbsp vegetable oil
1 tsp cumin Seeds
2 bay leaf
2 tsp ginger garlic paste
¼ cup of tomato puree
¼ cup of cashew nut paste
½ cup of brown onion paste
2 tsp coriander powder
½ tsp turmeric powder
2 tsp red chili powder
½ tsp garam masala powder
Salt (to taste)
1 tbsp Kasuri methi (crushed)
¼ cup fresh cream
1 tsp pure honey
2 tbsp ghee
2 tsp lemon juice
Garnish with coriander leaves
Procedure:
For Paneer triangles
Mix all the ingredients in a bowl.
Cut paneer pieces into equal triangles.
Add cornflour with water and make a paste.
Take 2 pieces of paneer and keep a small amount of filling on top of one of the pieces. Cover it with another piece.
Repeat the process and make the paneer triangles with the remaining pieces.
Heat oil in a pan.
Dip the paneer triangles in the cornflour mixture and shallow fry both sides until golden brown.
Drain the pieces on a tissue lined plate.
For the gravy
Heat ghee in a pan.
Add cumin seeds and bay leaves and stir fry for a few seconds.
Add ginger-garlic paste and fry for a few more minutes.
Add tomato puree and cashew paste with ¼ cup of water and cook for a minute.
Add brown onion paste and cook for another minute.
Add coriander powder, turmeric powder, red chili powder, garam masala powder and salt and cook for 2-3 minutes.
Add water as required to make the gravy thin.
Add Kasuri methi, fresh cream, honey and lemon juice and cook for a while.
Add the paneer triangles in the gravy and cook for 1-2 minutes.
Garnish with fresh coriander and fresh cream and serve!
Recipe adapted from: Yummly
Dinner Recipes with Honey
Honey Chilli Baby corn
Ingredients:
200 gms baby corn
2 tbsp flour
3 tbsp cornflour
¼ cup of finely chopped spring onions
2 tbsp spring onion (for dressing)
1 tbsp chopped garlic
1 tbsp vinegar
2 tbsp soya sauce
2 green chopped chilies
1 tbsp red chili sauce
1 tsp sugar
1 tsp black pepper powder
Salt to taste
2 cups of refined oil to deep fry
2 tbsp ghee
2-3 tbsp pure honey
½ tsp sesame seeds
Procedure:
Cut the baby corn into two halves. Add some salt and keep it aside for a few minutes.
Mix 2 tbsp cornflour and 2 tbsp all-purpose flour in a bowl and sprinkle some salt in it.
Add the baby corn in the flour mixture to coat them.
Heat some oil in a pan and deep fry the baby corn until golden brown. Drain the excess oil on a plate lined with tissue.
Add 2 tbsp of ghee in a pan and add ginger-garlic and saute them.
Add spring onions.
Mix some cornflour with water in a bowl and keep it aside.
Add salt, sugar, red chili sauce, pepper powder and green chili in a pan and mix well.
Add the fried baby corn and mix thoroughly.
Thoroughly mix vinegar, soya sauce and the cornflour mixture in a pan.
Add honey and sesame seeds and toss it well for the baby corn to get thoroughly coated with honey.
Garnish with spring onions and serve it with chapati!
Recipe adapted from: Platter share
Grilled Honey Mustard Lime Potato Salad
Ingredients:
7-8 potatoes scrubbed and cut into quarter pieces
3 ears corn
3 chopped onions
¼ cup of mayonnaise
¼ cup sour cream
1 lime
1 tbsp honey
1 dijon mustard (grainy)
1 tbsp olive oil
Procedure:
Heat a grill over medium temperature.
Toss the potatoes in ghee and season with salt and pepper in a pan.
Add it to a grilling basket and grill until tender while tossing frequently.
Shuck the corn and add it to the grill and cook all sides.
Cut the kernels after removing the grill.
Whisk the mayo, sour cream, mustard, lime juice and honey in a bowl.
Add the potatoes, onions, corn and toss them together for proper coating.
Serve and enjoy!
Recipe source: Yummly
Dessert Recipes with Honey
Baked Honey Custard
Ingredients:
6 eggs
½ cup honey
½ tsp salt
4 cups of milk
2 tsp vanilla extract
Procedure:
Thoroughly whisk the eggs, salt, and honey in a bowl.
Heat the milk and add it to the above mixture and continuously whisk.
Add vanilla extract and stir.
Pour the mixture in 6-8 custard cups.
Bake it for 1 hour at 350 degrees F until the custard gets firm.
You can also add some nuts or fruits in the mixture and then bake.
Serve and enjoy!
Recipe source: Mother earth news
Honey Caramel
Ingredients:
1 cup pure honey
¾ cup of organic cream or coconut cream
1 ½ tsp of vanilla extract
2 tbsp unsalted butter
1 tbsp ghee
Procedure:
Grease a baking dish with ghee and keep it aside.
Combine cream and honey in a pan and bring to a boil on a high flame. Stir occasionally.
Remove the pan and add vanilla and butter. Stir it thoroughly to combine well.
Place it in the freezer for 30 minutes.
After it hardens, cut them into square pieces.
Serve and enjoy!
Recipe adapted from: Natural sweet recipes
In the market, honey is available in both raw and pasteurized forms. Pasteurization involves intense heating of honey which destroys all the essential nutrients and enzymes that are naturally present in honey, making commercial honey less helpful to fight diseases. Many of the processed kinds of honey that are widely sold across different cities contain added sugar. Raw honey is 100% pure, natural and unpasteurized. It is free from chemicals, preservatives and artificial colours which makes it extremely beneficial for health if consumed frequently. Therefore, it is always wise to opt for raw honey over commercial honey due to its rich nutrient content and innumerable health benefits.