6 Ways to add Raw Honey in your Breakfast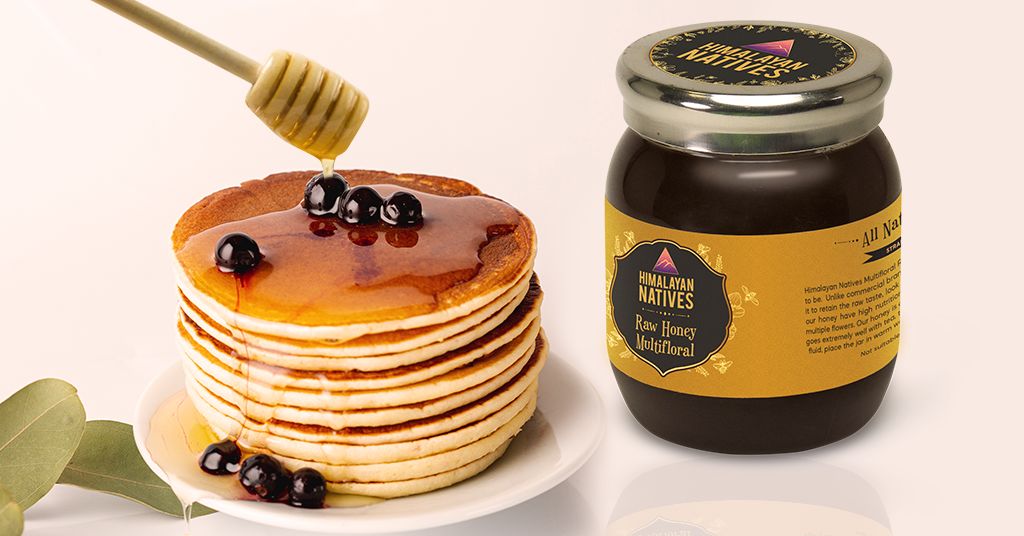 For a healthy start, one should never skip breakfast. The first meal of your day is supposed to replenish your glucose levels, kick-start your metabolism and provide your body with essential nutrients. Nevertheless, most of us struggle to come up with recipes that are easy-to-make, healthy, refreshing and filling at the same time.
The key to this is to find a super ingredient that can elevate both – taste and the nutritional levels of your breakfast meal. Raw honey is one such ingredient that is capable of making your food delicious yet healthy. Filled with the goodness of antioxidants, honey is beneficial for your health and its smooth, crystallized texture is perfect to add an edge to your breakfast plate. From pancakes to honey toasts, honey can enhance a number of recipes and spruce up your breakfast.
Let's take a look at a few of those recipes:
1. Honey Banana Overnight Oats
Ingredients:
2–4 teaspoons raw honey
2 teaspoons ground flax
2 cups oats
3 cups unsweetened almond milk
4 tablespoons pure ghee
2 whole bananas
Instructions
Step 1: Add 1/2 teaspoon ground flax, 1/2 cup oats, 3/4 cup milk and 1 tablespoon of ghee in a bowl.
Step 2: Peel and bash one banana and add it to the oat mixture. Add milk to the mixture and thoroughly mix all the ingredients. Let it sit in the fridge overnight.
Step 3: Once it's ready the next morning, you can either serve it cold or warm it in the microwave for 30 seconds.
Step 4: Cut the other banana into small pieces and add as a topping on the oat mixture. Lastly, drizzle a small amount of raw honey as a dressing!
Your delicious and healthy breakfast bowl is now ready to be savored!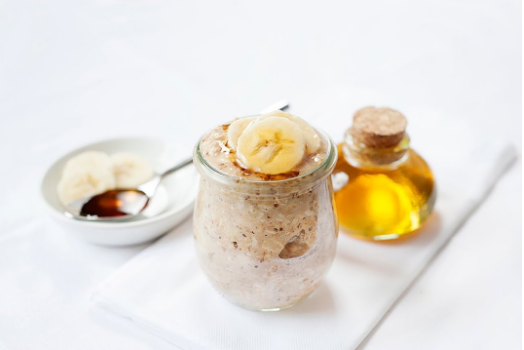 2. Honey Vanilla French Toast
Ingredients:
3 eggs
3/4 cup milk
1/4 cup whipping cream
1 tablespoon raw honey
1 tablespoon vanilla extract
1 tablespoon cinnamon
2 tablespoon of unsalted butter
8 slices of sourdough bread
Instructions:
Step 1: Add eggs, milk, and cream in a bowl and beat them together.
Step 2: Add raw honey, cinnamon, and vanilla into the mixture and whisk thoroughly.
Step 3: Heat a pan and add a small amount of butter and let it melt.
Step 4: Soak the pieces of sourdough bread into the egg mixture one by one. Let the pieces sit in the mixture for about 5-10 seconds and then put the bread slices on the pan, space them properly. Cook the slices for about 2-3 minutes on each side or until they turn golden-brown.
Step 5: Garnish the toasts with raw honey and other toppings like bananas, strawberries or jam.
Serve and enjoy your super yummy breakfast!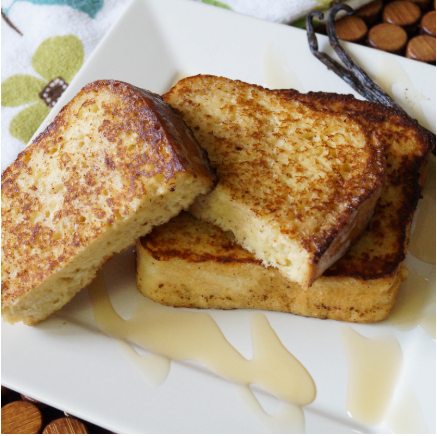 3. Sweet Potato Toast
Ingredients:
Step 1: Slice the potatoes vertically into 4 pieces.

Step 2: Heat the toaster and put the potato slices in it.
Double toast the sweet potato or toast it until it turns slightly brown and tender.

Step 3: Top it up with the choice of toppings like raw honey and strawberries; raw honey, pistachios, and yogurt; raw honey, bananas, and nuts.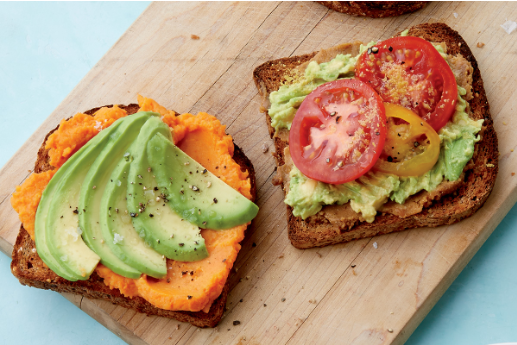 4. Honey-Kissed Smoothie Bowl
Ingredients:
For Smoothie:
1 frozen banana
1 cup milk
3 tablespoons natural peanut butter
1/2 teaspoon vanilla extract
2 tablespoons raw honey
1/4 cup coconut milk
1/4 cup dark chocolate chips
1/2 cup ice
For Toppings:
Assorted berries
Shredded coconut
Prepared granola
Assorted chopped nuts
Instructions:
Step 1: Mix all the ingredients together and blend it until smooth.
Step 2: Pour the mixture into a bowl.
Step 3: Garnish with your favorite toppings.
Your morning bowl of freshness is ready to be savored!
5. Fancy Granola
Ingredients:
3 cups oats
1 cup shelled pistachios
1/2 cup raw honey
1 tablespoon brown sugar
1/2 cup cow ghee
1 teaspoon salt
1 teaspoon cinnamon
1 cup diced, dried apricots
Instructions:
Step 1: Preheat the oven to 300*F.
Step 2: Mix oats, pistachios, salt, brown sugar, and cinnamon properly in a bowl.
Step 3: Add raw honey and cow ghee and blend it well.
Step 4: Take a parchment paper and place the cookies on it in a line. Spread the granola mixture on it.
Step 5: Put the sheet in the oven and let it sit for about 40 minutes and keep stirring the mixture every 15-20 minutes.
Step 6: Take it out of the oven and let it cool for about half an hour. Once cooled, store it in an airtight container. You can keep and have it for up to 2 weeks.
Your fancy granola mix is ready to be eaten and savored!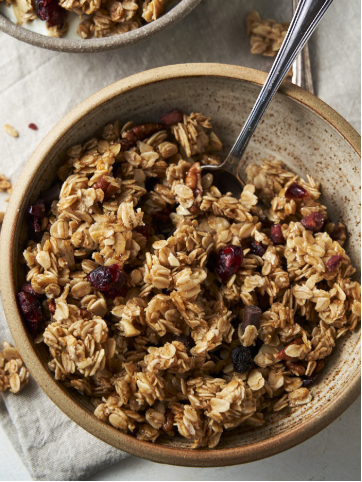 6. Honey Blueberry Pancakes
Ingredients:
2 tablespoons raw honey
1 cup flour
1 teaspoon baking soda
1/4 teaspoon salt
2 eggs
1/2 cup milk
1/2 cup blueberries
Instructions:
Step 1: Add flour, baking soda and salt in a bowl.
Step 2: Mix eggs, raw honey, and milk in another bowl, thoroughly.

Step 3: Add the eggs, honey and milk mixture with the flour mixture. Mix until the batter is smooth and creamy.

Step 4: Add blueberries to the batter and fold it properly.

Step 5: Heat a flat iron pan and equally pour batter on it. When you see the edges turning brown with bubbles in the center, turn the pancakes upside down.

Step 6: Drizzle raw honey and top it up with your choice of toppings.

The delicious pancakes are now ready to be eaten and enjoyed!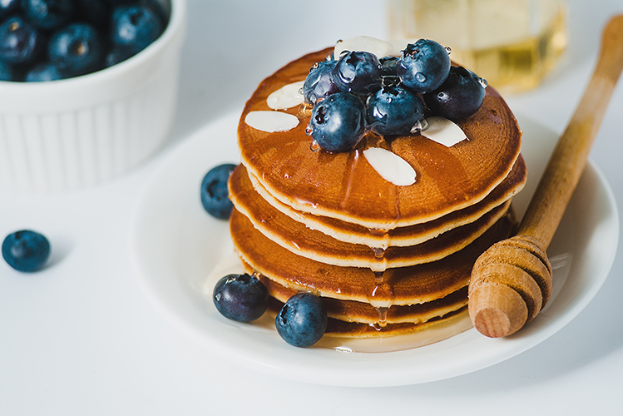 Honey is one of the most versatile ingredients one can find stacked up on their kitchen shelves. There are several other recipes in which pure, raw honey can be added. Add honey to your breakfast for a refreshing twist and kickstart your day with a boost of energy! Try out these recipes and start your day on a healthy, refreshed, and of course, yummy note!