6 recipes using ghee for your baby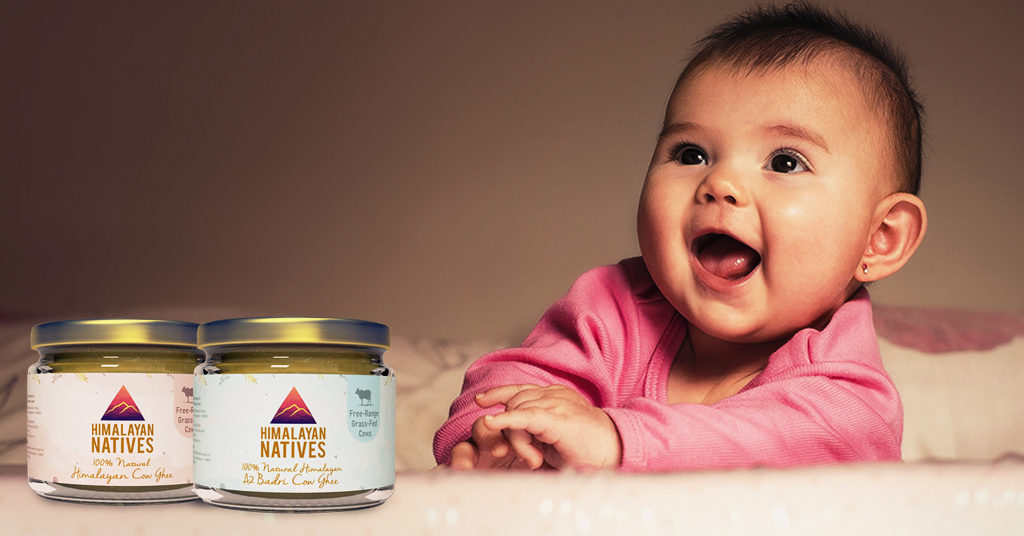 As parents, you are always in the pursuit of giving the best to your baby, and in this search, many doubts start to arise on what to feed them. Mother's milk is the best your baby can get, but as soon as you begin to wean off your baby from this source, it is of high importance that you find a replacement food to meet the energy/nutrient needs. So what could be that food?

Ghee is a good option as it can supply the essential nutrients and fats for your baby. The questions that arise are how much should be given, why include ghee when there are plenty of other options, and are there any health benefits of giving ghee. Let's start by answering what is ghee exactly.

What is ghee?

Desi cow ghee is clarified butter, which is made by heating unsalted butter until it clarifies into separate components – lactose, fat (ghee) and milk proteins. Ghee is a pure combination of fats without any milk solids and water content.

Why include ghee in your baby's diet?

A growing baby needs roughly around 1400 calories per day and feeding ghee is one of the easiest ways to boost calorie intake.
Ghee is easy on the stomach as it is digested very easily. Ghee aids bowel movement and prevents constipation in babies.
Ghee can be used as an add-on when you are introducing new foods to your baby's diet.
30 – 35 percent of the calories required by a baby comes from the fat intake, and it is of high importance that you feed your child the right kind of fat, like ghee, which has around 29 percent of monounsaturated fatty acids (MUFAs).
Fat deficiencies in your baby's diet can be leveled by introducing ghee in the diet.
6 ghee recipes that'll help your baby gain weight
1. Veggie puree with ghee –
Ingredients:
Potato – 1 medium sized
Peas – ½ cup
Beans – ½ cup
Ghee – 1 tsp.
Directions:
Chop the beans into small pieces after washing.
Dice the potato into small pieces after peeling of the skin.
Shell the peas from the pod.
In a saucepan boil 2 cups of water and add these veggies.
Cook them until they are soft, and puree them.
Once cooled, add the ghee to the puree and your dish is ready.
2. Sooji (semolina) Kheer –
Ingredients:
Milk – 3 cups
Sooji or semolina – ½ cup
jaggery – 1 tsp
Ghee – 1 tsp
Directions:
Heat some ghee and fry sooji till it turns brown in color.
Add milk and stir until it boils in low flame.
Once the milk is boiled, add jaggery and keep stirring until the sooji is cooked.
The kheer is now ready.
Try it with water and avoid jaggery, if the baby is less than 1 year old.
3. Banana and Jowar Sheera –
Ingredients:
Jowar flour – 2 tbsp
Ghee – 1 tsp
Banana – 1
Powdered rice – 1 tbsp
Water – 2 cups
Directions:
In a pan, saute jowar flour in ghee till it turns light brown.
Add rice powder into it and stir slowly
Add water to the pan and keep stirring to avoid any lumps.
Keep the flame low and cook for about 5 min.
Add mashed banana into it and turn the flame off.
Banana and Jowar Sheera is ready to be served.
4. Atta Halwa –
Ingredients:
Atta (whole wheat flour) – 2 tsp.
Ghee – 1 tsp.
Hot water – 1 ½ cups
Directions:
In a pan, heat ghee and roast atta on a low flame.
Keep stirring and once the atta turns golden brown, add water.
Stir continuously to avoid the formation of any lumps.
Once the water is absorbed, turn off the heat.
Serve the halwa when it's warm.
5. Mango and Ghee Rice –
Ingredients:
Diced Mango – 1/2 cup
Fully boiled cooked Rice – 1/2 cup
Himalayan Natives Ghee – 1 tsp
Directions:
Puree diced mango till smooth
Add cooked rice (You can pressure cook the rice to make it even softer)
Add ghee and blend well till smooth puree consistency is achieved, and serve.


Choose a less fibrous variety like Alphonso or Banganphalli and make sure it is fully ripened.

Watch the recipe video here: Embedded video

6. Pumpkin rice with ghee –
Ingredients:
Rice – ¼ cup
Moong dal – 1 teaspoon
Red pumpkin – 1 small piece
Water – 1½ cups
Ghee – 1 tsp
Directions:
Clean the rice and dal thoroughly
Peel and cut the pumpkin into cubes/slices
In a pressure cooker, add water, and add all the ingredients
Cook for about 4-5 whistles
Puree the mixture and serve with a dollop of ghee.
Now that you have read some of the recipes, let's take you through some of the health benefits of ghee for babies:

Easy to digest – Compared to other foods, ghee can be easily digested. Ghee is one of the simplest fat foods that can enhance the calorie intake and keep the baby energetic.
Lactose friendly – Since pure cow ghee is free from milk solids, it can be given to babies who are lactose intolerant as well.
Facilitates development – Ghee contains Omega-3 eicosapentaenoic acid (EPA) and docosahexaenoic acid (DHA), which help in the early development of the brain in children.
Rich in Vitamins – Ghee is a rich source of fat-soluble vitamins like A, D, E and K. These vitamins promote healthy bones and brain development of your child. In addition, it can boost the baby's immune system as well.
Higher Smoke Point – When compared to the rest of the cooking oils, natural food products like ghee has a higher smoke point, because of which it does not break down into harmful free radicals that can cause potential problems for your baby's health.
As kids keep looking for variety in taste, try adding some veggies and fruits to enhance the flavor of the dishes. Try these recipes for your kid and see the magic of ghee in helping them gain weight.