5 Unique Kid-friendly Recipes with Honey
Always in a dilemma of whether to give your kids something healthy or something they love like junk food? Say goodbye to your worries! You can prepare dishes that are both healthy as well as delicious. Every parents' focus is to get their kids to eat healthy, nourishing as well as tasty. If we can be consistent with introducing various types of healthy dishes then they will not crave junk foods. This will keep them fit and active as well as build their immune system in the long run.  
Below mentioned are a few kid-friendly recipes for quick snack time. Hop on over and check out these delicious recipes that kids will love. 
No-bake Honey Apple Cookies
Ingredients:
2 large apples
¼ cup of orange juice
½ cup of peanut butter
¼ cup of baked biscuit (broken into small pieces)
2 tbsp almonds (sliced)
2 tbsp pumpkin seeds
¼ cup of granola
2 tbsp coconut (toasted)
¼ cup of dried apricots (chopped)
2 tbsp cranberries (dried)
Honey as per requirement (for dressing)
Method:
Cut out the center, top, and bottom of each apple. Then, cut the remaining apple into 4 slices for a total of 8 slices. Toss these pieces with orange juice to prevent browning.
Place each slice of the apple on a tray and pat dry with a paper napkin. Spread peanut butter evenly on each apple slice and sprinkle the remaining ingredients over the slices.
Serve and enjoy!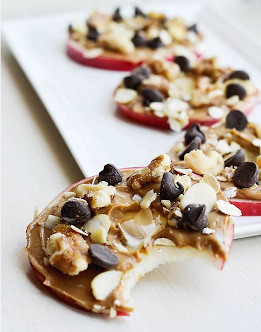 Honey Apple Nachos
Ingredients:
2 large apples
2 tbsp honey
3 tbsp peanut butter
2 tbsp chocolate chips
1 tbsp unsweetened coconut, shredded (optional)
Method:
Remove the center of the apples, slice them, and place on a serving dish.
Add peanut butter and honey on top of the apples.
Sprinkle some chocolate chips and coconut (optional) on top.
Serve and watch your little one eating healthy!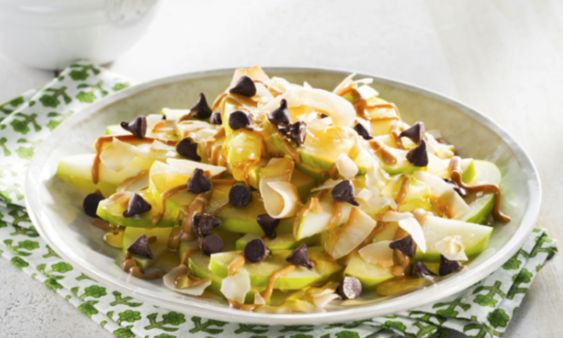 Honey Banana Sushi
Ingredients:
¼ cup of almond butter
2 tsp of banana flour
¼ cup of honey roasted or roasted almonds (chopped)
1 whole wheat tortilla
1 whole banana
1 tbsp honey (drizzle)
Salt to taste
Method:
In a food processor, grind honey roasted almonds until smooth, and keep them aside in a bowl.
In another bowl, mix almond butter, banana flour, and a pinch of salt. Make sure that the almond butter mixture is not too wet. It should be the consistency of a play-dough. If too wet, add a little more banana flour.
On a sheet of parchment paper, lay whole wheat tortilla.
Spread an even layer of the almond butter mixture on the tortilla.
Flip the tortilla, so that the coated side is facing down on the parchment paper.
Drizzle honey onto the uncoated side of the tortilla, and then place a whole banana across the tortilla.
Use parchment paper to roll the tortilla up around the banana until the roll is complete.
With almond butter side up, coat the entire roll with finely chopped almonds.
Refrigerate for half-an-hour and then slice it into sushi-style rolls with a knife.
Serve your kids and let them enjoy it!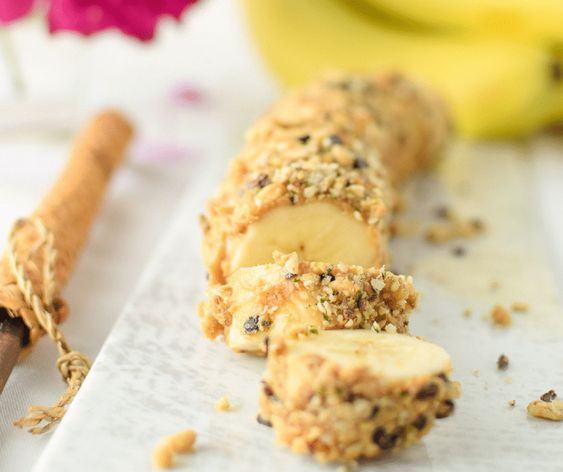 Honey Crispies
Ingredients:
½ cup of powdered sugar
½ cup of peanut butter
½ cup of honey
2 cups of crisp rice cereal
½ cup of raisins
½ cup of chocolate or multi-colored sprinkles
Method:
Place a sheet of waxed paper on a cookie sheet to avoid the sticking of crispies with one another.
In another bowl, thoroughly mix together powdered sugar, honey, and peanut butter. Stir in cereal and raisins.
Make round balls from the mixture. Then roll the balls in sprinkles and place them on a cookie sheet.
Refrigerate for 1 hour. Cookies should be firm when touched.
Serve right away or keep them in an air-tight container and store in the refrigerator for later use.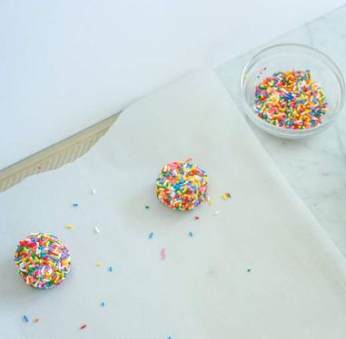 All of the above-mentioned recipes can be prepared quick and easy for an evening snack for your children and their friends. Try these amazing, delicious, and healthy recipes for your kids and we are sure that they are going to love it as much as we do!