5 Quick Immunity-Boosters Foods for Good Health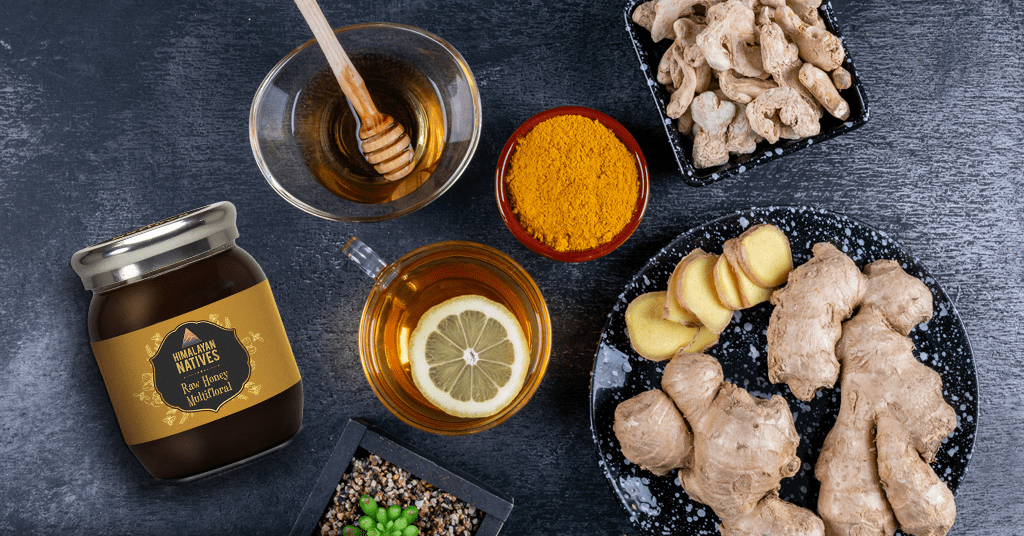 It is that time of the year again when people tend to fall sick due to seasonal changes. A number of people fall prey to diseases during this season, the most common ones being cough, cold and flu. Whether it's children or adults, taking good care of health should be everyone's top priority. Frequent hydration and boosting immunity are the two most important and easy ways to prevent as well as fight these seasonal diseases.
Moreover, given the current situation that the world is facing, it is even more important for us to boost our immune system and strengthen it. Besides washing hands with soap, using a sanitizer, wearing masks, self-quarantining, sleeping well and lowering our stress level by keeping engaged, we also have to stay healthy from within. We need to develop healthy eating and lifestyle habits to allow our body to help boost our immune system along with staying fit and active.
Natural Remedies for a Stronger Immunity
Here are some ancient Ayurvedic remedies for immunity boosters that can be easily prepared at home and are very effective in keeping the immune system strong and active.
Honey, turmeric and peppercorn blend
Raw Honey is a demulcent agent that helps to soothe the mucous membranes of the upper respiratory tract and acts as a carrier for the other spices.
Turmeric is anti-inflammatory in nature and consists of antibacterial properties. It acts as an analgesic and a pain reliever.
Black pepper, when added to turmeric increases its absorption and also aids in fighting respiratory conditions and rejuvenating the lungs.
Cinnamon provides a sweet taste to the remedy and is an excellent ingredient for cough, cold and sinus congestion as it helps clear mucus. It also helps ease gastrointestinal problems.
Ingredients:
1-2 tbsp of pure honey
1 tsp of turmeric (ground)
½ tsp cinnamon (ground) (optional)
Pinch of black pepper (ground)
Directions:
Thoroughly combine all the ingredients in a small bowl.
You can store it in a small jar too for later use.
Consume one teaspoon every day or as required at any time of the day.
Turmeric milk
Turmeric milk, popularly known as the "golden milk," is an effective tonic that is well known since the age of Ayurveda for its list of benefits as an anti-inflammatory ingredient, bone nourisher, and immunity booster. The combination of turmeric, coconut, ginger, and pepper is considered to be a healer and a comforter.
Ingredients:
1 cup of milk
1 tsp turmeric (ground)
½ tsp ginger (ground)
1 tsp coconut oil
Pinch of black pepper
½ – 1 tsp raw honey (optional)
Directions:
In a pan, heat the milk over medium flame for 2-3 minutes.
Add turmeric, ginger, coconut oil and black pepper and mix thoroughly until well combined.
Pour it in a mug and add honey.
Drink immediately when warm.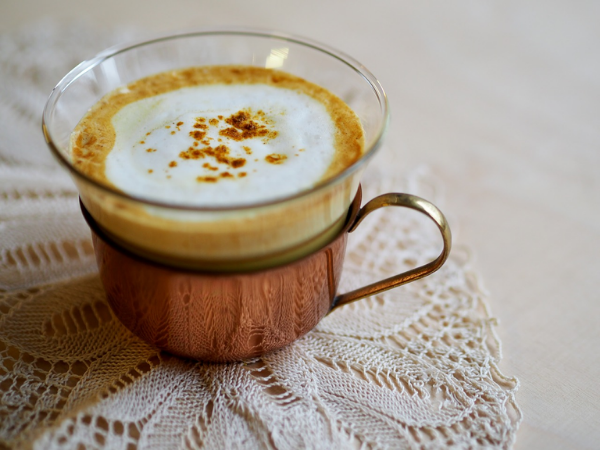 Amla juice
Amla is rich in vitamin C and helps increase the production of white blood cells (WBC) in the body which in turn helps in fighting several infections and diseases.
Ginger consists of a compound known as gingerol, which has antibacterial, analgesic and medicinal properties. The antibacterial effects of gingerol help in curing symptoms of cold and sore throat. Ginger also helps keep the blood pressure and cholesterol level under check. Coriander adds a nice flavour to the juice with its rich aroma. It is a rich source of antioxidants and contains detoxifying, antibacterial and immune-enhancing essential oils.
Mint is also a rich source of antioxidant and is loaded with anti-inflammatory properties, which helps soothe the irritation caused by chronic coughing. The strong and refreshing aroma of mint also helps reduce headaches.
Ingredients:
5-6 chopped amla
1 tbsp sliced ginger
4-5 mint or coriander leaves
Directions:
Add all the ingredients in a blender and blend thoroughly.
Strain it in a glass.
Add honey or black salt for enhancing the taste.
Serve and enjoy. Consume it once every day for your daily dose of immunity.
Mixed herbal tea
This herbal concoction helps protect the body from the symptoms of cold & flu and builds the body's natural defence against disease-causing bacteria and germs. Turmeric herbal tea aids in soothing a sore throat, relieving chest congestion and treating seasonal allergies. The naturally occurring citrus content in this potion makes it a must-have to keep your immunity level high and strong.

Ingredients:
2 cups of water
½ tsp turmeric (ground)
½ tsp ginger (fresh and sliced)
1 tbsp honey
1 lemon wedge
½ tsp cinnamon (chopped) (optional)
Directions:
In a pan, bring water to a boil.
Add turmeric, ginger, and cinnamon. Reduce heat to medium and simmer for 10 minutes.
Strain the tea into a large glass.
Add honey and a lemon wedge.
Try having the tea early in the morning on an empty stomach.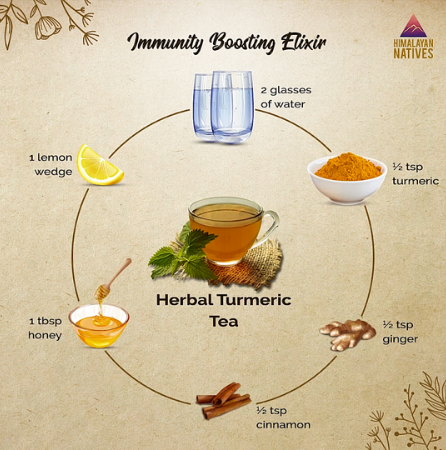 Turmeric brew
Turmeric consists of a substance called "curcumin" which is better absorbed in the body with the help of black pepper and ghee. This healthy mixture helps increase immunity, aids in weight loss and is safe for consumption among all age groups.
Ingredients:
Raw turmeric root (fresh) or 1 tsp turmeric powder
½ tsp pure ghee
5-6 black peppercorns
1 cup of water
Directions:
Peel off the skin from the turmeric root.
Add the peppercorns in a stone grinder and grind.
Add the turmeric, crush it gently and mix it thoroughly with the peppercorn.
Add this mixture in a pan and add water. Bring it to a boil. Lower the flame and simmer for 1-2 minutes.
Turn off the heat and add ghee.
Strain or pour it in a glass and have it early in the morning on an empty stomach.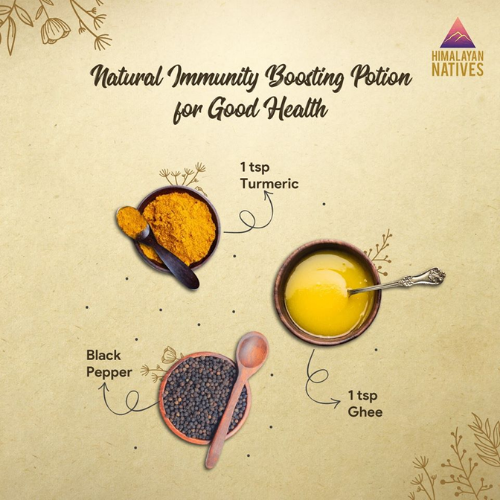 Maximizing the health of your immune system is easy when you know how to increase immunity using home remedies! With these readily available powerful ingredients in your kitchen, boosting immunity is super easy. Try these easy at-home concoctions to keep your immune system strong, active and protect yourself from symptoms of cold, flu and cough throughout the year!