5 Quick Healthy Evening Snack Recipes Made In Desi Ghee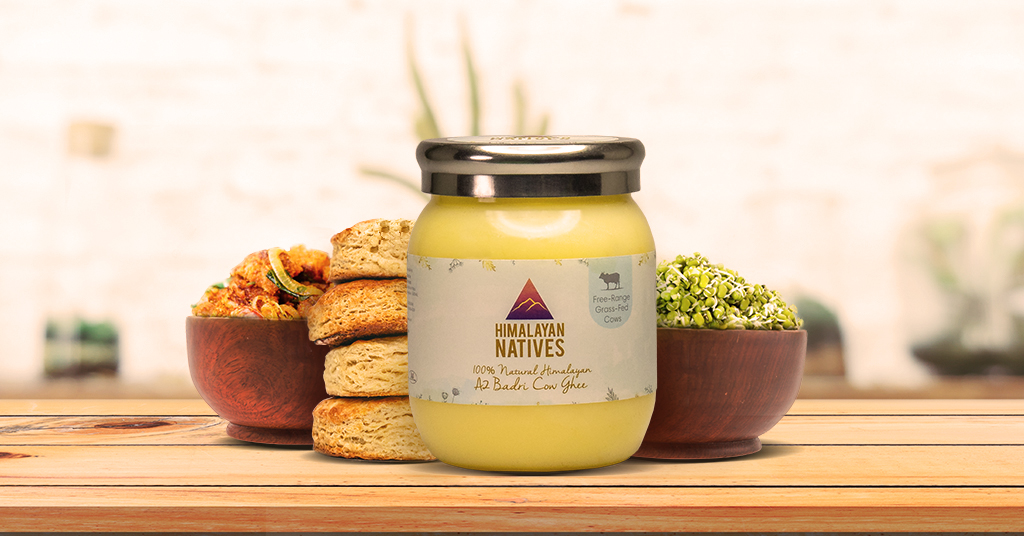 Ghee is often considered as a healthier option to butter in the kitchen. Sweet or savoury- a spoonful of ghee can make the most boring food seem tempting. Therefore it is the main ingredient in some of the delicious foods that we consume frequently. It could be chapatis, rice, or curries- just a dollop of ghee and everything looks and tastes yummier!
While you must have found yourself consuming ghee often with your lunch or dinner staples, have you thought about the ways you could incorporate ghee as an ingredient in your everyday snacks?
Well, if you haven't, we'll help you out. Here are 5 quick yet delicious recipes for your evening snack that could be made in cow ghee–

1. Sprouted Mung Beans
Ingredients:
1 cup mung beans
¼ cup black-eyed beans
¼ cup fresh pomegranate arils
1 tsp coriander leaves (finely chopped)
½ tsp cumin powder
½ tsp garam masala
¼ tsp turmeric powder
¼ cup chopped green peppers
¼ cup chopped tomato
2 tsp pure desi ghee
Pepper to taste
1 tsp lemon juice
Method:
Put the mung and black-eyed beans in a pan and pour water until the sprouts are immersed.
Add salt and turmeric to it and let it cook for 5-6 minutes on low flame. Cook until the sprouts become slightly tender.
Strain the extra water and add pure ghee to the bean mixture.
Add tomatoes, peppers and pomegranate arils to the sprouts.
Add garam masala, turmeric powder, and cumin powder. Squeeze some lemon juice and mix it gently.
Garnish with coriander leaves. Your sprouts are now ready to be served.
Variation:
Instead of the vegetables, you can also add fruits such as bananas, oranges, grapes, mangoes, apples, pears, pomegranates, cooked or roasted sweet potatoes, etc.
2. Homemade Biscuits
Ingredients:
1 ½ cup organic all-purpose flour
¼ coconut flour
1 tbsp baking powder
1 tsp sugar
1 tsp salt
⅓ cup desi cow ghee
1 cup whole milk
Ghee (for greasing the baking pan)
Method:
Preheat oven to 450 degrees F.
Grease an 8 X 8 baking pan with pure ghee and set it aside.
Add both flours, baking powder, sugar, and salt in a large bowl.
Add natural ghee and toss it to coat with the flour. Slowly start blending the ghee into the flour mixture. You can do this by using your hands, pastry cutter, or two knives.
Pour the milk mixture all at once and mix until the batter is moistened. The dough ideally should be moist.
Sprinkle flour on a surface, place the dough and dust it with more flour. Knead the dough for about 7-8 times and fold it in half.
Pat the dough into a circular form (About ½ -¾ inch thick). Then start cutting biscuits out from it with the help of a biscuit cutter.
Place the cut biscuits on the greased pan and bake them for 10-15 minutes, until you see the top to be lightly browned.
3. Bread Poha
Ingredients:
12 bread slices
2 tbsp desi ghee
1 tsp mustard seeds
½ tbsp finely chopped green chillies
1 tsp finely chopped ginger
1 cup finely chopped onions
½ cup finely chopped tomatoes
1 tsp garam masala
¼ cup tomato ketchup
½ tbsp lemon juice
salt to taste
2 tbsp finely chopped coriander
Method:
Immerse the bread slices in enough water and quickly take them out. Squeeze out all the water, mash them thoroughly and keep it aside.
Heat ghee in a deep non-stick pan, add mustard seeds and sauté on medium heat for about 30 seconds. Add green chillies and ginger and stir them for another 30 seconds.
Add onions and fry them on medium heat for about 2 minutes. Add tomatoes and garam masala. Let it sit on flame for a minute, keep stirring.
Add crumbled bread, tomato ketchup & lemon juice, salt and coriander. Put the flame to medium and let it cook for another couple of minutes.
Your bread poha is now ready to serve!
4. Kaipola
Ingredients:
2 ripe bananas
4 tbsp sugar
3 eggs
1½ tsp cardamom powder
2 tbsp cow ghee
1 tbsp dry nuts and fruits
Method:

Peel the bananas and cut them into small pieces.
Add ghee in the pan and let it heat.
Add the nuts and fruits in the ghee and saute them till they turn brownish.
Add the bananas and keep stirring and mixing until gooey. Turn off the flame and let the mixture cool down.
Mix eggs, sugar and cardamom powder in a bowl and whisk properly.
Pour it in the pan and combine well with nuts and bananas.
Cover and cook for 20 mins.
This super easy and quick pie can now be consumed.
5. Apple Halwa
Ingredients:
2 large apples
1.5 tablespoons desi ghee
¼ cup + 2 tbsp granulated sugar
¼ + ⅛ tsp cinnamon powder
¼ tsp cardamom powder
⅛ teaspoon nutmeg powder
Sliced almonds for garnishing
Method:
Peel the apples and cut them into slices.
Finely grind them in the food processor.
In a pan, add ghee and let it heat on medium flame.
Add the apples once the ghee is heated
Cook the apples for 7-8 minutes. Wait till all the water evaporates.
Add the sugar to the apple paste and mix it well. Add cinnamon powder, nutmeg and cardamom powder.
The apple paste should be watery by the time the sugar melts.
Keep stirring it until all the water has evaporated. This ideally should take about 5 minutes.
Garnish with sliced almonds.
Your delicious halwa is now ready to be served.
Adding ghee to any dish, can really enhance flavours, add texture, and also give a beautiful aroma to it. Ghee is also rich in fatty acids such as Omega 3 and Omega 9, which are both healthy and essential for you. Along with being rich in vitamins A,D,E, & K, cow ghee is also known to be one of the highest sources of Conjugated Linoleic Acid (CLA), which is known for its fat-fighting power and has proven to promote fat-loss in both healthy and obese people.
So what are you waiting for? Go ahead and give your everyday snacks a mouth-watering yet healthy twist!