4 Quick and Easy Recipes with Rice and Quinoa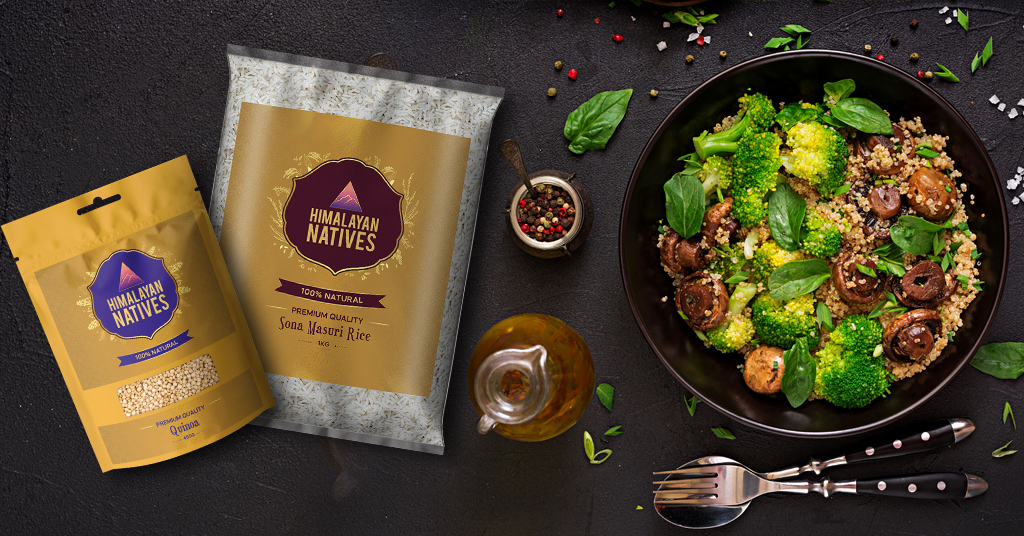 Quinoa is packed with minerals, vitamins, and some of the most essential nutrients. It is rich in anti-inflammatory compounds and antioxidants which may assist in combating heart risks. According to experts, adding some amount of quinoa in your daily diet can help maintain blood sugar levels and lower high blood pressure and cholesterol. Therefore, it is a great dietary addition for people suffering from diabetes. It is also vital in maintaining HDL or good cholesterol levels in the body. Its high magnesium content helps in relaxing blood vessels and can alleviate migraines. 
Rice is a staple ingredient that is used by people all over the world as it is versatile, easily available, and can be modified to prepare any dish. Additionally, rice consists of high nutrient content which includes calcium, iron, vitamins, and more. It also has very low saturated fat and cholesterol content but is high in fiber making it a healthier food option for the heart. Rice consists of antioxidant properties that help prevent sudden strokes and heart attacks. The no sodium content in rice helps in controlling high blood pressure. Rice is gluten-free and white rice is easy to digest.
Quinoa and rice both serve as a viable substitute for wheat and other grains that are not gluten-free.
Rice Burritos
Ingredients:
2 cups of cooked rice
2 tbsp cilantro (fresh and chopped)
Juice of 2 limes
½ onion (diced)
3 – 4 cloves garlic (minced)
2 tbsp oil
1 can of black beans ( drained)
1 tbsp chili powder
½ teaspoon cumin
1 tbsp hot sauce (or to taste)
Salt to taste (optional)
2 large tortillas
Procedure:
In a bowl, mix together cooked rice and cilantro. Drizzle the mix with a bit of lime juice. Heat in the microwave or on the stove until hot, and stir thoroughly.
In a pan, add oil and saute the garlic and onion for 2 to 3 minutes or until the onion is soft. Reduce the heat to medium-low.
Add black beans and season with chili powder, cumin, and hot sauce. Stir to combine. Cook the beans for about 5 minutes.
Spoon cilantro-lime rice and black bean mix onto lightly warmed flour tortillas and add any additional toppings of your choice.
Fold the short ends in, then fold one long side over the filling and gently push to ensure the fold is tight before rolling up the remainder of the burrito.
Cut it in half and serve immediately.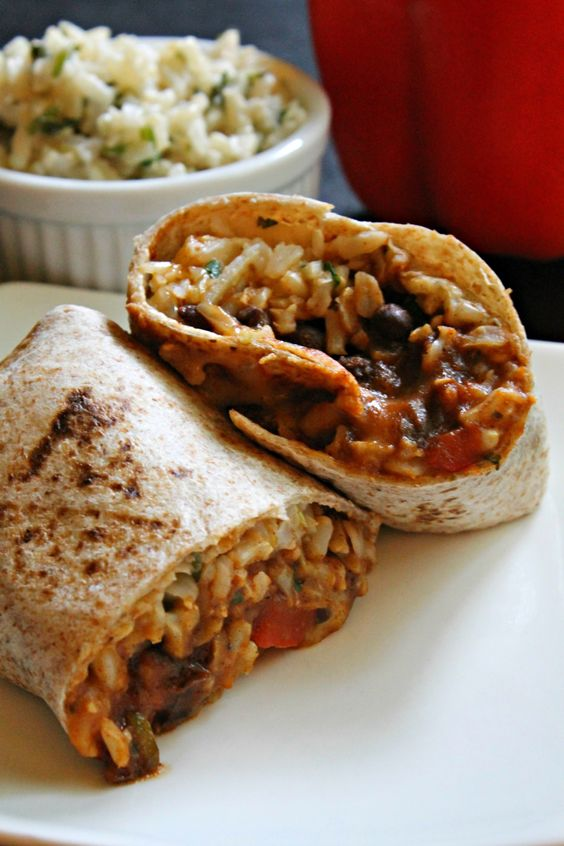 Mexican Quinoa
Ingredients:
1 tbsp olive oil
1 onion (chopped)
2 small bell peppers (chopped) (seeded and chopped)
1 tsp ground cumin
½ tsp ground coriander
2 cloves of garlic (peeled and minced)
1 cup of quinoa (rinsed and drained)
1 can of black beans (drained and rinsed)
1 cup of corn kernels (fresh or frozen)
1 can of diced tomatoes
½ tsp pink salt
¼ tsp black pepper
1 cup of water or vegetable broth
¼ cup of cilantro (fresh and chopped)
For Garnishing:
1 ripe avocado (optional)
2 stalks of scallions (chopped)
1 lime cut into wedges
A handful of pumpkin seeds
Cilantro
Procedure:
In a pan, heat oil over medium heat. Add onions, peppers, cumin, and coriander. Stir occasionally for 7-8 minutes.
Add garlic and cook for another 30 seconds.
Add quinoa, black beans, corn kernels, tomatoes, and salt and pepper. Stir thoroughly.
Pour in the liquid, put the lid on, and bring it to a boil. Lower the flame and let it simmer for 20-25 minutes or until all the liquid is absorbed.
Let it sit for 5 minutes and fluff with a fork.
Add and stir in the fresh cilantro.
Transfer the Mexican quinoa into bowls and garnish with fresh cilantro, avocado, and scallions. Serve with wedges of lime.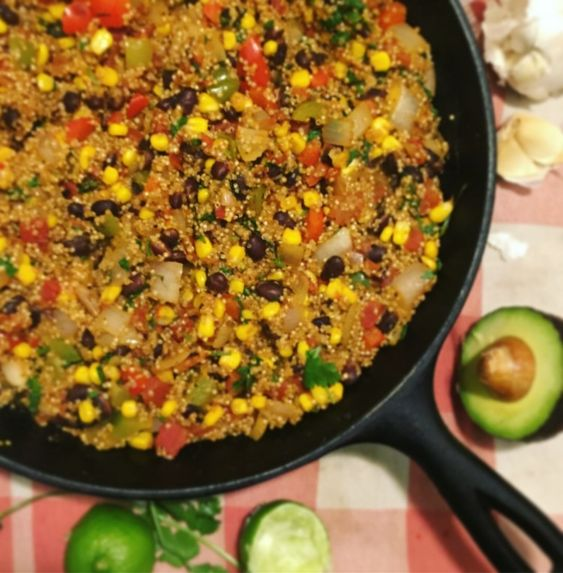 Quinoa and Pepper Chili
Ingredients:
2 bell peppers
4 tsp olive oil
2 chilis
1 tbsp chili powder
3 cups of zucchini (chopped)
1 ½ cup of onions (chopped)
4 cloves of garlic (minced)
1 tsp ground cumin
½ tsp smoked paprika
½ cup of water
⅓ cup of quinoa (uncooked, rinsed)
¼ tsp salt
1 can fire-roasted diced tomatoes with chipotle
1 can unsalted pinto beans (rinsed, drained)
1 cup of vegetable broth
Procedure:
Preheat broiler.
Cut bell peppers and chilis in two halves, remove the seeds and place the halves, skin sides up, on a baking sheet and flatten with hand. Broil 10 minutes or until blackened. Place in a paper bag and fold it to close tightly. Let sit for 10 minutes. Peel and coarsely chop.
Heat a Dutch oven over medium heat. Add oil and swirl to coat. Add zucchini, onion, and garlic. Saute for ~4 minutes. Stir in chili powder, cumin, and paprika. Saute for another 30 seconds. Add roasted peppers and chiles, water, and remaining ingredients. Bring to a boil. Reduce the heat to medium. Cover and simmer for 20 minutes or until quinoa is tender.
Serve and enjoy!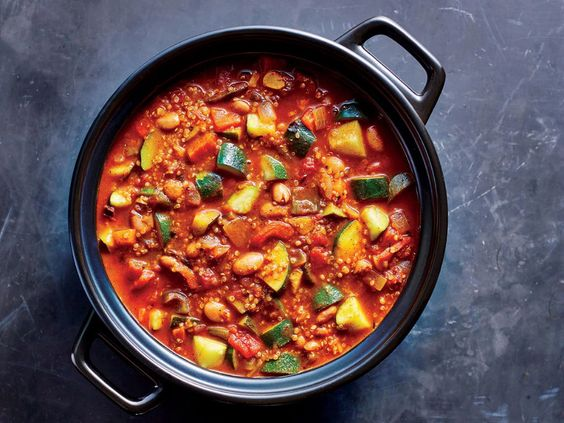 Quinoa Risotto
Ingredients:
1 cup quinoa
1 tbsp olive oil
1 onion, chopped
1 tbsp garlic, chopped
A handful of porcini mushrooms
1 cup of white wine
1 ½ cup of home-made vegetable stock
2 tbsp parmesan cheese
Freshly ground pepper
Salt
Procedure:
Rinse quinoa with water.
Soak the mushrooms in warm water for half an hour.
In a pan, add olive oil. Saute the onion and the garlic on a low flame.
Add mushrooms and wine. Let the quinoa soak it all up.
Add salt.
Add two ladles of vegetable stock to the quinoa. After a while, add some more, until the quinoa is white and shiny, and cooked.
Add some freshly ground black pepper when it's hot.
Toss some grated parmesan cheese, give it a stir and serve hot.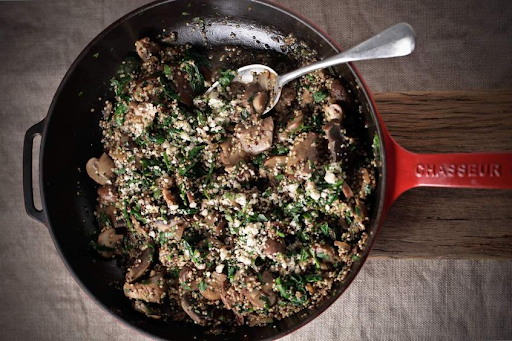 Rice and quinoa are easily available in the market and on eCommerce stores. The low-allergy potential of quinoa and rice along with their relatively high digestibility makes them perfect ingredients to be included in daily meals. Himalayan Natives Rice and Quinoa are 100% natural and free from GMO and pesticides. They do not contain any artificial colors and preservatives.