4 Must-try Rice Recipes made with Pure Ghee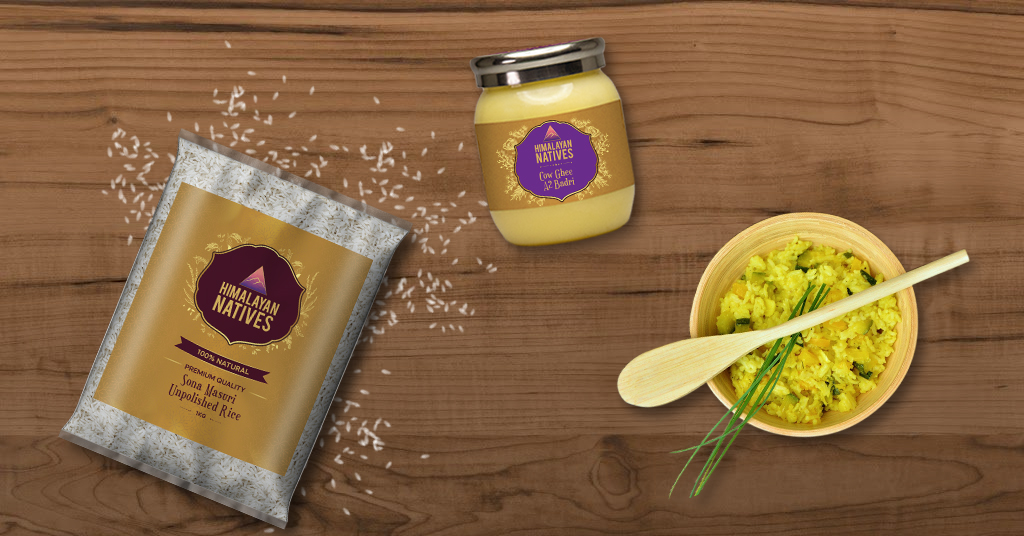 Rice has played an important role in the lives of the people and civilizations since the 6500BC. It was used as a major portion of their daily meals and as well as for fodder around the valley of river Ganga. Today, rice is the most cultivated grain in the world and India is not only the second-largest producer of rice in the world but it is also among the largest consumers of this grain, with over 50% of India's population dependent on rice for sustenance. India produces both varieties of white rice and brown rice on a large scale basis.
Studies have revealed several incredible benefits of consuming rice, especially when made in pure ghee. Rice is highly recommended by nutritionists as it has high antioxidant content which helps boosts the body's immune system against various diseases, helps prevent constipation, provides energy, and helps control blood pressure. On the other hand, pure ghee consists of CLA (Conjugated Linoleic Acid) which helps increase immunity, strengthen muscles, and reduce the risk of cardiovascular diseases. When eaten in moderation, both rice and ghee can also aid in weight management.
Rice is one of the easiest foods to prepare and constitutes as a staple food in most parts of the country. Rice prepared with pure ghee makes a delicious combo, and both these ingredients can be used to make a variety of appetizing dishes.
It is easy to incorporate rice and ghee into your diet. If you think that it is bland and too simple, take a look at the recipes mentioned below to see how diverse and intensely flavourful Indian ghee-rice dishes can be.
Basanti Pulao
Ingredients:
3 cups of rice
Cashew nuts
Raisins
Cinnamon sticks
2 cardamom seeds
3 cloves
3 bay leaves
2 ½ tsp of turmeric powder
2 tsp ginger (grated)
1 tbsp sugar
2 tbsp pure ghee
Procedure:
Thoroughly wash and clean the rice and drain the water.
Smear the rice well with ghee and turmeric powder. Keep it aside covered for some time.
In a pan, add ghee and fry raisins and cashews. Keep the fried raisins and cashews aside.
Add more ghee into the pan, heat it and add bay leaf, cardamom, cinnamon, and cloves.
Add the grated ginger and fry it for some time.
Add the rice and mix with the flavors, stirring gently. Pour warm water along with salt and sugar.
After the rice is well-cooked add cashew nuts and raisins.
Add the remaining ghee, mix gently and cover the pot.
Serve warm and enjoy!
Tawa Pulao
Ingredients:
1 cup of rice (pre-cooked)
70-gram cauliflower
30-gram beans
40-gram carrot
75-gram onions
80-gram tomatoes
5 tbsp pure ghee
½ tsp garam masala
½ tsp salt
10-gram coriander
Mint (according to taste)
30-gram onions (fried or browned)
Procedure:
Cut the cauliflower, beans, and carrots in a proportionate size and blanch them in hot water.
In a hot pan, heat ghee and add the chopped onions. Saute well till it turns slightly brown in color. Keep it aside.
Now, add the chopped tomatoes and garam masala.
Add pre-cooked pulao rice, salt, and mix well in the pan.
Add fresh coriander, mint, and brown onions.
Toss well and serve hot.
Melagu Rice (Pongal)
Ingredients:
1 cup of rice (washed and dry-roasted)
½ split moong dal (washed and roasted)
½ tsp Turmeric
5 cups of water
½ cup of pure ghee
1 tsp cumin seeds (powdered and roasted)
1 tsp black peppercorns (powdered and roasted)
2-3 tbsp cashew nuts (split)
1 sprig curry leaves
1 tsp asafoetida or hing
Salt to taste
Procedure:
Cook rice, daal and turmeric in water until soft and keep it aside.
In a pan, heat ghee and add cumin seeds, peppercorns, cashews, and curry leaves. Saute till they turn slightly brown in color.
Add hing, salt, and the rice mixture. Cook over low flame for 2-3 minutes.
Serve and enjoy!
Paneer Goli Biriyani
Ingredients:
250- gram paneer
1 slice of bread (crusts removed and grated)
2 cups of rice (cleaned and soaked in water for few hours)
½ cup onions (crisp and brown)
1 tsp garlic-ginger paste
1 tsp salt
¼ tsp black pepper powder
2 tbsp pure ghee
Oil (deep frying)
4 green cardamoms
4 cloves
½ tsp black cumin
⅛ tsp cinnamon powder
Salt to taste
½ tsp saffron soaked in 1 cup of milk
2 ½ cups of water
Procedure:
Crumble or crush the paneer.
Thoroughly mix the paneer, bread, garlic-ginger paste, salt, and black pepper.
Make small balls of the paneer mixture and refrigerate for an hour.
Deep fry the paneer balls over a high flame until it turns brown.
Drain the rice and keep it aside.
In a pan, heat the ghee and add cumin, cardamom, clove, and cinnamon. Shallow fry them for a while.
Add the rice and salt.
Add water and bring to a boil.
Cover and let the rice cook for few minutes on a low flame. Turn off the heat and leave the pan on the stove.
Divide the rice and paneer balls each into half at least 30 minutes before serving,
Form a layer of half the fried balls in a pan and then add a layer of half the rice. Sprinkle half the saffron flavored milk on it, then repeat the same process. Sprinkle the rest of the milk and saffron mixture over the rice.
Seal the pan with some "atta" and place it over a tawa / griddle on a low flame for half an hour.
Serve hot and enjoy!
With a high carbohydrate content, rice is known to deliver instant energy. Take a break from the regular preparations of rice and add some of the above dishes to your list of recipes to let your taste buds experience a change in flavor. The above-mentioned ghee rice recipes will surely help you reap the optimum benefits of both the food items. Serve it with a side dish like curry or dal to make it even more delectable and appetizing!